Imagine this, you're the assistant of a famous pop singer, let's say Adele. The pay is extremely good but the work is quite hectic. As an assistant, you're responsible for managing your boss's schedule and obligations. So now, Adele's set to release her album next week. After which, she would need to go around for publicity. You would need to schedule performances, TV appearances, radio interviews, photoshoots, and so much more for the next few months. You need to be able to squeeze her work schedule for what is planned in a given month. To do so, you need to design an effective monthly schedule.
Monthly Schedule Template
Restaurant Monthly Staffing Schedule Template
Monthly Shift Schedule Template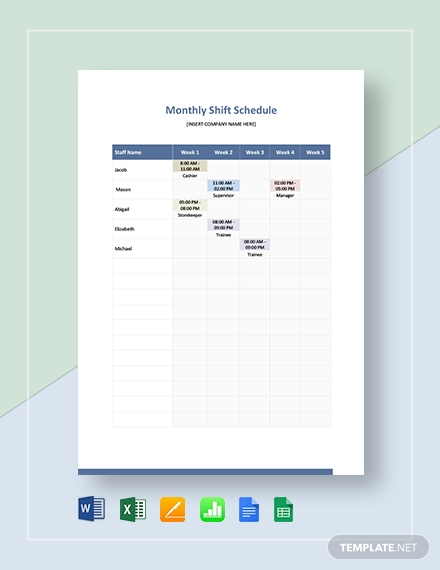 Monthly Work Schedule Template
Employer Monthly Schedule
Monthly Pay Schedule
Monthly Repayment Schedule
What Is a Monthly Schedule?
A monthly schedule will remind you of events, appointments, and other obligations that need to be accomplished within a given month. This could be monthly vaccinations, check-ups, billings, and more. Similar to a daily schedule, a monthly schedule may also consist of reoccurring events that are meant to be attained regularly. A monthly schedule is not limited to personal use as it may also be used for business.
How to Make a Monthly Schedule?
With a monthly schedule, you can combine the agendas from your daily and weekly schedule into one. However, you might one to be more accurate with your schedule as combining such will make your schedule look packed and messy.
You can make a monthly schedule according to its defined objective. If you're making a personal schedule, you may create a calendar-type chart. If you're making a schedule for a specific matter, such as a monthly salary schedule, you would only need to specify a schedule and its corresponding details.
Family Tentative Monthly Schedule
Free Monthly Schedule
Mothly Vetting Schedule
Importance of a Monthly Schedule
With the number of days in a given month, it's natural for us to forget something that was planned some time before. A monthly schedule samples will constantly remind us of something that has been set for a given date.
For instance, it's the last week of February but you set an appointment with your doctor for March. Your doctor will be out of town in the succeeding months so it's important for you to be there on the said date. Unfortunately, life can get busy prompting you to forget your appointment. This could be a problem as missing certain obligations can result to serious consequences.
Tips for Writing a Monthly Schedule
Plan in advance. You need to specify everything planned for a given month beforehand. This will give you time to review to see whether anything important has been missed.
Have a definite structure. You need to be consistent with how you organize the details on your chart. Not only will your schedule in pdf look neat, but it would also make it easier for you to remember its content.
Provide clear instructions. If there are comments or disclaimers that needs to be noted of, explain such properly.
Emphasize matters that need to be prioritized. Important reminders need to be highlighted. Allow it to stand out by using bold letters or colors.
Update regularly. Make sure your content isn't outdated.