A purchase order is an official letter issued by the buyer organization to the supplier or seller. It contains all the details such as quantity, quality, mutually agreed price, date & time of delivery, and payment terms & conditions of the product. Purchase orders are beneficial both for buyers and sellers as it acts as a contract once it is accepted by the seller in case there is no other contract between both the firms.
This article covers purchase order templates of multiple business sectors and templates of letters of different conditions relating to purchase order.
Purchase Order Examples & Templates
1. Simple Purchase Order Template
This is a basic purchase order template used by firms around the globe for purchasing materials from external suppliers. The editable template contains all the requisites of a purchase order like company details, product details, method of shipment, tax on goods and others.
2. Restaurant Purchase Order Form Template
This template is a typical version of the purchase order issued by the restaurants to their vendors. The template has decent space to accommodate multiple products for purchase. On the second page terms and conditions are mentioned which is an essential part of the purchase order. Cells have been allotted to add tax or any other specifics like transportation cost and necessary space required to add vendor logo is also provided.
3. Purchase Order Letter Template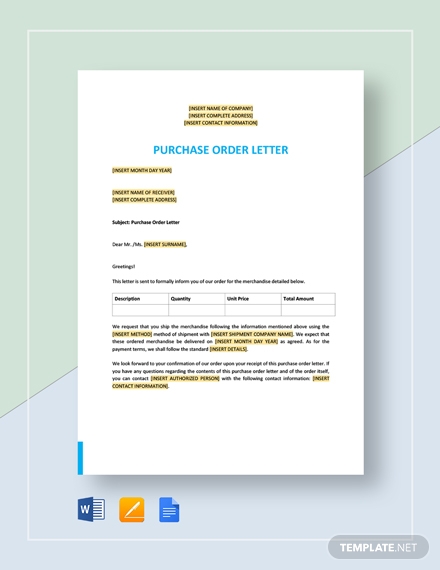 This template is a letter format of the purchase order. Such formats are used widely in companies who do not have multiple products to be ordered from the same supplier. This format is preferable for companies who have stringent terms and conditions of purchase.
4. Letter Purchase Order Issued on Acceptance of Delivery Date
On time delivery is a crucial factor for managing the supply chain. The above template is issued by the company when the delivery date provided by the vendor is acceptable to them. Manufacturing industries that purchase raw material from vendors usually prefer issuing purchase order after the commitment of delivery date for the non-interruptive operations of their industry.
5. Purchase Order Template
This template is a single page purchase order. It is editable hence can be easily modified according to the requirements. It has sufficient space to suffice the commodity details of restaurants, bars or traders who order multiple products from the same supplier on a regular basis.
6. Purchase Order Cancellation Letter Template
This is one of the best templates in letter format to cancel an existing purchase order. In case one has to cancel a purchase order before its validity or due to a void of contract by the supplier then this template can be easily edited with necessary details to cancel an issued purchase order.
7. Free Purchase Order Format
This is a simple format purchase order. It can be used by any company for issuing purchase order. The font style, design and colour are unique and attract companies to choose this design over traditional black and white style. It is easily editable and can also be modified as required.
8. Purchase Order Confirmation Template
This is an order confirmation template. This template is used by vendors to confirm the purchase order of their clients. The format is flexible for editing in MS Word and MS Excel and can be printed or sent as a soft copy. Space has been dedicated in the format to add a company logo.
9. Free Purchase Order Letter
This template is again a letter format of the purchase order. It has a unique border style which eradicates the need for printing this letter on the letterhead of the company unless necessary. Simply fill the necessary details in the brackets provided in the template and it is ready to be sent.
10. Purchase Order Invoice Checklist
This is a one of its kind of invoice checklist in reference to the issued purchase order to the vendor. This checklist helps in comparing the purchase order and the actual invoice received. Ultimately, this checklist helps companies in verifying whether or not they have received the product as per their demand and terms mentioned in the issued purchase order.
11. Purchasing Order Amendment
This is an exclusive report from the Kuali Financial System Training Guide regarding purchasing order amendment. The objectives of this report include all the factors related to purchase order such as processing a purchase order before & after payment, general processing steps for review of a purchase order, policy and recommendations review in a purchase order, void a purchase order and others.
12. Purchase Order Procedures
This is a twelve-page manual on procedures to follow before drafting and issuing a purchase order. The procedure is explained in five different segments which are 1.) Need established 2.) Sourcing activity carried out 3.) Order placed with supplier 4.) Supply accepted 5.) Invoice paid. The objective of these procedures includes support learning, teaching and research activities regarding purchase order.
13. Purchase Order Terms and Conditions
The above document is an in detail study and reference material for drafting the terms and conditions of the purchase order. State law, legal liabilities, sales & other taxes, risk of loss, warranty, insurance, conflict of interests and all other topics related to the terms and conditions of a purchase order are covered in this document.
14. Purchase Order Inquiry
This document is a guide on steps of establishing a channel for a purchase order. Guide to trace all the activities that followed after issuing a purchase order, records of a closed purchase order and tracing purchase order by its number, or date issued is covered in the document.
15. List of Purchase Orders
Maintaining records of the issued purchase order is important. This document provides a format to keep a record of all the purchase order issued. The bifurcation of the records of the purchase order depends upon the size of the company and the total number of PO's issued.
16. Purchase Order Flow Chart
This document is an example of generating a flow chart for Purchase order. It includes all the steps from preparing a purchase order to closing a purchase order after the final payment is processed. Multiple flow charts can be created according to the activities or all the activities can be included in a single flow chart.
17. Purchase Order Form in PDF
This form helps in facilitating the arrangements during the time of accepting the delivery of an order and also helps in keeping a simultaneous record of the purchase made from a single vendor. All the information regarding the ordered product, its application and the vendor is included in the form.
18. Transcript Purchase Order
An ideal example of the transcript purchase order. It varies from jurisdiction to jurisdiction.
19. Purchase Order Summary
This four-page document helps in drafting a purchase order summary. It includes report basics, a guide on using the report, examples of sample report and guide to interpreting the report. This report is for the individuals designated at the financial management functions in an organization and for individuals responsible for tracking multiple departments.
20. Closing Purchase Orders
Closing is the final step and the last activity related to a purchase order. This document provides detailed steps and the checklist to be analyzed before closing a purchase order. One will end up discovering all the answers regarding the closing of a purchase order in this document.