Conventionally banners were defined as a long strip of cloth bearing a slogan or design which was carried in a demonstration or hung in a public place with the intention to communicate a message. In today's times, a banner is also defined as a heading or advertisement appearing on a web page. Advancements in marketing and promotion methods have resulted in the successful transition of banners from hard copy to a soft copy. Digital banner advertisements have today become an essential part of the advertisement sector.
Travel banners are an innovative way of promoting a travel agency firm or for promoting a travel special offer by the agency. Both printed and digital banners are used for such purposes. Textured, designed, and illustrations based banners are demanded by the clients to attract audience and boom their promotion campaign. This article will cover samples, templates, and examples of a different banner used for varied kind of travel & travel related promotions.
Travel Banner Examples & Templates
1. Travel Banner Ads Template
A digitalized banner advertisement on a website, focusing a unique product or a promotional offer from a genuine brand is tough to avoid. One can afford to pay for such promotions through a digital banner because of the potential returns it can generate. Plus it also provides one with the flexibility of designing a banner according to the required size to fit in a specific space that one has paid for. This file is an example of a travel banner advertisement template. It is designed in black and white with neon topping. It has an attractive design which comes in ten different ad sizes to choose from. It can be downloaded instantly and is fully editable.
2. Travel Google Ad Banner Template
Companies prefer to advertise on the search results page of the often used search engine sites like Google and Bing. This helps in promoting the product or a promotional offer to a potential client. Optimized keywords and relative content is the key to be successful in such promotional streams. If you are looking to advertise in a similar manner and intend to build a travel ad banner, then download the above template. The template is designed to promote tourism and can be utilized by any travel agency. It includes the banner in ten different sizes to choose from. Fonts, color combination, and designing makes this template a must have for online promotion.
3. Travel Agency Roll-Up Banner
Roller banners are a new form of physical banners used for promotions at exhibitions and conferences in an impactful style. The above file is an example of a roll-up banner template for a travel agency. The basis of the design is planning a trip in exotic locations featured in a unique shape. Download this fully customizable template and prepare a roll-up banner for your agency.
4. Travel Agency Facebook Ad Banner
Do you intend to advertise your travel agency with an ad banner on Facebook? Download this template with high-quality images prepared exclusively for a Facebook ad campaign. The template has original suggestive heading and is print ready in 1200×628 pixels. It is also compatible for promotion on snapchat and is editable.
5. Travel Banners Template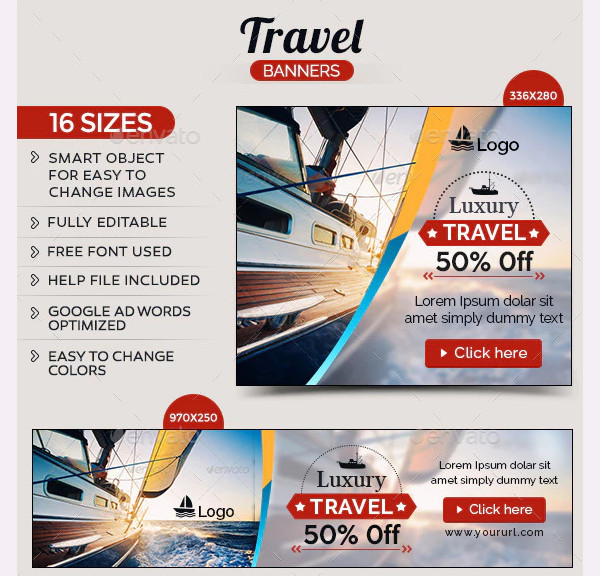 This file is an example of a travel banner template for online promotion. It is available for download in sixteen different sizes. It includes smart objects and free fonts in the template. One can easily change color and pictures to make the banner print ready. Download this file to prepare a customized travel banner for your agency.
6. Travel Party Photos Banner
The above file includes seventeen set pieces of a travel party photo booth props. Available in customized printing options, these party-ready photo banners are the travelers' passport to fun. Each banner piece is customized with distinguished illustration and is a perfect catch for a travel party banner.
Are you looking for an attractive travel agency promo banner to advertise your tour package? Download this instantly editable template with vector illustration of wonders of the world. One can include promotional offers and details about the package in the design. It has a default banner size and is fully customizable.
8. Happy Family Travel Banners