Banners, even from the old times, are widely used by people not just as a form of source of information but also to declare their territory such as the herald banner flags, which are very popular during those good old days. Nowadays, the most common banners that we see are the congratulation banners posted at the gates and walls of the school; for example, in honor and to congratulate the passers of board exam, and there are also those marketing banners designed to encourage people to try out a certain company's products or services or to inform the market of event sales and discounts. For now, feast your eyes on these cool and attractive banner designs and examples. More examples can also be found on these links:
As the world is becoming more inclined to modernization, even banners can be found on the internet which serve as advertisements or headers. Because banners serve a lot of purposes, people, with open arms, embrace the use of banners. More of these modern banner discussions can be found in the later part of this article.
Party Decor Congratulations Banner Example
Congratulations Bunting Banner Example
Golden Luxury Trophy Cup with White Textile Banner
Types of Banner
Banners exist even centuries ago, longer than we think. Although there might be a difference of the use of banners long time ago than how we use banners as of today, banners are undeniably multipurpose and are widely accepted and utilized by people. Because they have a lot of functions, generally, they are very useful especially in disseminating information to the public. Hence, it is without a doubt that banners will stay longer than we anticipated. Their extinction is unimaginable, and it is believed that people will continue to use them in the ages to come. You may also see business banner designs and examples.
As has been said, banners serve different purposes; it can play a role that the maker intends it to be. Here, presented are the different types of banners that are generally categorized according to their purpose and according to materials used. You may also see examples of banner design.
Graduation Party Banner Example
Class of 2018 Congratulations Banner Example
Business Roll-Up Banner Example
Handmade Garland Hearts Banner Example
Elegant Roll-Up Banner Example
According to Their Purpose
1. Vexillum Banners
From the Latin word velum which means "sail," vexilla, the plural of vexillum, means "little sails," the bearer or holder of which is referred to as vexillarius or vexillifer. This type of banner is usually made of cloth draped from a horizontal crossbar suspended from a staff. This type of banner is commonly used as a Christian processional banner. You may also see pop-up banner designs.
2. Heraldic Banners
Heraldic banners are also called banner of arms and are often in square or rectangular shape that exhibit the basic coat of arms only, displaying only on the shield and disregarding any other elements such as the crest, helmet, and motto. Several types of heraldic flags include pennon, standard, banderole, gonfalone, guidon, and pinsel. You may also see examples of banner ads design.
3. Relating to Religion
Banners are commonly used in Christian churches especially during processions inside and outside the church. In the modern times, banners are mainly used as a permanent display on walls or pillars of the church or in an open-air preaching by the evangelists in communicating and spreading the good news about Jesus.
4. Trade Union Banners
Indeed, banners are of many uses since it can also be used in trade unions, showcasing factories, mills, and mines, as well as the visions of the future. For instance, displayed in the banner is a family living comfortably in their newly constructed house where they cared for each other and improving their relationship as a family. Trade union banners are also used by the unionists during parades in representing their respective unions through the logo design or emblem printed in the banner.
5. Sports Banners
Sports banners may refer either to those that are created and brought by the fans during a certain sports event to give support to a certain player or team or to those that are created to represent the team that is participating in the game or event. The latter usually contains a logo of the team as well as its motto, name, and colors representing the team. There are also those sports banner that are made to commemorate the past championships which are usually hung from the rafters in stadiums. You may also see vintage banner designs.
6. Advertising Banners
These refer to banners that are commonly displayed in downtown areas for the public to see. These contain the advertisement of certain products or services and are often printed on different materials such as vinyl and fabric with the use of solvent inks and UV-curable inks. Other advertising banners are plastered behind a window screen or atop skyscrapers and come in different sizes and shapes.
Sweets Vintage Vertical Banner Example
Salon Roll-Up Banner Example
Business Roll-Up Banner Example
Modern Web Banner Example
According to Materials Used
Fabric Banners
Among the traditionally used types of banner are the fabric banners. They are solely used for indoor purposes although some would use them risking their exposure to the different weather extremities. This is because of their fabric nature that they must only be used indoors despite having the higher quality look and feel than vinyl banners. For the colors to appear more vibrant in fabric banners, they are printed using direct dye sublimation. You may also see vertical banner design examples.
Vinyl Banners
Vinyl banners are the most versatile among all banners as they offer a wide range of color options and size options. Despite being light, they are expected to be durable even under heavy rain, except for storms and typhoons. Many people also prefer vinyl banners as they are so easy to install or take down may it be for indoor or outdoor purposes. You may also check out here examples of anniversary banner designs.
Mesh Banners
Mesh banners are those banners whose materials are made of crisscrossed fibers, thus allowing the elements such as wind and water to pass through. Even light and sound can pass through the mesh, which is the reason why they are recommended and commonly used for outdoor purposes. The holes in the mesh of the banner do not allow the elements to pass through but also add aesthetics to the banner.
Poly Banner
A poly banner is commonly used for high-volume short-term advertising. This is because they do not really endure for such a long time as they are designed only for one-time purposes. Knowing that these banners are for short-term advertisement, why do people still use poly banners? This is because the cost for printing poly banners are relatively low as compared to other types of banner and yet still produced almost similar vibrant colors from UV-protected inks that would help ensure that the images would pop and resist fading. You may also check out here sale banner designs.
Modern Long Word Custom Banner Example
Modern Black and White Banner Example
For Like Ever Custom Gold Foil Modern Banner Example
Types of Banner Stands
There are banners that needed some support in order to stand or to be hanged. According to the most suitable condition in the location where you placed your banner, you must choose a stand that could support your banner. Below are some examples of banners stands that you can choose from: You may also see bridal shower banner designs.
Retractable Banner Stands
Also called roll-up banner stands, retractable banner stands are the most popular banner stands used for trade shows. This is because they can easily be set up and taken down. Because people usually have more patience in setting up their space than taking things down during their egress, retractable banner stands can be so much appreciated as to how easy they are to take down and pack away. Another reason of using retractable banners is that they are relatively inexpensive and comes in a wide range of sizes, styles, brands, and levels of quality. You may also see tips for designing effective banner ads.
Non-retractable Banner Stands
If people are looking for a more economical banner stand, many would opt the non-retractable banner stand as they are less costly than the retractable one. However, others may find it a little inconvenient to assemble and disassemble, taking so much time and patience. On the bright side, they are great solutions for store fronts, office entrances, marketing events, and alike as they have features such as adjustable height and multiple graphic options. They come in different kinds such as the pole banners, tension fabric displays, spring back, telescoping, and ridged pole banners.
Feather Flags
For outdoor and indoor signage solutions, a lot of people would choose feather flag banners as they are not only easy to set up and pull down, they are also very attractive, drawing attention to your business, especially when you are promoting a product or service or announcing an upcoming event. You can trust its durability as they are commonly made from a combination of lightweight aluminum and fiberglass poles. You may also see wedding banner designs and examples.
The base option may be as follows: square heavy metal base great for moderately windy conditions, ground stake that has long metal spike underground which provides the greatest stability for outdoor use, cross base which has four foldable base great for indoor purposes, and lastly, the cross base with water bag adding weight to your whole banner stand which help to secure your banner stand in its position. You may also see company banner examples.
Sales Web Banner Example
Halloween Sale Banner Example
Printable Bake Sale Party Banner Example
Uses of Banners
Banners are still utilized until today because of their multi-functionality wonders. With proper layout and design, one can customize his or her own banners, designing it in a way that would serve its purpose that he or she wanted to achieve. Banners may be old as you think, but they will always remain useful to many people because they are versatile, convenient, and affordable. They are versatile in a way that it can be used according to what the creator has intended, they are convenient because they can be carried anywhere and they can also be easily set up and put down, and lastly, they are very affordable not only because there are lots of printing shops that would cater banner printing but also because they can be designed with the use of apps. You may also see Valentine's Day banner examples.
Below are several examples of the uses and importance of banner.
Entrance Signage
Banners are commonly used as an entrance signage. They serve as something that would welcome the guest and make them feel comfortable. We often see these entrance signages in hotels or in the lobby of different business establishments, greeting people and potential customers. The signage may attempt to sell, but the main purpose is just to welcome people to the place.
Showcase Specials
Banners can also be used, commonly by restaurants and stores selling apparels, to showcase their menu or certain specials such as promos, sale, and discounts for a certain time-limited event. The banner must include the specific guideline for the discounts or sale. Another feature that must be present are the restrictions, for example, the specific number of people who can avail the discount as well as the exclusive dates. You may also see examples of superb birthday banners.
Announcements
Another common use of banners is to post announcements of upcoming events or activity. They can play a role similar to a poster and flyer, providing announcements such as concert, launching of a new product line, opening of a new shop, a sales from your favorite shop, birthday announcement, among others. They can be placed indoors and outdoors.
Directions
Banners are also important especially those directional banners, providing directions to people, for example, inside a mall. They indicate the direction toward a certain item, location, an event taking place inside a mall, and many others. This can surely help so much especially to those customers who are in a hurry as they can immediately see the directional banners pointing the specific direction that they are looking for.
Advertisements
Nowadays, there are a lot of banners that we can see inside malls, and typically, these are advertising banners, promoting products and services of a certain business entity. These are important as they can replace the lengthy sales pitch of your salesman; hence, they serve as your silent salesman who promotes your products and services without the usual sales pitch.
Trade Shows
Also known as trade fair, exhibition, or expo, trade shows are organized to showcase an organization's, company's, or industry's latest products and services which involves meeting industry partners as well as customers who examine the recent trends and observe the activities of the competitors. This may be open to public or exclusive for the company representative or corporate members. A banner has a significant role in this event since they can be used for identification of the different companies attending the event. Moreover, they can also be used in showcasing the products and the services.
Presentation Reinforcement
Another important use of banners is for a reinforcement in a presentation. They can be used along with the slideshows for a powerful and effective marketing presentation. The presentation may be about presenting a novel idea to your boss and presenting an update to the status of your task for the management and key personnel or about a client presentation where you can write key points or the outline of the flow of your presentation.
Success Stories
Unlike promotions, advertisements, and announcements, banners feature success stories are not common and they can be rarely seen by the public. These features the different success stories of influential and successful people. These successes may also be in the form of marketing, providing evidence that certain products or services give benefit that they have witnessed.
Simple Ribbon Banner Example
Home Decor Custom Canvas Wall Banner Example
Roll-Up Banner Mock-Up Example
Custom Any Words Banner Example
Christmas Sale Banners
Banners as Used in Wedding
A wedding, as one of the most important events in a person's life, also uses a lot of banners during the said event. Among other events, there are varieties of banners that you can find in a wedding event. Below are the the common banners used in this memorable event of one's life: You may also see event banner examples.
Welcome Banner
In a wedding event, the organizer or host must let the guests feel that their presence is appreciated and that they are so much welcome to the important event. Putting up a welcome banner is a thoughtful way to greet the guests in a wedding venue, giving them a warm welcome to the venue. This will surely leave a lasting impression to the guests as well as the families and friends attending the wedding event.
Directional Banner
Another important banner that must be present in weddings, especially when held at large venues or event halls, are the directional banners. These banners provide direction to the guests and attendees leading the way to the reception hall, wedding ceremony hall, or even the way to the comfort rooms and exits. This will help the guests conserve their time in making their way to the area in the wedding venue that they are looking for. Instead of bothering and asking a couple of people for the direction, they can just follow the directional banners toward their desired location.
Menu Banner
A bar menu banner would also greatly help the guests be directed toward the area of the food as well as the menu that they can choose from. This would also showcase the couple's signature offerings may it be in terms of drinks or may it be the dish and and desserts. Adding illustrations and graphics to the banner can surely attract people's attention, making them aware of the menu that are offered in the wedding event. You may also see party banner designs and examples.
Table Seating Banner
Apart from the standard escort cards and table names, a table seating banner is another way to lead the guests to their designated tables. This would not only provide the seating arrangement but also add enhancement and aesthetic to the overall decoration and design of the venue. Along with the table numbers, the table seating banner must also provide a floor map of the venue to direct the guests in their way to a certain table.
Reception Hall Decor
Wedding decorations and ornaments are the typical options in designing the reception hall. However, a banner can also do good in the design when it is crafted well. Among the interesting things that can be printed in a banner are the photographs of the couple, love quotes and messages, and other attractive stuff relating to the theme of the wedding.
Lamp Post Banner Mock-Up Example
Pink Happy Birthday Banner Example
Formal Business Roll-Up Banner Example
Mexican Pack Banner Example
Creative Corporate Business Banner Design
Top Tips in Creating a Successful Marketing Banner
Banners are popularly used for marketing nowadays. Through banners, people can disseminate any information relating to their business to their target market. Banners can be found anywhere, especially in the busy streets of a city. They are and must be placed in an area conducive to people, especially the intended audience, for them to be effective. They must also be designed and created tailored to the intention of the maker. For example, a sales banner must be designed with attractive colors and fonts so that it can lure and catch the people's attention. Another example is the banner for the launch of the business. It must describe the nature of business as well as the items that people must look forward to during the opening of the business. There are many other marketing strategies where you need to use banners as your marketing material.
However, in creating a banner, you must see to it that you are not just creating any other banner, but a banner that is effective for your marketing, for captivating one's attention. You must pay attention not only to the layout and design but also to the content and the details. In this section, provided are the top helpful tips that you might just need when you create your marketing banner.
Simple Roll-Up Banner Mock-Up Example
Multipurpose Event Banner Example
Clean Business Roll-Up Banner Example
Fashion Sale Ad Banner PSD Set
Keep It Simple
In creating a banner, you must maintain simplicity, keeping a minimalist design and avoid overcrowding. A banner that is full of design will never be noticed at all. People would have a hard time reading your banner when it is overcrowded as they do not know where to focus their eyes on. Hence, create a focal point in your banner and give extra space, a white space.
Maintain Correct Hierarchy
Make sure that you know which point in your banner is the most important and highlight it through increasing their font or using a different color to emphasize that it is above from any other details, hence creating a hierarchy to the key points you have provided in your banner. You may also see welcome banner designs.
Choose a Readable Text
Another thing that would prevent the audience from reading your banner is the type of font that you are using as well as the size. So choose a font that is readable enough, and as much as possible, avoid cursive and Gothic fonts.
Add High-Quality Photos
Photos are also something that attracts people's attention. Choose photographs that are of high quality and are not pixelated. This would greatly enhance the overall aesthetic of your banner.
Choose Appropriate Colors
Incorporating a lot of colors that do not complement well with each other cannot really grab the people's attention; this would only be a burden to the eyes. Only choose two to three colors, and use their different hues and tint to design your whole banner.
Do Not Forget Your Branding
Among your top priority is to include your branding in your banner. This is to showcase to your audience not just your name but everything about you including your products and services.
Add Constraints
Adding constraints would also help in urging your potential customers to take action to your offer. Constraints may include limiting the number of slots available or providing a time limit to your offer. Sometimes, people need a little nudge for them to respond to your offer.
Proofread
Before sending your design for print, make sure that you have carefully checked if there are no typographical, grammatical, and spelling errors present in your banner. Also ensure that the graphic designs are placed accordingly and there are no misplaced photos or images.
Choose the Material for Your Banner
In printing your banner, choose a material that is suitable for the intention of your banner. For example, if you are intending to place your banner indoors, choose a material that suits to be placed indoors. On the other hand, choose a durable material if you want to place your banners outdoor.
Choose Good-Quality Printing
No matter how good your layout and designs are, these would be greatly affected by the quality of your printing. Colors would also be affected if your printer is of poor quality. Hence, do not sacrifice the quality of your printing and choose a printing shop that provides good-quality printing.
Backyard Camping Party Banner Example
Engagement Party Decorative Banner Example
Hand-Illustrated Banners
Chalkboard Alphabet Banner Example
X Banner Mock-Up Example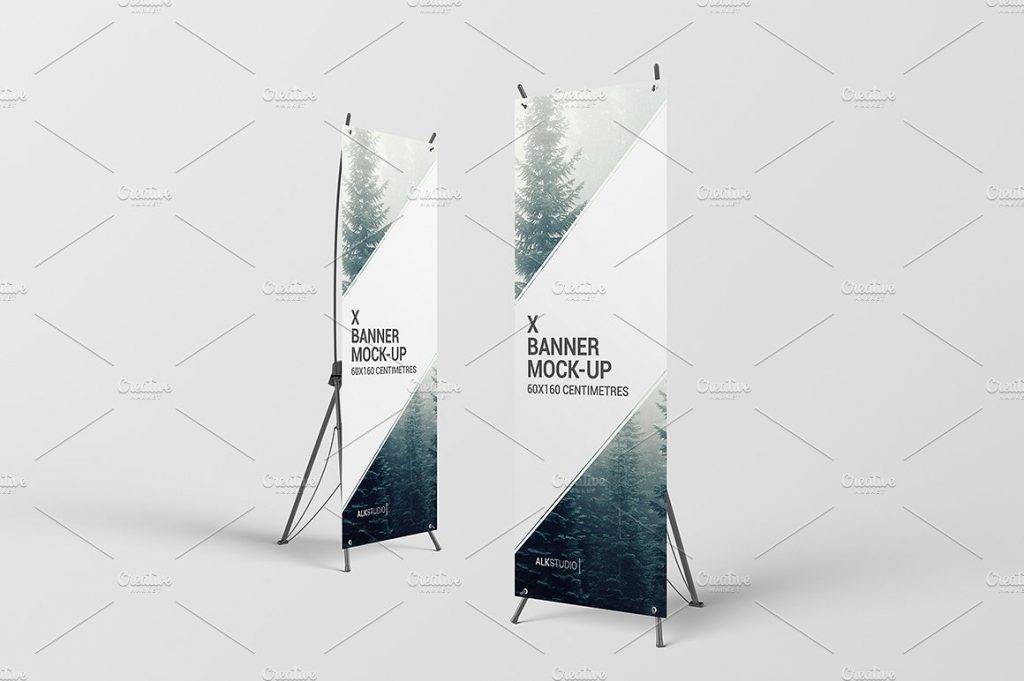 Curtain Call
The road to knowing more about banners may be tough and challenging, but once you get to know more about them, you will know how to use them properly as you will know the right materials, the content, the design, and many other facts relating banners. Indeed, banners are multipurpose, and they can help people a lot in different ways. They can be customized according to the preference of the user, which is among the reasons why they are still widely used and accepted until today.
You have known that there are different types of banners which are generally categorized according to their purpose and according to the materials used. For banners that are categorized according to their purpose, the types of banners are vexillum banners, heraldic banners, relating to religion, trade union banners, sports banners, and advertising banners. Meanwhile, for banners that are categorized according to their purpose, the types of banners are fabric banners, vinyl banners, mesh banners, and poly banner.
There are also different banner stands to support your banner such as retractable banner stands, non-retractable banner stands, and feather flags.
Boy Birthday Banner Example
Watercolor Ribbon Banner Example
Premium X Banner Mock-Up Template
Gender Reveal or Baby Shower Banner Example
Double Banner Mock-Up Example
Neutral Gender Baby Shower Decoration Example
Realistic Roll-Up Banner Mock-Up Example
You have also been informed that banners have a lot of purpose, the reason why they are very important to people. They have different uses which are as follows: for entrance welcome signage, to showcase specials, to post announcements, for giving directions, for posting advertisements, in trade shows, for presentation reinforcement, and in posting success stories.
Banners are also popular in wedding events, and some of the typical banners that you can see in weddings are welcome banner, directional banner, menu banner, table seating banner, and reception hall decor.
Finally, top tips in creating a marketing banner, one of the most commonly used banner nowadays, are presented in the previous section. When you create a banner, you need to consider a lot of things for your banner to be eye-catching and interesting to people. You must design it in a way that your target market will surely notice and read your banner. Several important tips in creating a marketing banner are the following: keep it simple, maintain correct hierarchy, choose a readable text, add high-quality photos, choose appropriate colors, do not forget your branding and identity, add constraints, proofread, choose the material for your banner, and choose good-quality printing.
Lastly, if you want to have something to refer to, an inspiration, perhaps, or you want a template, editable, downloadable, or printable banner design, you can always check the examples of banners in the topmost section of this article. Provided are tons and different kinds of banner designs and examples that you can choose from.