Choosing a gift to give to your friend, family or colleague can be somewhat tricky especially if you don't know what their true preferences are. Thankfully, there is a gift certificate. This is an interesting gift to give away. But how do you create your gift certificate? One way is to craft your own using readymade templates. In this article, we share 11+ travel certificate examples and templates that will help you to create unique gifts to a family member, friend, client or employee.
These are editable certificates that are ready for download.  Most of the template will readily open in Word or other common word processing programs. On the other hand, you can edit and print others from your browser. Also, you will need to customize the templates with your color scheme, text, and photos.
If you want templates that take the hassle and guesswork out of creating great-looking travel certificate, you just have to try these creatively-designed templates. We also encourage you to take a look at these travel expense policy examples and templates to draw inspiration from.
Travel Certificate Examples & Templates
1. Air Travel Fitness Certificate Template
2. Travel Gift Certificate Template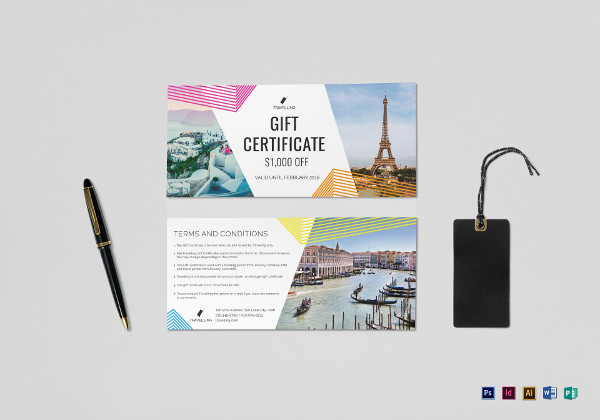 This travel gift certificate template features a layout and a format so you don' have to worry about that. If the requirements demand extra information that's not in the template, you can readily include that as well. Also, the template allows you to make other changes so that you end up with a customized travel certificate. Choose an appropriate size and get started. You will love how fast the whole process is.
3. Free Travel Gift Certificate
This free travel gift certificate has been designed by expert travelers and thus contains every kind of information that may be required of such documents. The template is highly customizable, allowing you to change a number of elements as you see fit. Also, you can edit it easily without having to use those complicated programs. This is because it is compatible with Pages, Photoshop, Word, Numbers, Illustrator and Publisher.
4. Travel Certificate Document Sample
If you want a quicker way of crafting a standard travel certificate with the least hassle, you just have to try this travel certificate document template. It is easy to use, and fully formatted so you only have to enter the specific information that you've been asked. The template is available on instant download and can be accessed from anywhere, at any time.
5. Vector Gift Travel Certificate
This is a smart gift certificate template that you can use for quickly creating your own travel certificate. The template has been professionally designed and features most information you will need to include in such a document. Highly customizable, versatile and easily editable, this template makes your work easier as it has everything done for you already.
6. Paul Travel Gift Certificate
With this creatively-designed Paul Travel Gift Certificate, crafting yours is not a problem at all. If anything, the template already has everything you need, so there is very little that you will have to do. In fact, you will be done creating a professional gift certificate in no time.
7. Traveling Suitcases Prim Gift Certificate
For greater peace of mind and simple reward, just download this attractively designed and fully customizable travel gift certificate template. After that, just open and then edit the template using your favorite application. The elegant template is even shareable via Twitter, Instagram, Facebook, and other social media channels. The template makes your work of producing a travel certificate easier and more convenient. Download the template today to discover the simple way of creating travel certificates.
8. Printable Travel Gift Certificate
This template is fillable, meaning you only need to enter your data on the spaces provided and you will be done creating a professional-looking gift certificate in a matter of minutes. to get started, just download the template, open with your favorite application and enter the required information. It is fast and convenient and ensures you end up with a fully customized travel gift certificate.
9. Vector gift travel voucher Certificate
This vector gift travel certificate template makes your work easier and convenient, as it has already done everything for you. The template is fully editable and allows you to change image and text as you wish. The certificate can be adapted for any occasion. Download it today and get started crafting yours.
10. Euro Bucket and Certificate for Travel
This is a fully editable and customizable template that gives you total freedom when it comes to adding text, images, and color. Just download the template, open it and start editing. You can also do everything online using the available editing tools. The template simplifies your work a lot and ensures you have a fully customized travel certificate in just minutes.
11. Disney Travel Certificate
This is a high-quality Disney travel certificate that is designed to help you create a stunning travel certificate quickly. Instantly downloadable, the template gives is fully researched and contains all the details that are required of these documents. Download it and today and see how easy creating a standardized travel certificate can be.
12. Travel Certificate Example
The great thing with this travel certificate example is that you do not necessarily need to download it to your computer. You can edit it using their online editor and make changes you want. Finally, print the certificate or even download it in PDF or image. The template takes the guesswork ad hassle out of creating a template. Get it today and start crafting a stunning travel certificate.
13. Gift Certificate for Travel Agency
Do you want to create a professional-looking gift certificate for your travel agency? This is the template you should run to. Available in an easily downloadable PDF file, the template contains every essential detail that goes into a gift certificate, leaving you with the simplest of tasks, which is just plugging in your information. You can download the template anytime and from anywhere and get started creating a travel gift certificate.