When doing business, dealing with uncertainty is undeniably frustrating. This is especially true in the event management industry. Surprises are great, but definitely not when they can be the root of a great loss. When dealing with event organizing, it's necessary to prepare an event contract. An event contract will not only clarify all terms of the agreement but also protect you from unforeseen circumstances and other problems that might hamper the process of developing the best occasion or cancel it all completely.
10+ Event Contract Examples
1. DJ Event Contract
2. Event Contract
3. Event Planning Contract
4. Event Venue Contract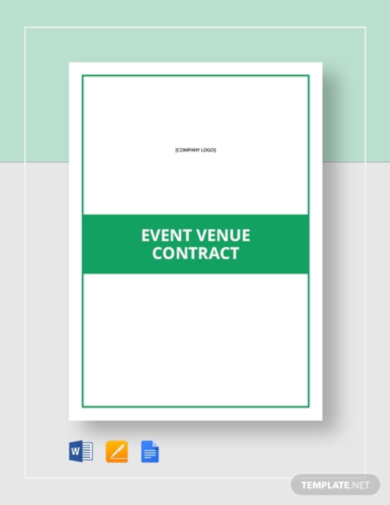 5. Private Event Contract
6. Restaurant Event Contract
7. Wedding Event Contract
8. Basic Event Contract
9. Bistro Event Contract
10. Comprehensive Event Contract
11. Resort Event Contract
What Is an Event Contract?
An event contract is a binding agreement outlining a business agreement between an event planner or organizer and a client. This provides every component that both parties can expect from the transaction. It can work for any public events such as band concerts and conferences or private special events such as weddings, debuts, and birthdays.
According to Study.com, an event contract in an essential part of any event planning because it is protective. It makes sure that everyone involved in the making of an occasion, the event decorators, the catering team, the performers, and other vendors, are all covered with the guarantee that they'll be compensated promptly for their work.
How to Make an Event Contract That Protects You
If you're an event planner, you are at risk of several issues that might improperly bind you. Instead of just being down with a clear and well-written event contract, you should use it to safeguard you and mitigate the risks. Here's how you can make your business contract protect you:
1. Set a Definite Payment Schedule
Financial matters are probably the main highlight in any contract or agreement since disputes that involve monetary issues never end well. It puts any planner or event management at a disadvantage because it might ruin their name in the industry. You must specify a definite payment schedule on your contract. The details should include when the client should make the initial and final deposits. This should also state the exact amount of the transaction to avoid complications and misinterpretations.
2. Specify Your Service Scope
Any business agreement should highlight the scope of the services which would let the clients know what to expect and what services they'll only be catered to. This way, you also set the boundaries of what the clients can ask for and what they can't. Because this is not an uncommon scenario in event planning, most organizers would include a term that imposes additional charges should the client requests for things that are not on the service list.
3. Include Cancellation Terms
Clients bailing out from the last minute is nothing new in the events management industry. It's a problem that planners and organizers face, especially when they back out when there are already purchase receipts. Don't forget that the contract should have cancellation terms that defer clients from canceling at the last minute without a pay. You should also state that deposits that are non-refundable if they decide to bar the occasion from happening due to some reasons.
4. Include a Termination Clause
Termination is different from cancellation. The termination of services applies when there are uncontrollable circumstances beyond the organizer or the client's influence that will prevent the event from happening. This includes emergency fire, floods, storms, and other natural disasters. This clause specifies the viable reasons for termination and provides a plan of action to deal with the situation. In doing so, you also free all parties involved in the contract of any liability.
5. Include an Indemnification Clause
An indemnity clause legally protects the service provider from any loss, harm, damage due to their client's negligence. And When the event planner commits unlawful acts, the client won't be dragged to the court. This is a necessary protective term in case an unwanted situation ensues on the duration of their service contract.
FAQ's
How much does an event planner earn from a single job assignment?
According to Balance Small Business, a planner should charge 15% to 20% of the event's total cost as their service fee. This varies as their check could also depend on the type of event they're spearheading, and the amount of time it took to accomplish the job.
Why hire an event planner?
Below are some reasons why you should get a wedding planner. They are experts in budgeting, and they help make your vision come true. Plus, they are geniuses in organizing tasks, they accustomed to pressure and are flexible to additional demands, and they have reliable connections in the industry for everything your event needs.
What are some mistakes to look out for when planning an event?
When planning for a special occasion, here are some things that you should avoid: not calling the vendors for confirmation, procrastinating, lacking the workforce, and ignoring a plan B for a possible mishap.
Organizing an event puts too much pressure on everyone responsible for its preparation. Parties, festivals, and other special occasions may only last for a few hours and takes a long time to pull off, but it stays for a lifetime in a person's memory. If you need an event contract, browse through our event contract collection.