Perhaps you need to get paid a deposit for a new project? Or you want to generate an invoice for billable hours? Whatever the case, just relax. It's possible to send detailed invoices in only a matter of minutes. We have included 12+ professional invoices examples & templates in this article to get you started. These easily downloadable and editable invoice templates will enable you create a professional document that you can share with your clients in just minutes. Continue reading to learn more.
Professional Invoice Examples & Templates
1. Professional Services Invoice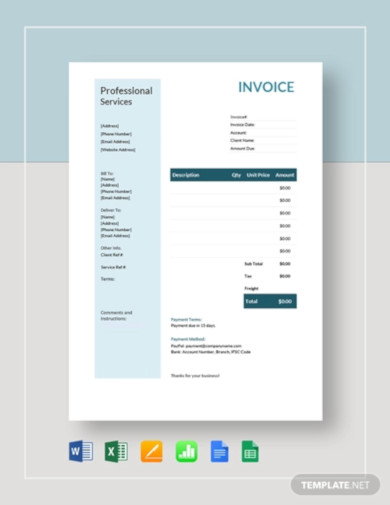 After delivering a professional service, the least you deserve is payment for your time and skills. Use this template to craft an invoice that gets you paid in record time. With this easily downloadable template, you will never have a problem of missed payment. The template simplifies your work of creating an invoice, as all you have to do is to enter your details and you will be done in a few minutes. Download the template today.
2. Free Professional Invoice
You may care for your clients and only want to give them the best, but at the end of the day, you must be paid for your services. With this template, you can create a professional invoice to send to your customers in minutes. The template does pretty much everything for you, and you will be left with the simplest of tasks, which is filling your details.
It is editable without using a special program or skill, and can be customized to suit your own business. Just add a logo and your company name and you have a custom-made invoice to use.
3. Monthly Invoice Format For Professional Services
At last, it's easy to get compensated for your expertise and hard work. This template makes it easier for any professional to get paid for their work. All you need is to download this template and fill in your details and you have an invoice that you can use to bill your clients.
After downloading the invoice, edit it by filling in your details, customize by adding business logo and company name and then send it online to your clients. You can even add relevant add-on fees such late fees or a rush charge. If you want help computing your tax, there is a section for it.
4. Professional Services Invoice Form
Once you have provided your services, it's time for payment. And what better way to bill your customers than with this professional service invoice template? This template confers a lot of benefits, which include the fact that it helps you leave a lasting impression on your clients which would make them more likely to refer you to their friends and that you keep a professional record.
This template is easily downloadable and editable so you don't need a special program to change the details.
5. Professional Agreement Invoice
Having delivered high-quality and professional work, you need an invoice to match that. Unfortunately, many people think the work of creating standard invoices is best left to accountants. But this template demystifies this thinking. It makes it easy for anyone, I mean anyone, to create a professional invoice that is mistakes-free. Thoroughly researched, this template is exhaustive and includes all the important elements usually contained in a standard document. As such, you will never miss anything. Download the template today and start generating high-quality invoices in minutes.
6. Tax Invoice For Professional Fees
No frills or chills, just business. This editable invoice template provides all the necessities of billing without the additional stress or hassle. It has a space where you write your business name and add a logo, where you enter date and where you enter itemized services. The template is easy to use, as you only have to provide your details and you are done creating a professional invoice. It is easily downloadable and editable, without requiring using a special program or skill to edit it.
7. Professional Services Invoice Sample
This service-based invoice template lets you include several jobs as well as how much each one of them costs. In the end, you will have one total cost that your client owes you. Download the template today and just enter your details, customize it by adding your business name and logo and you are good to go. The document is available in a PDF format which you can edit quite easily.
8. Invoice Professional Membership
If you are a member of a professional body, this invoice template is tailor-made for you. The template, which is available instantly on download, will make your work of creating a professional invoice very easy. Designed and created by industry experts, it captures all the essentials of a standard document, making it impossible for you to forget to include a detail. Just download the document, edit it by entering your information and customize it trough adding a logo and company name. It's as easy as ABC.
9. Invoice for professional services
If you offer professional services like photography or painting or even web design services, you need a proper way of invoicing your clients. This not only ensures that you get paid and never miss a payment, but also track all your incomes. The template is available in instant download and can be adaptable to any business, and can be edited easily without requiring any special program. Even if you have never created an invoice before, you don't need to worry because it makes your work a lot easier.
10. Professional Services Payment Invoice
Creating an invoice doesn't get easier than this template. It is available instantly upon download, and lets you customize it by adding some images, your logo and company name. The document also opens in different programs like MS Word and PDF, and makes your work really easy. With this template, you don't have to be a professional to create a standard invoice. Anyone can do it.
11. Create And Send Professional Invoice
This is an invoice template for professional tradesmen and women. Whether you are a designer or a photographer, you will love the concept in this invoice. The template enables you to quickly generate a document that you use to bill your clients and get paid fast. It is customizable as well, allowing you to add your logo and company name to give the invoice your brand identity. Just download the template today and start producing top-notch invoices.
12. Invoice Professional Premium
This invoice professional premium template has everything you need to successfully create a standard document in minutes. Easily available via download, this template is highly customizable and editable. You won't need a special program to edit it. Because it captures all the essential details of an invoice, there is no chance that you will forget to include an important detail.
13. Professional Dues Invoice
This is a go-to template that was specifically created for you. With this template, generating a high-quality and mistakes-free invoice becomes a lot easier. In fact, you don't need to have any accounting knowledge to create an invoice. This template pretty much does everything for you. Download it today.