Those inexperienced with the way job applications work may think that only resumes or Cvs are needed. However, there are many more requirements to deal with. On the day itself, applicants often have to fill out job applications. If you haven't heard of this yet, you may be wondering what the deal is with this form. Fret not, for we're about to answer your queries in this article whilst providing you with free sample job application templates and examples from our list below.
Restaurant Job Application Form Template
Last Minute Job Application Checklist Template
Job Application Rejection Email Template
Job Application Checklist Template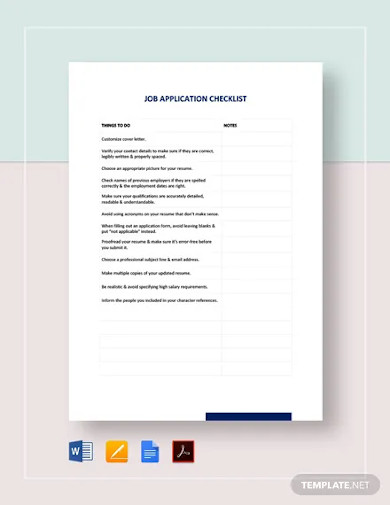 Generic Job Application
Employee Job Example
Basic Job Application
Free Job Sample
Simple Job Example
Target Job Application
Standard Job Sample
What Is a Job Application?
A job application, which is occasionally referred to as an application for employment, is a form filled up by applicants who are interested in a specific position. Almost everyone who has ever attempted to secure work has surely tried filling out a job application form in some way. Every day, people fill out forms like an Amazon job application, a Subway job application, or a Taco Bell job application, among various other examples.
Tips for Filling out a Job Application
Having the right amount of experience for the job does not guarantee that you'll be hired. Remember that there are various other elements that recruitment officers tend to look for. If you're on the lookout for a job, the following tips should come in handy:
1. Honest is the Best Policy
This is the first thing you need to keep in mind. Beyond the moral aspect of being genuine, you may suffer terrible consequences if you are caught lying. At the very least, being caught in a lie will ensure you don't get the job. Be sure to write only factual information about yourself.
2. Avoid Filthy Erasures
Having multiple erasures on your form can sometimes reflect badly on your personality. Always make sure that you think carefully first before you write anything on the job applications printable form. Remember that clean forms indicate professionalism and competence for many recruiters.
3. Provide Everything They Ask
If the form asks about certain personal information, then don't hesitate to answer. The same goes for your college or high school information and previous professional experience. It's understandable how some people may have misgivings, but trust that these are all necessary so that the recruiters can learn more about you and decide on whether you are worth hiring or not.
4. Ensure that You Follow Instructions
If the recruiter asks you to only use a black-inked pen, then use a black-inked pen. Behavior plays an important key in the recruitment process. Read everything on the job application form clearly and do not be in a hurry to finish. Take as much time as you need to make sure everything turns out well.
FAQs
What are the uses of a job application?
The first use for this is that it eases the overall application process. Then there's the fact that it can help applicants get an edge over their competition.
What different formats do job applications come in?
In the event that you are searching for the right job application template for your applicants to use, know that the various formats include a Word format, application examples in PDF, and there are even those that can be personally handwritten in a standard format.
What other documents do I need to submit along with a job application?
In addition to the job application to fill out, an applicant also needs to provide a resume, a cover letter, a reference list, and a letter of recommendation, although these will depend on specific requirements.
As you can see, job applicants are far more interesting and necessary than what you may have previously thought. So now that you're aware of what these are, how will you make use of this brand new knowledge? Whether you are an applicant or a recruiter about to prepare these forms for your own needs, be sure to take what you've learned here and apply it in the very best ways possible!