Organization and cooperation are very crucial in every project. Hence, it is important that all people involved are properly oriented. To address this matter, a project manager is appointed for ensuring the smooth run of the project and assuring that the whole team would meet the expected results.
Accordingly, to accomplish such a task, a project manager creates a project management plan. This document depicts the holistic picture of the project which aims to thoroughly explain to the entire unit what things are needed to be considered and be done to achieve a particular objective.
Project Management Plan Examples & Templates
Project management plans are systematic and often follows specific formats and standards. Notably, if it is your first time or without any background knowledge, composing one could be challenging. Are you one of these people? Free yourself from hassle with this compilation of project management plan samples and templates.
1. Basic Project Management Plan
To achieve wonderful results, you should be professional enough to handle your job. Good decision-making, competitive communication skills, extensive expertise in the said field—these are just some of the desirable qualities of a great project manager. Moreover, it is also important that you could convey ideas coherently. Hearing your needs, this basic project management plan is ready to help.
2. Simple Project Management Plan
To play its role effectively, a project management plan should be comprehensible enough to be understood by everyone. This simple project management plan template exactly does that. Though it's called simple, this does not mean that it disregards aesthetics. Furthermore, this template is highly customizable, assuring that not even a single detail is missed. View this to learn more.
3. Project Quality Management Plan
The quality of the performance and the product are ensured by project managers. Likewise, as a project manager, you should also check for the quality of your project management plan. See if it is comprehensible enough, if it is organized enough, and if it follows the appropriate format. If you're not contented with your composition, this project quality management plan template could help.
4. Project Management Communication Plan
Communication is the key to a team's organization; likewise, it is also crucial toward the success of a project. This project management communication plan template could aid you in crafting a document that would certainly secure proper communication in your project. Furthermore, this template does not involve confusing procedures so you can focus more on the content.
5. Construction Project Safety Management Plan Template
6. Project Management Work Plan Template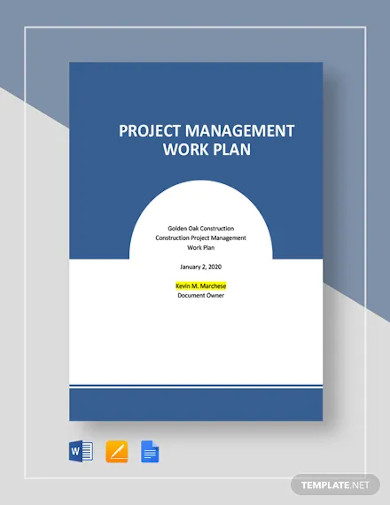 7. Construction Project Risk Management Plan Template
8. Project Management Planner Template
9. Editable Project Management Plan
Management of a project is vital; thus, it should be planned well. Project heads should oversee and consider each factor and devise blueprints to assure the smooth flow of the project. Moreover, these plans should also be professionally documented and are relayed to everyone. This editable template for project management plan enables you to create one that could exactly follow your desire.
10. Plain Project Management Plan
If you are simply emphasizing on the content itself and wish to create one from scratch, this sample is something you must truly see. Removing the spectacular variables, looking at the format of this plain project management plan sample would surely enable you to comprehend better on how to write a plan.
11. River Crossing Project Management Plan
A project management plan should be made as accurate as possible, especially if the projects that are aimed to be accomplished encompasses the security and the quality of people's lives. This river crossing project management plan could be a good example of that. This thoroughly demonstrates the roles, responsibilities, procedures, and processes of the project as well as its desired outcomes.
12. Coastal Project Management Plan
A big project also involves a big number of people and resources. Correspondingly, these could also potentially affect its surroundings, and not to mention, these also require a huge investment. Thus, it is just appropriate if project managers meticulously devise plans. This project management plan from PEGASO is a great example of that. Discover the reason why by viewing this sample.
13. Renewable Energy Project Management Plan
A project that is supported and funded by huge organizations are also the ones that are accompanied by massive pressure and stress. Needless to say, failing such projects also means a waste of the given resources. To avoid that scenario, a concrete project management plan could help you succeed. This project management plan sample for renewable energy could help you with that.
14. Professional Project Management Plan
Prevention is always better than cure. Similarly, a head executive should also practice doing necessary preparations before performing great projects. One of these provisions is the project management plan. This document is very crucial since it integrates everybody to be triumphant. See this professional project plan for management to learn further.
15. CDC Project Management Plan
A project management plan is a document that follows certain formats and standards; hence, without technical knowledge, creating one could almost be impossible. If you are that fresh project planner with only minimal knowledge regarding its composition, this sample could surely save your life. Aside from the proper organization, it also includes guiding remarks that specifically describe each part of the plan.
Project management plans are important in maintaining organization in the overall project phase. This document needs to be comprehensible and professionally composed for it to function effectively. Don't let your inexperience hinder you from writing one; hence, take these samples and templates as your guide. Are these not enough? There are still more on our website to see.