Are you looking to make a persuasive case for your idea or project? If so, you need a well-crafted proposal that can convince stakeholders to invest their time, money, and resources into your vision. But with so many types of proposals out there, it can be overwhelming to choose the right format. In this article, we will explore the different types of proposal formats and provide a step-by-step guide to help you choose the best one for your needs. We'll also answer some frequently asked questions about proposal formats, including the differences between a project proposal and a business case, how to write a budget summary, and how to create a project operational plan. So whether you're writing a proposal report, a business information report, or a strategy execution plan, read on to learn more about proposal formats and how to use them effectively.
1. Business Proposal Format Template
2. Training Proposal Format Template
3. Telecommuting Job Proposal Template
4. Cleaning Service Proposal Template
5. Exhibition Proposal Template
6. Project Proposal Format
utt.edu.tt
7. Formal Proposal Format
einsteinmed.edu
8. Research Proposal Format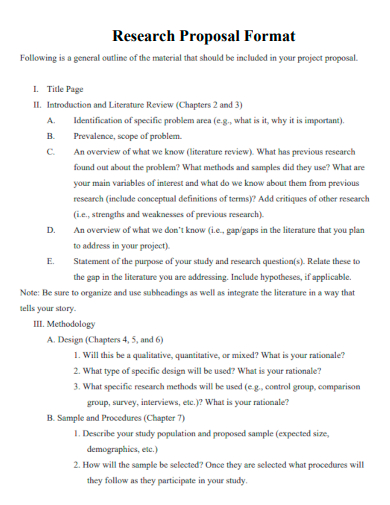 apa.org
9. Proposal Outline Format
northwestern.edu
10. Standard Proposal Format
iwu.edu
11. Common Proposal Section Format
wku.edu
12. Elements of Proposal Format
stockton.edu
13. Written Proposal Format
courts.state.hi.us
14. Preliminary Proposal Format
business.unl.edu
15. Grant Proposal Format
kurzweiledu.com
16. Modern Proposal Format
courts.ca.gov
17. Manuscript Proposal Format
uab.edu
18. Proposal Format for Investigator Initiated
uthsc.edu
19. Student Research Proposal Format
oakland.edu
20. Advancement to Candidacy Proposal Format
uth.edu
21. Unsolicited Proposal Format
atptx.org
What is a Proposal Format
First, let's define what a proposal is. A proposal is a written document that outlines a plan or suggestion for a specific project, initiative, or business. It's a formal way of presenting your ideas and can be used to persuade others to support your proposal. A proposal format is the structure in which your proposal is presented. It includes the headings, sections, and formatting styles that you use to organize your content.
How to choose the right Proposal Format
When it comes to choosing a proposal format, there are several factors to consider. These include the purpose of your proposal, the audience you're targeting, the level of detail required, and any specific guidelines or requirements provided by the recipient. To help you make the right choice, we've put together a step-by-step guide:
Step 1: Identify the purpose of your proposal
Are you presenting a project proposal, a business case, or a strategy execution plan? Each of these documents requires a different format and level of detail.
Step 2: Define your target audience
Who will be reading your proposal? Is it your boss, your team, or a potential investor? Understanding your audience will help you tailor your proposal to their needs and preferences.
Step 3: Determine the level of detail required
How much information do you need to include in your proposal? Will you need to provide a budget summary, project operational plan, or business information report? Make sure you have all the necessary details before you start writing.
Step 4: Check for any specific guidelines or requirements
Does the recipient have any specific requirements for the proposal format? Make sure you follow any guidelines provided to ensure your proposal is well-received.
FAQs
What is the most common proposal format?
The most common proposal format is the project proposal, which typically includes an introduction, a project overview, a budget summary, and a conclusion.
How do I make my proposal stand out?
To make your proposal stand out, focus on your unique selling points and highlight the benefits of your proposal. Use clear, concise language and include visual aids like charts and graphs to illustrate your points.
Can I use a template for my proposal format?
Yes, using a template can be a helpful starting point for your proposal. Just make sure to customize the template to suit your specific needs and follow any guidelines or requirements provided by the recipient.
How long should my proposal be?
The length of your proposal will depend on the purpose, audience, and level of detail required. As a general rule, try to keep your proposal concise and to-the-point, focusing on the most important information.
In conclusion, choosing the right proposal format is key to getting your message across effectively. By considering the purpose, audience, level of detail, and any specific guidelines, you can create a proposal that is well-received and achieves your desired outcome. Whether you're presenting a project proposal, a business case, or a strategy execution plan, using the right format can make all the difference.