Sales report keeps the record of the calls and details of the products sold during a particular time that has been sold by a salesman. Sales reports can be made on a daily, weekly, or annual basis. In fact, they have proven enablers of employee productivity, which will prove profitable to the company in the long run. It analyses the various trends that take place in a company's sales capacity over a particular time frame. It tracks whether it is increasing or decreasing. The sales manager must analyze these trends in the reports and decide on a course of action based on the reports.
These reports also help in finding the right opportunities in the market for the company by which they can further boost their sales. For more examples on sale reports, please visit this link Sales Report Example. Here are 18+ Sales Report Example and Templates.
Sales Report Examples & Templates
1. Annual Sales Report Template
This template is a sample of the annual sales report. Here the derived revenue from prodcut sales can be seen at a glance. Its main objective is to show the complete sales performance of the company. Also the relevant analysis figures and sales strategy of the business can be seen.
2. Weekly Sales Report Template
This is a sample of a weekly sales report which is an essential tool to assess the company's performance on the basis of product sales, achieved goals, and anticipated goals are charted out. If you are a sales representative looking for weekly sample reports, then this template will come in handy.
3. Monthly Sales Report Template
Are you a sales representative worried sick on how to make a Monthly Report? This monthly sales report template is the report showing the number of items sold. Also the amount of money a company has received from selling stock can be seen from here. This will put all your worries about this behind. It is a sample monthly sales report of a company. You can use it to write one on your own. All the essential data such as targets met and projected figures can be pit in to impress your supervisors.
4. Daily Sales Report Template
Sales reports are of many kinds; this template consists of a Daily Sales Report Examples of a company. This one tracks the cash control, assesses the measure cost versus sells performance. If you want to make a report for your company then you can take the help of this. The report contains company details, objective, mission, and an efficient and impressive format can be created from this.
5. Restaurant Monthly Sales Report Template
This is a Monthly Report Example of a restaurant. The scope of the report is to find out whether you are making gains or losses in the restaurant business. Under this template, the product and service sales information can be noted down.
6. Sales Activity Report Template
A sales activity report template consists of all the activities undertaken during the sales process. This template will provide you with the detail of the format, for making a sales report for your company. You can even use this example to make it look better.
7. Free Daily Sales Report Template
Does your company require you to create a daily sales report ? If yes, you can use this template to build one on your own where the daily sales data for every branch and category can be taken. It is in the form of a list where you can put in your company's name, date, and other vital details such as taxable amount, product price, etc. The income and expense totals can also be made through this and presented to the company heads.
8. Free Sales Call Report Template
This is a free sales call report sample which contains the client information with whom the sales person met. The company's plan to make a purchase, value and size of the purchase to be made, and the relevant data that a client wants from the sales person can be seen and put here.
9. Free Sales Action Plan Report Template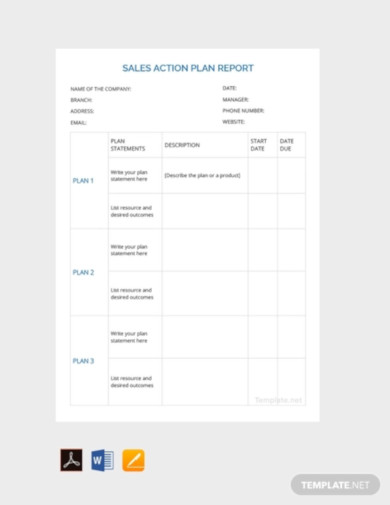 With the help of this sample sales action plan report, you can chart down your sales targets and strategies. The steps to achieve the sales target and provide the planning statement for each can also be done. Such action plans, when made in advance, always result in better sales numbers.
10. Sales Performance Report
This template is a sample of sales performance survey report of CSO Insights that contains the annual Sales Analysis Example for the fiscal year of 2018-2019. The report is a representation of their consultation business performance containing very detailed and in-depth analysis. This can be very educative for readers belonging to this industry.
11. Products Sales Report Example
A product sales report of USDA Agricultural Marketing Service is provided in this template. The estimated total sales figure of milk products sold during the year till March are given in a comparative chart format. The previous year's sales are also given for comparison and analysis.
12. Annual Retail Sales Report
This template can be used as a reference for the annual retail sales report. It is an annual retail propane sales report for the year of 2017. It was conducted by ICF on behalf of the Propane Education and Research Council in the US for the benefit of the various interest groups attached to this industry.
13. Sales Report Format Example
This is a basic sales report format of a company that you can use as a reference for creating your own. It can be useful if you are a retailer, distributor, or a representative agent, who is willing to report sales to a content owner or a publisher.
14. Query Sales Report Template
Redbird Technologies Pvt. Ltd is a Delhi-based IT solutions company's template contains their Query Sales Report(TJQ) Exchange Indicator. It has new enhancements like new indicators are added for exchanged or reissued documents. It will benefit the users of the system.
15. Monthly Retail Sales Report
This template is a monthly retail sales report of Kubota Corporation, where the comparative ratio of their sales in percentage, in United States and Thailand, are shown for the benefit of the readers.
16. Sample Sales Report Example
This template is a sales report module of Tally Pvt. Ltd. in a slideshow format. If you are preparing for a slideshow on sales for your company, then you can take this template's assistance to format one.
17. Monthly Sales Report Example
This is a monthly sales report analysis of PPIH, a holding company. Their performance in sales, customer traffic, clothing, household goods, and food numbers for March is tallied in percentage format to analyze their performance.
18. Sales Report Strategy in DOC
This template will provide you with a sample sales reporting strategy if you are looking for ways to chalk out your sales report. You can use this template to structure one for your company.
19. Sales Order History Report
The USDA has provided its FMMI BI BEX Sales Order History Report in this template. It displays and analyzes non-appropriated funds that have been received from outside sources. The readers will benefit from this report.