You don't necessarily have to have great writing skills when you're writing a report. You just need to know some basic techniques and guidelines along the way to make a truly compelling one.
Furthermore, it is essential and utmost practical to learn and practice business writing when it comes to making reports. It is best to start practicing and writing your reports, so in the long run it won't be overwhelming for you. You may refer to the examples below for writing a report.
1. Free Sample Daily Report Card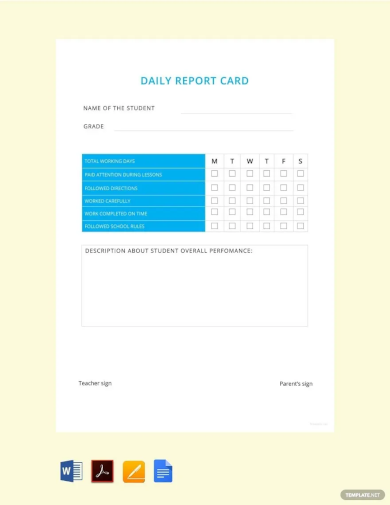 2. Free Simple Report Card Format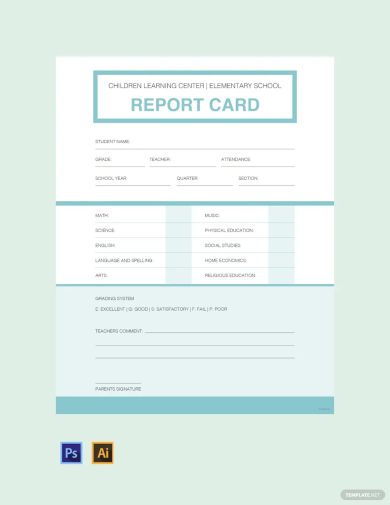 3. Free Blank Weekly Project Status Report
4. Sample Weekly Activity Report Examples
5. Sample Book Report Examples
6. Simple Student Progress Report Card
7. Student Report Card Example
8. Sample College Report Example
9. Free Annual Report Example
10. Sample Audit Report Example
11. Weekly Status Report Example
12. Annual Financial Report Example
13. Consulting Report Example
14. Free Monthly Report Example
15. Report Writing Examples
16. Effective Report Writing 
Example
17. Sample 

Business Report Writing 

Example
18. Undergraduate Project Report Writing 
Example
19. Scientific Report Writing 
Example
20. Newspaper Report Writing 
Example
How to Write a Report
Introduction of your chosen topic
Content of your chosen topic
The results of your findings
Closing it with the conclusion of the report
What Is the Purpose of a Report?
There are two purposes of a report that is done in formal writing and these are on information and communication.
With these two hand in hand, one of the contributing effects of the purpose of a report is help you decide on making the right decisions.
Second would be to develop good relationships in your work due to the effective information and communication that has been transmitted by the report example.
Third and last would be the supervising on the acquired information based on the report on whether if it meets the actual standard of the organization.
21. Effective Formal Report Writing 
Example
22. Basic 

Audit Report Writing Example
23. Sample Research Report Writing 
Example
24. Example Student Report Writing
25. Free Technical Report Writing 
Example
26. Free Incident Report Writing 
Example
The Difference between Essay and Report Writing
Although they tend to mean the same thing which is to write about a particular topic, they greatly vary in terms of style and content.
Let us first begin with essay writing, essay writing is more on dealing with the writers' own personal opinion and subjective understanding regarding the topic he/she is writing about.
While on the other hand, report free writing is more concern with the facts and is well detailed in explaining and delivering the purpose of the information through a systematic and organized way.
How to Prepare a Report Writing?
The first thing that you should do to prepare when writing a report is of course the chosen topic that you're going to be reporting.
Study and understand the chosen topic that you would be writing a report about in order make an effective and informative report.
Start writing your report to actually experience it on a more hands-on way. You may also see writing examples in doc
How To Write a Report in 7 Steps
Determine the Purpose: Clearly understand the report's purpose, whether it's to inform, analyze, persuade, or recommend.
Collect Information: Gather relevant data, facts, and evidence through research, surveys, interviews, or observations.
Organize and Structure: Create a logical structure with sections like an introduction, background, methodology, findings, analysis, and conclusion.
Write an Introduction: Start with a concise introduction that outlines the report's purpose and what readers can expect.
Present Findings: Present your data and findings systematically. Use clear, concise language, and support your points with evidence.
Provide Analysis: Interpret the data and explain its significance. Discuss implications, trends, and insights.
Conclude and Recommend: Summarize the key points and findings. If applicable, provide recommendations or a call to action.
What is an example of report writing?
Title: Market Research Report – Consumer Preferences for Mobile Phones
Introduction: This report presents the findings of a market research study conducted to understand consumer preferences for mobile phones in the fictitious market of "Techville."
Methodology: We conducted a survey of 500 Techville residents, using both online and in-person questionnaires. The survey included questions about brand preferences, desired features, and price sensitivity.
Findings:
1. Brand Preferences:
40% of respondents favored Brand A.
30% preferred Brand B.
20% had no specific brand preference.
10% liked other brands.
2. Desired Features:
60% of participants emphasized camera quality.
25% considered battery life a top priority.
15% prioritized processing speed.
3. Price Sensitivity:
70% of respondents were willing to pay up to $500 for a mobile phone.
20% were willing to spend between $500 and $800.
10% indicated a budget of over $800.
Analysis: The results indicate a strong preference for Brand A, likely due to its reputation for camera quality. The demand for longer battery life and affordability in the $500 price range is significant.
Conclusion: Consumers in Techville exhibit a clear brand preference and prioritize camera quality, battery life, and affordability when choosing mobile phones. Recommendations for manufacturers include improving camera features and offering budget-friendly options.
How do you write a work report example?
[Your Name] [Your Position] [Your Department] [Your Organization] [Date]
Title: Monthly Sales Performance Report – October 2023
Executive Summary: This report provides an overview of the sales performance for the month of October 2023, including key achievements, challenges, and recommendations for improvement.
Key Achievements:
Total sales revenue for October: $500,000, surpassing the target of $450,000.
Sales team achieved a 15% growth in the Southeast region.
Successful launch of a new product, contributing $50,000 in revenue.
Challenges Faced:
Increased competition in the Southwest region resulted in a 5% decline in sales.
Delays in product shipments from the supplier affected inventory levels.
Customer complaints regarding product quality and delivery times increased by 10%.
Sales Team Performance:
Sales team members achieved their individual sales targets, with an average of 110% attainment.
The top-performing sales representative for the month was [Name], exceeding their target by 20%.
Recommendations:
Address quality and delivery issues to improve customer satisfaction.
Implement a proactive inventory management system to avoid future supply chain disruptions.
Introduce sales training on objection handling and customer relationship management to enhance performance.
Conclusion: October 2023 saw remarkable sales growth and some notable challenges. Addressing these issues and building on our achievements will be essential for sustaining our positive momentum.
How do you structure a report format?
1. Title Page:
Title of the report.
Your name or the name of the author.
Date of submission.
Any relevant organizational or departmental information.
2. Executive Summary:
A brief overview of the report's main points, findings, and recommendations.
Usually, this section is written last but placed at the beginning.
3. Table of Contents:
A list of report sections and their page numbers for easy navigation.
4. List of Figures and Tables (if applicable):
A list of all figures and tables with corresponding page numbers.
5. Introduction:
Clearly state the purpose and scope of the report.
Provide background information and context.
6. Methodology (if applicable):
Describe the research methods, data sources, and tools used to gather information.
7. Findings/Results:
Present the main data, facts, or findings in a structured and organized manner.
Use headings, subheadings, and visuals like charts and tables to enhance clarity.
8. Analysis:
Interpret the data and explain its significance.
Discuss trends, patterns, or relationships observed in the findings.
9. Recommendations (if applicable):
Offer suggestions or solutions based on the analysis.
Provide actionable steps for improvement or decision-making.
How do I start writing a report writing?
1. Understand the Purpose: Clarify the purpose of your report. Are you informing, analyzing, persuading, or recommending? Know your audience's expectations.
2. Research and Gather Information: Collect all the necessary data, facts, and evidence related to your report's topic. This may involve surveys, interviews, literature review, or data analysis.
3. Organize Your Thoughts: Create a rough outline that includes the main sections of your report. Common sections include an introduction, methodology, findings, analysis, recommendations, and conclusion.
4. Write a Clear Introduction:
Begin with a concise introduction that states the purpose of the report.
Provide some context or background information about the topic.
5. Develop Main Sections:
Write each section one at a time, starting with findings or methodology if appropriate.
Present your data or analysis in a logical and structured manner.
Use clear headings and subheadings to guide the reader.
6. Analyze the Data:
Interpret the data and explain its significance.
Discuss patterns, trends, or relationships in the findings.
7. Draw Conclusions:
Summarize the main points and findings in the conclusion section.
Reinforce the report's purpose and significance.
What are the do's and don'ts of report writing?
Do's of Report Writing:
Understand Your Audience: Tailor your report to the knowledge and needs of your intended readers.
Clarify the Purpose: Clearly define the report's purpose, whether it's to inform, analyze, persuade, or recommend.
Organize Information: Structure your report logically, with clear headings and subheadings for easy navigation.
Use a Formal Tone: Maintain a professional and formal writing style throughout the report.
Be Clear and Concise: Use plain language and avoid jargon. Express your ideas in a straightforward manner.
Cite Sources: If you use external sources, provide proper citations and a reference section.
Proofread and Edit: Review your report for grammar, spelling, and formatting errors.
Include Visuals: Use charts, graphs, and tables to enhance data presentation.
Use Appendices Sparingly: Include supplementary materials only when necessary for clarity.
Include an Executive Summary: Begin with a concise summary at the beginning for readers seeking a quick overview.
Don'ts of Report Writing:
Avoid Ambiguity: Ensure that your statements are clear and unambiguous. Avoid vague or unclear language.
Don't Overcomplicate: Keep sentences and paragraphs concise. Avoid overly complex sentences or lengthy paragraphs.
Avoid Personal Opinions: Stick to facts and data; avoid personal opinions or emotional language.
Don't Overload with Information: Include only relevant data and details. Avoid irrelevant information that may confuse the reader.
Don't Plagiarize: Never present someone else's work as your own. Properly cite all external sources.
Don't Skip Proofreading: Neglecting proofreading can result in errors that undermine your report's credibility.
Avoid Contradictions: Ensure that your report maintains a consistent tone, style, and message throughout.
Don't Overuse Technical Jargon: Avoid excessive technical terms and jargon that your audience may not understand.
Don't Omit Important Data: Include all relevant information and findings, even if they challenge your conclusions.
Avoid Neglecting Visuals: If visual aids can enhance understanding, use them. However, don't overcomplicate with excessive visuals.
FAQ's
How should I write a report?
To write a report, clarify its purpose, gather relevant information, organize your thoughts logically, use a formal tone, provide clear, concise content, cite sources, and proofread meticulously for accuracy and clarity.
What is simple report writing?
Simple report writing is a concise and straightforward method of conveying information or findings in a clear and direct manner, often without extensive analysis or elaborate formatting.
What should be included in a report?
A report should include a clear purpose, structured sections (introduction, methodology, findings, analysis, recommendations, conclusion), relevant data, citations, visuals (if needed), and adhere to a specific format.