Every organization, including the individuals working for the said organization should need to know their internal strengths and weaknesses as well as their external opportunities and threats. Knowing this will help in creating an effective foundation for long-term planning, most specifically creating a SWOT Analysis.
Business organizations make use of a SWOT analysis worksheet for them to be able to conduct a SWOT analysis effectively. SWOT analysis worksheets can also be helpful for individuals who want to apply for a new job, apply for a promotion, or simply for personal development purposes. In this article, gain more insights about SWOT analysis worksheets to help you get a better understanding on how to use the said worksheets for yourself and for your company. You may also see analysis examples.
What is the Purpose of a SWOT Analysis Worksheet?
A SWOT analysis worksheet is a tool used to effectively conduct a SWOT analysis. The said analysis is a strategic tool used in identifying and analyzing the strengths, weaknesses, opportunities, and threats of a company as well the individuals involved in the company (stakeholders). It can also be used in analyzing the competencies and deficiencies of products and services offered by the business. You may also see  Personal SWOT Analysis
Simple SWOT Analysis Template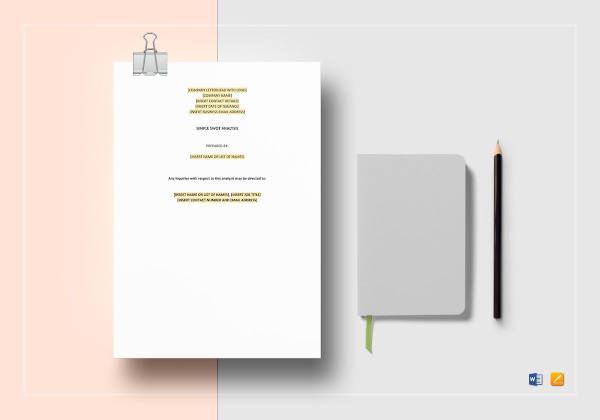 Sample SWOT Analysis Template
SWOT Analysis Example
SWOT Analysis Sample Worksheet Example
Simple SWOT Analysis Worksheet Example
SWOT Analysis in Application Worksheet Example
Sample SWOT and GAP Analyses and Worksheet Example
Easy SWOT Analysis Worksheet Example
Comprehensive SWOT Analysis Worksheet Example
What Makes Up a Successful SWOT Analysis?
Here are some items you should consider incorporating when making your SWOT analysis:
1. Be realistic and honest when identifying your company's strengths, weaknesses, opportunities and threats. The virtue of honesty greatly applies here as you need it to have a successful SWOT analysis. You may also see stakeholder analysis.
2. Make sure that your SWOT analysis includes analysis of your current and future plans for the company.    
3. Be specific when identifying your strengths and weaknesses as it will guide you in drawing out specific opportunities and threats.
4. Identifying the competitors and government policies should be the priority when analyzing the company's external analysis. You may also see SWOT Analysis
5. Follow the KISS (keep it short and simple) principle when making the SWOT analysis without compromising the details you want to incorporate. This will help the management team in its long-term planning without going through pages of lengthy analysis.
6. The company's employees, management team, and policies comprise the most importance part of the analysis' internal analysis.
SWOT Analysis Worksheet Example for Job Seekers Example
SWOT Analysis Worksheet Example with Questions
SWOT Analysis Worksheet Examples with Guide Question
Sample SWOT Analysis Worksheet
Worksheet on Conducting a Successful SWOT Analysis Meeting Example
SWOT Analysis Worksheet for Goal Outlines and Strategy for Business and Marketing Example
The SWOT Analysis Process
1. Set clear objectives
Having a clear set of objectives will help you create your analysis, and will assist you throughout the SWOT analysis process. The objectives will serve as your blueprint when eventually creating the analysis. You may also see comparative analysis.
2. Do research on your business, the industry and the market
This is another preparation for creating the SWOT analysis. It is important to do some research first on your company, the industry where your business belongs, and your target market. It is in the results of your research that you will be able to draw out the factors you want to include in your SWOT analysis. Also, do some research about your competitors as they are crucial in your external analysis. You may also see marketing strategies.
3. List down ALL your business' strengths, weaknesses, opportunities, and threats
By listing all down all your SWOT items, it will be easier for you to make your analysis. Strengths and weaknesses may include company employees, the management team, company policies, products and services, and suppliers. Opportunities and threats meanwhile include competitors, technology, government policies, international issues and changes in the natural environment. You may also see selling your business checklists.
4. Monitor results and establish priorities
After completing the three steps above, it is time to monitor the results. You will be able to have an overall assessment of your company, which will guide you in making long-term company decisions as well resolve current internal issues. You may also see marketing and sales.
5. Develop a strategy to address issues
When developing a strategy on how to address as well as resolve issues after creating a comprehensive SWOT analysis, you should ask and answer these important questions:
a. Draw a connection between your strengths and opportunities. How can you use your strengths in order to make use of the opportunities you also listed down?
b. Given the strengths and weaknesses you listed down, how can you make use of your strengths to resolve or overcome your weaknesses? How do you resolve your weaknesses to take advantage of the opportunities you presented?
c. Give the weaknesses listed down, how can you make sure that you would not let those weaknesses trigger possible threats?
6. Get commitment
Do not let the results of your SWOT analysis go to waste after you accomplished making it. The SWOT analysis does not only benefit the company short-term, but long-term as well. Revise the analysis if you think there are major changes in the business environment. You may also see social marketing.
We hope you found our article on SWOT analysis worksheets to be informative. The examples provided above will serve as a guide when you will be making your own internal and external analysis.