Thanks to the digital technology that we have today, companies can easily establish a firm footing in the job market to attract job applicants. People can just search for the job they want on the internet and send their job applications via email, all in one stroke. But despite that, job fairs are still effective means to recruit employees fast. Meeting prospective applicants as they apply in person is always better than letting them apply online. So if your company or employment agency will be mass hiring, doing it through a job fair is a good option. Promote it to the public using our Job Fair Flyer Examples! Get all of them here!
10+ Job Fair Flyer Examples
1. Job Fair Flyer Template
2. Company Job Fair Flyer Template
3. Job Fair Recruitment Flyer Template
4. Free Job Fair Flyer Template
5. Free Modern Job Fair Flyer Template
6. Job Fair Flyer Example

Download
7. Company Job Fair Flyer

Download
8. Job Fair Flyer in PSD

Download
9. Job Vacancy Flyer Templates

Download
10. Job Fair Flyer Design

Download
11. Simple Job Fair Flyer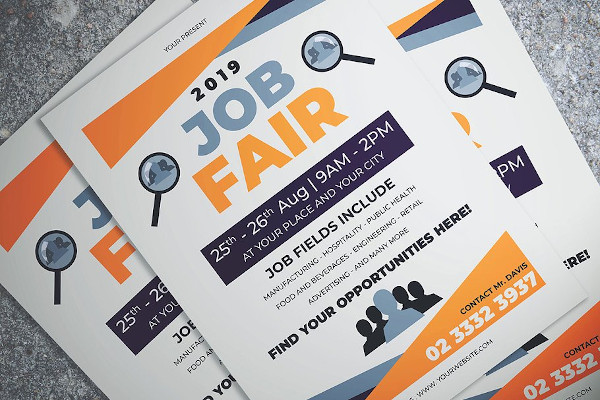 Download
What Is a Job Fair Flyer?
A job fair flyer is a type of print advertising media that promotes an upcoming career or job fair event. More importantly, it shows the job fair's date, time, and venue. And it aims to invite job applicants to attend and apply for the job vacancies that the job fair offers. Companies and recruitment agencies distribute thousands of copies of a job fair flyer to the public. It could be in malls, busy streets, or school campuses. Another term for a job fair flyer is career fair flyer.
Ways to Advertise a Job Fair
If your company or agency is organizing a job fair, advertising it to the public is important. Otherwise, less or no applicants at all will be attending it. All the preparations for the job fair will be useless. So, here are some ways to advertise your company or agency's upcoming job fair event.
Local media is capable of influencing people. They're local newspapers, television networks, and radio stations. Asking them to advertise your job fair would definitely work. People will surely take notice of your job fair when they feature it on their respective platforms. That's because most of them follow local media daily.
Your company or agency's official website can promote the job fair on search engines. Some people who are looking for jobs might search for "Job fairs near me," and yours might show up. But for that to happen, you should apply SEO techniques in advertising the job fair on the website.
Social media is another excellent platform to advertise your job fair on the internet. The majority of people are active social media users. That said, your job fair will garner attention, especially from job seekers. You can advertise it on Facebook, Twitter, Instagram, or LinkedIn.
The traditional way of advertising is through print media. And although digital media is more prominent today, print media still works. They're still capable of putting a business on the map. Examples of print media are billboards, brochures, banners, posters, and flyers.
How to Create a Job Fair Flyer
If you opt to use a flyer to promote your job fair, you've made a good choice. It's easy to create. There'll be no need to hire a graphic designer to make it for you. Just follow these steps:
Step 1: Showcase Your Organization's Image
The design and aesthetic of your flyer should manifest your organization's image. Things such as its official name, logo, and brand colors should be present. Though, for this step, our flyer templates got you covered. Each of them has a ready-made design. Just select one that best suits your organization's image. You can modify them freely. Or, you can simply view them to get some job fair flyer ideas.
Step 2: Emphasize the Words "Job Fair"
The words "Job Fair" should be front and center. The flyer should clearly state that what it's promoting is an upcoming job fair event. So make sure to set a large font size for the words "Job Fair." See to it that they can be read easily at first glance.
Step 3: Provide Complete Info About the Job Fair
The flyer should have complete details about the job fair, especially its date, time, and venue. You should also include what jobs the fair offers, such as call center jobs, food server jobs, etc. And if possible, you can also list down the companies that will be featuring their job vacancies during the event. In general, flyers should be informative to avoid misleading people.
Step 4: Add a CTA Message
CTA stands for Call to Action. It's a message that urges or encourages people to take action or do something. In your case, your CTA should encourage people to attend the job fair and apply for any of its offered job vacancies. Common examples of a CTA are "Come Visit Us!" and "Start Your Career With Us!" You can use those examples or create your own. Add the CTA on the flyer to make it more inviting to the prospective applicants.
You can follow these same steps in making your career fair poster.
FAQs
How to attract students at a job fair?
According to a report by Rakuna, around 90% of students seek jobs at job fairs. Some of them want to earn while studying, and some want to do something productive over the summer. Most of them are likely high school and college students. Here are some ways to attract them to your job fair:
Hand out flyers on campuses
Hold job fairs on campuses
Advertise on social media
Emphasize career opportunities
What things should employers bring to a job fair?
These are the things that employers should bring to a job fair:
Folder or envelope to keep applicants' resumes and application forms
Business cards or calling cards
Brochures or pamphlets about their company
Documents listing the jobs' pre-employment requirements
Giveaway or welcome items for successful applicants
Do job fairs hire applicants on the spot?
Yes, employers in job fairs can hire applicants on the spot. Some employers prefer a quick hiring process, especially if their company is urgently hiring.
Job fairs open countless doors of opportunities to many people, especially new grads. Your company or employment agency is doing a great service to the community by organizing a job fair. So, do your part by promoting it with the help of our Job Fair Flyer Examples! Download them now!