Do you still remember the first time you've written an essay? I bet you don't even know it's called an "essay" back then. And back then you might be wondering what's the purpose such composition, and why are you writing something instead of hanging out with your friends.
Now, you probably are already familiar with the definition of an essay, and the basics of writing one. You're also probably aware of the purpose of writing essays and the different writing styles one may use in writing a composition. Here, we will be talking about self-introduction essay, and look into different examples such as short essay, personal essay which you may refer to.
Self Introduction for Scholarship
Introduction Essay for College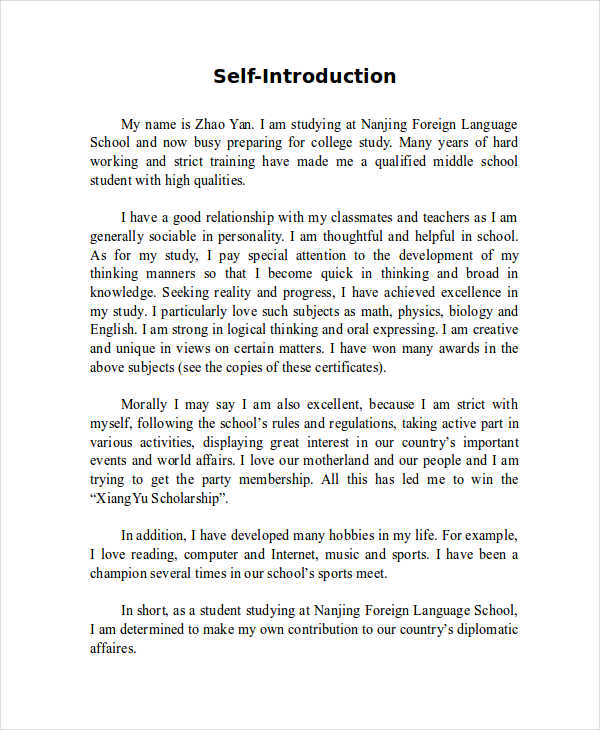 Self Introduction Sample
Essay for Internship Example
What to Write in a Self-Introduction Essay
A self-introduction essay, as the name suggest, is an part of essay containing the basic information about the writer.
In writing a self-introduction essay, the writer intends to introduce himself/herself by sharing a few personal information including the basics (e.g. name, age, hometown, etc.), his/her background information (e.g. family background, educational background, etc.), and interesting facts about him/her (e.g. hobbies, interests, etc). A self-introductory essay primarily aims to inform the readers about a few things regarding the writer.
How to Write a Self-Introduction Essay
A self-introduction essay is, in most cases, written using the first-person point of view. As a writer, you simply need to talk about yourself and nothing more to a specific audience.
A self-introduction essay outline can be easy to write, since all you have to do is to introduce yourself. However, one needs to avoid sounding like a robot or a person speaking in monotone. Of course, you need to make the composition interesting and engaging, instead of making it plain and bland. This is probably the main challenge of writing a self-introduction essay, and the first thing every writer needs to be aware of.
Essay Outline Worksheet Example
Self Introduction for Student
Introduction Essay for Interview
Self Introduction Expository
Tips for Writing a Self-Introduction Essay
A self-introduction essay might be one of the easiest essays to start. However, one needs to learn a few things to make the composition worth reading. You might find a lot of tips online on how to write a self-introduction essay, but here are some tips which you might find useful.
Think of a catchy title. The first thing that attracts readers is an interesting title, so create one.
Introduce yourself. You can create some guide questions to answer like: Who are you? What are your interests? What is your story?Simply talk about yourself like you're talking to someone you just met.
Find a focus. Your life story is too broad, so focus on something, like: What makes you unique?
Avoid writing plainly. For example, instead of saying: 'I like listening to classical music', you can say: 'My dad gave me an album containing classical music when I was five, and after listening to it, I was really captivated. I've loved it since then.'
Simplify your work. Use simple words and language. Write clearly. Describe details vividly.
End it with a punch. You cannot just plainly say 'The End' at the last part. Create a essay conclusion which would leave an impression to your readers.
Edit your work. After wrapping up, take time to review and improve your work.