If you want to showcase the quality of your contractor services, you can't work your way towards a promising deal with only your charm and good communication skill (although your charm can be really helpful). You need a reliable construction proposal to represent you and what you can do for your clients. It contains everything your clients need to know about your work and whether the specifications are at par with their criteria. A construction proposal will be your introduction not only to a prospective agenda but also to many more projects if your proposal proves to be as impressive as your skill. For great construction proposal selection, browse through our display below.
15+ Construction Proposal Examples
1. Construction Bid Proposal Template
2. Construction Proposal Template
3. Construction Management Proposal Template
4. Construction Business Proposal Template
5. Construction Project Proposal Template
6. Construction Investment Proposal Template
7. Free Construction Proposal Template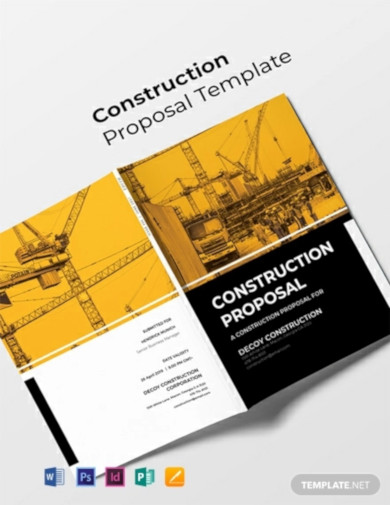 8. Construction Proposal Overview
9. Construction Scoping Proposal Example
10. Project Construction Proposal
11. Construction Management Proposal
12. Construction Management Service Proposal
13. Construction Management Proposal Example
14. Construction Proposal in PDF
15. Construction Proposal Cover sheet
16. Construction Proposal in DOC
What Is a Construction Proposal
A construction proposal is a contractor's offer to a client or property owner pertaining to a construction project. It involves the project's details, such as the model or design, required equipment, materials, construction estimates, and other specifications. Proposals are made upon the client's request, which the latter would evaluate if it meets the standard criteria on areas such as the objectives and the budget.
How to Make a Construction Proposal
In 2015, Hunter Roberts Construction Group paid $7 million for an overbilling scheme. According to the non-prosecution agreement, Hunter Roberts billed his clients for hours, even though there was no work done from 2006 to 2011. This is why it's crucial to oversee proposals and contracts with keen attention and to monitor work operations to prevent people from taking advantage of you.
For a foolproof construction proposal, apply the following guidelines:
1. Be Extensively Detailed About Your Scope of Work
Your scope of work is your proposal's main event. It provides all the details pertaining to the construction work you're going to undertake. Remove general remarks or ambiguous statements and break down every description into details. When it comes to construction projects, the conflict comes from the work specification that a client often misinterprets. It keeps you from doing an extra load that's not within the agreed scope. Instead of merely writing, "Office remodeling," specify every job that you're going to do, such as installing fixtures, roofing, and doing some tile work. You can even include the size of your material and the color to prevent request disputes.
2. Indicate the Payment Schedule
Aside from potential conflict from the scope of work, financial matters are also a complication magnet. Anything that involves money is a serious business. This is why it's essential to provide details on your proposal's payment schedule to avoid misunderstanding. Clearly state the entire work's value and provide the breakdown of the prices. Indicate when the client needs to give the downpayment and when you expect to receive the rest of the amount. This way, your client has a clear idea of his or her billing responsibilities. You'll also have written evidence in the event of complaints and confusion.
3. State Your Work Schedule
Your work schedule varies depending on the specification of the project and the clients' demands. You might need to come in daily for a full working hour slot, or you might only need a few hours of the day to get the job done. However, even if there are fixed working hours, the schedule remains uncertain. Give a duration estimate for your client's assurance. Specify the start date and the end date to make it clear. Do not also forget to include that the dates might be altered due to unforeseen and uncontrollable circumstances.
4. Include a Change Order Clause
It's not new to contractors to answer to client demands that are not on the project proposal. It's important to have a change order clause on your proposal to keep you looking after excess funds that are not on the quotation. This way, they'll be obligated to put in extra pay for every change they ask. You can place an instruction on the clause and have them fill out a change order form so they can request the project shift in a formal manner.
FAQ's
How do you differentiate a bid from a proposal?
A bid is a response to an Invitation for Bid (IBD) and fulfills a direct purpose of winning the opportunity of delivering work and other commodities. There are no negotiations, and the results are released publicly. A proposal is a response to Request for Proposal (RFP) to get the chance to deliver the work needed similarly, but it is more detailed and doesn't largely depend on the cost.
How do you differentiate a quotation from an estimate?
A quotation provides fixed prices of the goods that can't be changed once presented, while an estimate provides a logical guess of the prices based on retail research and methods.
Can a proposal be a contract?
A proposal is not a contract, but it can be a gateway towards creating a contract once a client accepts it.
Good impressions last. Construction proposals are important because it's the first thing your clients can see. The quality of your work comes later, but a good proposal presentation will build that first impression you need to gain their trust. Focus on what you have to offer and leave the proposal to our hands. Our professional construction proposal templates are here for your use. Download now and score your career's best assignment yet!