Many investors would agree that smart decision making, especially when it involves money, is an absolute necessity in business. They want to get the best value, whether for a construction project or software development works. And because nothing is more important than professionalism and quality, as a service or product company, you will always want to cut cost and provide transparency. But even when the upfront prices involving materials and labor are on non-stop change, you have to give customers a precise bid quote which will assist them in better decision making. Learn more about preparing a good quotation in this article.
32+ Quotation Examples
1. Simple Quotation Template
Template Details
Available File Formats
&nbsp
&nbsp
&nbsp
&nbsp
&nbsp
Size: A4 & US Sizes
2. Sales Quotation Template
Template Details
Size: A4 & US Sizes
3. Website Quotation Template
Template Details
Size: Available in
4. Website Development Quotation Template
Template Details
Size: A4 & US Sizes
5. Ecommerce Website Quotation Template
Template Details
Size: A4 & US Sizes
6. Rate Quotation Sample Template
Template Details
Size: A4 & US Sizes
7. Computer Quotation Template
Template Details
Size: A4 & US Sizes
8. Vehicle Quotation Template
Template Details
Size: A4 & US Sizes
9. Taxi Quotation Template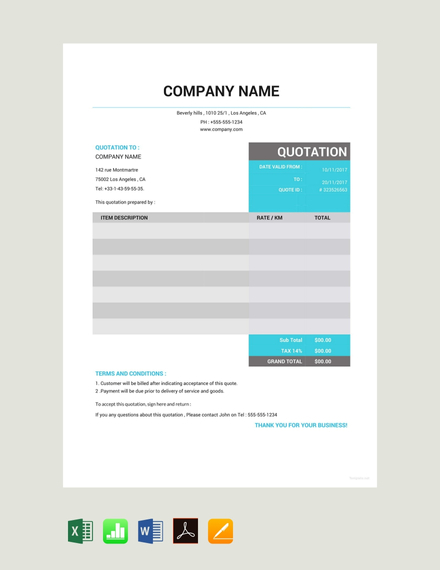 Template Details
Available File Formats
&nbsp
&nbsp
&nbsp
&nbsp
&nbsp
Size: A4 & US Sizes
10. Freelance Quotation Template
Template Details
Size: A4 & US Sizes
11. Blank Price Quotation Template
12. Cleaning Quotation Template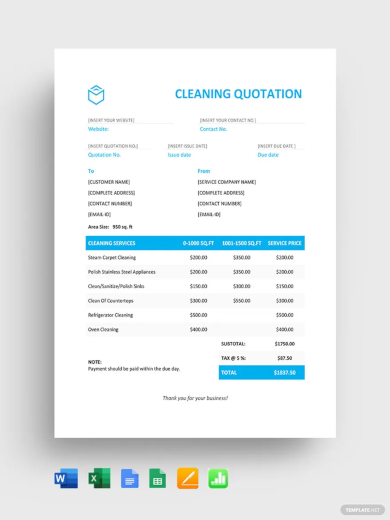 13. Commercial Cleaning Quotation Template
14. Sample Company Quotation Format Template
15. Electrical Contractor Quotation Template
16. Interior Design Quotation Template
17. Simple Business Quotation Format Template
18. Professional Service Quotation Template
19. Website Design Quotation Template
20. Catering Quotation Template
21. Price Quotation Template
22. Price Quotation Letter Template
23. Travel Service Quotation Template
24. Sample Quotation Format Template
25. Cover Letter for a Cost Quotation Template
26. Renovation Quotation Template
27. Event Photography Quotation Template
28. Construction Project Quotation Template
29. Excel Quotation Template
30. Excel Quotation Template
31. Request for Quotation
32. Government Request for Quotation
33. Service Quotation Template
What Is a Quotation?
A business quotation is an essential document used by service and product companies to provide a breakdown of cost for a client's particular project. Once there is a cost summary, the clients will have material for better decisions to confirm whether the plan will be crucial for the budget. 
Where Does Your Money Go
In the world of business, transparency in terms of transactions is essential. According to a report published by the CATO Institute, a large project costs $50 million or more. Since dealing with a larger value is always crucial, an organization should always assure every client. Part of the process is to present a project bid form that the client can consider. Therefore, the value that you give must be worth considering how big the project is. 
How To Make a Quotation
Creating a professional cost summary should involve a lot of things, including both standard format and elements. So, when a client shows a business project plan, you have to ensure that the budget aligns well with it. And to help you out with the process, below are steps that you can follow. 
1. Meet Your Customer's Need
Written formal quotations, like every transcribed document, help avoid confusion. Therefore, it should be communicative and easy to understand without errors. To achieve this, the first step will involve your customers and their requirements. Ask them about their plans and specifics. Draft all the requests and start doing your research regarding the materials, labor, timetable, and other elements involved to run the process. Remember, a good quote is dependent on how much information you collect. 
2. Finalize the Items in Writing
Next, itemize any materials or resources needed to fulfill the services or products purchased by the client. Prepare a list of components, including the specific name of equipment, their quantity, and the price list. Because there is a never-ending change of prices in the market, you have to find a supplier that will give you a fixed rate for bulk items. If you sell products, include package promos and discounts to help them cut the cost. And although your quotation is not a marketing tool, it is still essential to distinguish it by creating a unique selling proposition. Your customers may receive at least four quotation letters for their requests for bid, so make sure yours can stand out from the rest. 
3. Include the Taxes and Legal Obligations
Quotes are a legally binding statement of the terms and costs that you commit yourself to comply with client requests. Since not all of your investors or clients are familiar with business terminology, give a clear definition of your document's terms and conditions. Specify the additional taxes will avoid as a hidden charge. Also, incorporate the complete list of legal obligations that both sides should abide by. Include the payment due date, termination, cancellation, and sanctions. For instance, when an investor refuses to pay the taxes, you can quickly terminate the contract as per written policy. That is why completeness and clarity are essential in this section. 
4. Observe Formality
And lastly, observe professionalism in your document. So, avoid design elements. You don't need that to call your quotes comprehensive. Instead, always keep the texts visible and easy to read. That is the purpose of your formal letter, to be convenient for the users. Perhaps, you don't want to confuse your clients with amounts because of the font style and size you are using. 
FAQs
What is a quote from a company?
A quote from a company contains the last price at which the buyer and seller have agreed and closed the deal.
How is the difference between a quotation and an invoice defined?
A quotation is often an answer to a request for a bid, and it is usually answered by purchase order from the buyer to the seller. An invoice, on the other hand, is more of a financial document. It is a request for payment from a work that has been completed.
What is a price quotation?
A price quotation is a document sent to a potential customer. It is used to offer goods or services, and the special prices offered only to the recipient of the quote.
Investors are always particular with the money they release for a specific project. While you make sure to seal the deal, it is always best to assure your clients that your company can be trusted. That is why you have to consider a formal letter writing with all the price lists and other elements that completes it. A quote, in particular, helps the client decides if the value is worth it. This, too, helps your company to be trusted.