Back in 1800, the real estate made a spike in the industry. Jumping off to today, it is now among the most productive and highest earners among the business sectors globally. It's a big leap. However, together with its rise is also the inevitable challenge concerning demand and competition. More people need houses and commercial properties. Therefore, real estate companies took this as an advantage. So, when this competitive demand happens, you have to level up your marketing strategy. One way to do it is through a brochure. You can give your target market a brochure that details what your company can offer. Check out real estate examples below. 
33+ Best Real Estate Brochure Examples
1. Real Estate Company Bi-Fold Brochure
2. Real Estate Company Tri-Fold Brochure Example
5. Real Estate Partners Tri-Fold Brochure
6. Real Estate Partners Bi-Fold Brochure Template
7. Real Estate Investment Group Tri-Fold Brochure Template
8. Real Estate Investment Group Bi-Fold Brochure Template
9. Independent Real Estate Agent
10. Independent Real Estate Agent
11. Licenced Real Estate Broker Agent
14. Agency Bi-Fold Brochure
15. Agency Tri-Fold Brochure Example
16. Real Estate Tri-fold Brochure Template
17. Construction Real Estate Brochure Template
18. Minimalist Real Estate Brochure Template
19. Free Real Estate Property Brochure
20. Free Commercial Real Estate Brochure
21. Free Realtor Brochure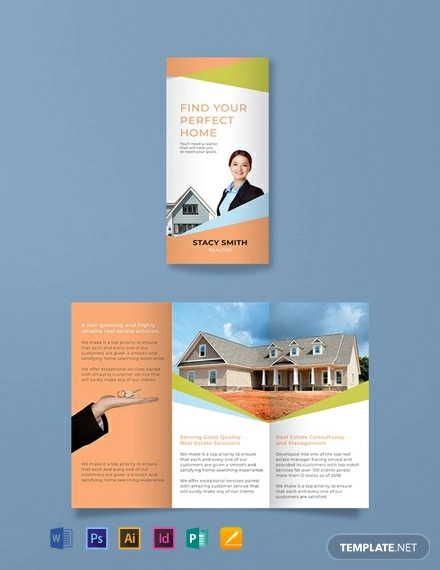 22. Free Real Estate Agent Brochure Template
23. Free Home Real Estate Brochure
24. Residential Real Estate Brochure Template
25. Clean and Modern Real Estate Brochure
26. Real Estate Brochure Template For Companies
27. Black and White Trifold Real Estate Brochure
28. Editable Real Estate Brochure Template
29. Greyscale Real Estate Brochure
30. Corporate Real Estate Brochure Design
31. Agent And Realtor Real Estate Brochure Sample
32. Well Organised Real Estate Brochure
33. Real Estate Business Brochure Template
34. Simple Real Estate Brochure
What Is a Real Estate Brochure?
The real estate brochure is a marketing tool that helps real estate companies promote their properties and services. It contains a list of elements, such as the images, captions, and price lists that help clients make better decisions. 
The Truth About the Real Estate Revenue
Did you know that the US real estate economy was $493.3 billion in 2019? You read that right, through the report published by Statista. But as this continually rise, this also comes with a challenging factor. More and more real estate companies are struggling to compete. That is why a traditional real estate property brochure still works the best in helping these organizations compete through the market today. 
How To Make a Real Estate Brochure
Making a real estate presentation isn't all just fun. It can go complicated than that. Therefore, you must look carefully into details, such as in the content and design. But to help you out, we have listed helpful steps that you can follow when designing your real estate pamphlet. 
1. Gather as Much Information
In creating a modern and elegant marketing brochure, you must be very detailed and accurate with the content you provide. So, to achieve this, you should collect as much information beforehand. You can go through various research and analysis regarding the properties, location, and estate services you provide. This will help you organize the content before you transfer it into your document. 
2. Create a Theme 
Apart from the information, you also need to decide on a theme. But why do you need this? A theme helps you develop a consistent approach towards your design and content. Therefore, it pays to discuss with your supervisors and managers if they prefer minimalist or a creative business brochure. A combination of both gives a realistic and attractive vibe to your document. 
3. Specify Your Properties and Services
Since you now have the list of details you need, have a transparent real estate catalog by listing down the available real estate properties your company offers, such as apartments, townhouses, and condominium units. But of course, you should also include the complete address and extra details, including the area, nearby facilities and features. Being specific has a lot of advantages because this helps the client see if their budget is enough to pay. 
4. Use High-Quality Images
But in every catalog, it's not always about the content that makes it more attractive, but the images also help. Since being realistic is your goal, always let your client see images about your property. Include the interior and exterior view of every unit, as well as the neighboring environment. Remember, original content is mandatory to avoid any violation. Also, a stunning cover page with your company logo all along. Doing this help you expand your brand. 
FAQs
What is the appropriate size of a brochure?
Typically, a brochure must be 8.5″ x 11″ in size. It can vary depending on the pages you decide to work on because there is a one page brochure that some agents use.
What are the types of brochures?
The types of brochure includes bi-fold and tri-fold. These are commonly used for any kind of business.
What is the right way to end a brochure content?
A call to action is always the best option when ending a brochure. This will lead the client what to do next.
Indeed, the real estate industry is booming. But don't let competition drag you down. It is always best to have a business plan. But of course, don't forget to include a well-organized brochure that you can give away. Because property selling is in demand, reach out to your target market without hesitation.