Without a predetermined measure of performing a task or operating a workflow, it's bound to end undo up in chaos. Quality conformation is a crucial matter in achieving the exceptional outcome and working without fear of stumbling through safety hazards and legal complications. Compliance evaluation through non-conformance reports offers opportunities not only to close gaps but also to ensure that when a construction structure stands, it won't cause any future problems. Projects under the construction industry must follow the right measures and fix mistakes whenever possible because a single blunder might result in a high-risk situation. Learn more about this by scrolling down to the article below.
22+ Non Conformance Report Examples
1. Non-Conformance Report Template
2. Free Blank Non Conformance Report Template
3. Free Customer Non-Conformance Report Template
4. Free Quality Non conformance Report Template
5. Free Project Non-Conformance Report Template
6. Free Product Non-Conformance Report Template
7. Free Process Non-Conformance Report Template
8. Free Non-Conformance Report Example
9. Non Conformance Report Template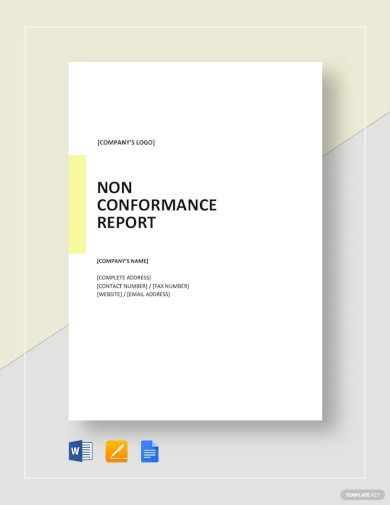 10. Non conformance Report Sample Template
11. Supplier Non conformance Report Template
12. Audit Non conformance Report Template
13. Free Simple Non-Conformance Report Template
14. Free Manufacturing Non-Conformance Report Template
15. Non-conformance Report Form
16. Sample Non-conformance Report
17. Non Conformance Report Example
18. Quality Non Conformance Report
19. Simple Non-Conformance Report
20. Non Conformance Report Form Format
21. Supplier Non Conformance Report Form
22. Non Conformance and Audit Report Template
What Is a Non-Conformance Report?
A non-conformance report (NCR) is a construction industry-related document that details work specifications that failed to conform to preexisting standards to qualify as acceptable outcomes. It's a helpful material in ensuring that the result follows legal requirements, safety measures, and client or administrative demands. While being tagged as "nonconforming" sounds illegal, it's actually a regular part of a construction work flow. It's a valuable opportunity to execute better plans and point out misbehaviors.
International Standards in the Construction Industry
Standards are a crucial issue in all industries and across every group and organization. When it comes to assessing quality, there's a thin line between objective and subjective reasoning. Without standards, a product or result's quality assessment will be based on the inspector's opinion. And opinions are flimsy. They are largely influenced by bias and personal preference. There's a need for valid measures in determining quality assurance. According to Chron, quality assurance's purpose is to develop quality benchmarks in monitoring operations.
For the construction industry, building long-term structures puts a lot of people at risk before, during, and even after the process. It's no surprise that standards pertaining to the job needs strict compliance. Here are some the international standards of the construction industry:
1. ISO 14001 – Environmental management standard
2. ISO45001 – Health and safety standard
3. ISO 44001 – Collaborative working standard
4. ISO 50001 – Energy management standard
5. ISO 90001 – Quality management standard
How to Make a Non-Conformance Report
Standards set the benchmark to pave the way for quality works and excellent results. It also ensures that you comply with the construction agreements and safety measures of the project to avoid complications. If you're assessing a project's nonconformity, here are some tips to help you:
1. Provide Details of What Went Wrong
Because NCR describes elements in a construction project that failed the standards, it's no surprise that this should be the report's first item. Provide details of the lapses in the project. Issuing an NCR is applicable in various situations, such as when the draft on the paper fails to represent the actual field result. It's also used when the outcomes fall short in following the specifications and demands of the client or the project plan head. This is a necessary document in identifying the faulty nuances and gaps of a task.
2. Specify the Standards
Aside from merely pointing out what's wrong, it's also best for your report to specify the standards that the plan's inaccuracies failed to measure up to. This provides proof that, indeed, there were blunders because there was a defiance of the requirements. This backs up your report's claims and solidifies your observations. For example, if a semi-finished building structure fails to meet the criteria of the construction contract's requirements by using substandard materials, it's only right to include a reference to this qualification in your non-conformance sheet. Including the set of standards will serve as your report's backbone for credibility. This also proves that the observation did not spring from a personal perspective but from written guidelines, set rules, and agreed specifications.
3. Issue Corrective Measures
More than identifying the origin and that nature of the problem, it's also necessary to provide the measures to fix it. Issue a corrective action plan that can effectively address the gaps in the process. This way, the ones involved in the construction plan will execute the right methods of correcting the issue and restoring it in a way that conforms to the standards of the management system. This hits two targets with a single arrow: you're not only helping point out the problem but also providing efficient ways to perform corrective actions.
4. Mention Key Roles Involved in the NCR
If it's possible, it's best to clearly identify the people responsible for carrying out the corrective measures. This is to get them involved in fixing the problem because it's under their scope of work in the plan. If you're unable to point out individuals, you can search through your work profiles or organizational chart and address the issue to the senior and leadership positions. If it's an outsourced job, the contractor may receive the notice as part of their agreement in the outsourcing contract.
FAQ
What is a certificate of conformance?
A certificate of conformance is a document that validates that a certain product, service, or outcome complies with a given standard or specifications.
Who provides a non-conformance report?
According to the Small Business, a non-conformance report can be written by anyone in the construction team as long as the claims have valid footing and backed by recognized and agreed standards.
What are the different types of standards?
There are numerous kinds of standard in various fields, but here are the four basic types:
Fundamental standards
Organization standards
Analysis standards
Specification standards
A non-conformance may not be the most flattering document in the construction field, but taking it should be taken as a chance to learn and develop. A shift in perspective helps you see the report, not as a list of what went wrong but a collection of lessons. Get this valuable document without much effort by availing any of our non-conformance report templates. Download now!