HR is an abbreviation of Human Resource in a company. The HR department is considered as an important pillar for the smooth functioning of any organization. Responsibilities like recruiting, training, staff welfare and payroll are handled by the HR department.  Employees are the lifelines of a company. Employees are familiar with all the essential parameters of a company or product because of their dealings at ground level. Hence, it becomes essential to involve the opinions of employees and revise the implementation strategy accordingly by conducting HR surveys. HR surveys help in enhancing returns and productivity by identifying and solving critical issues related to a company or product which is under-performing.
The following article covers almost all areas of HR survey. Reports regarding HR system, leadership, technology & benefits, service delivery, staff, organization assessment and payroll are included for a wider understanding of HR surveys and its applications.
HR Survey Examples & Templates
1. Recruitment Satisfaction Survey Template
2. Exit Interview Survey Template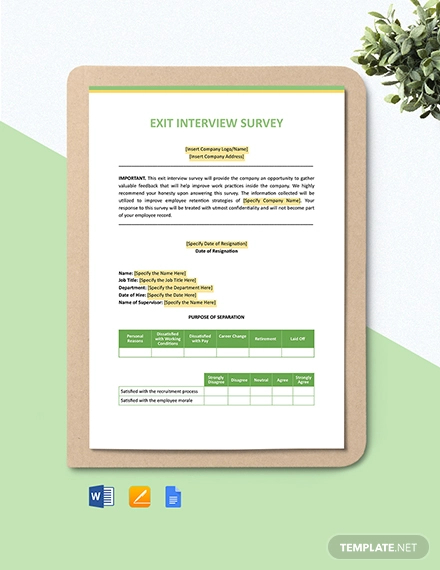 3. Free Sample Employee Satisfaction Survey Template
4. HR Satisfaction Survey
This is a basic questionnaire model for an HR Satisfaction survey. The survey is distributed in segments like demographic information, general information, selection services & its evaluation, consultative services & its evaluation, benefits services & its evaluation and additional services & its evaluation. The six-page survey consists of thirty questions covering different activities of the company. This survey was conducted under the direct supervision of the director of continuous improvement of the firm.
5. Human Resources Technology Survey
The club of technology in HR is amongst the recent global trends in the Human Resource Department formation process of the companies. The above report is a detailed analysis of the HR service delivery associated with the cloud. It also analyzes why it is important for companies to be associated with the cloud. The three key learning's from this report is cloud migration for businesses, requisites to succeed during implementation and regarding the future waves of HR technologies which can help tackle the challenges in HR. This report is a compilation of 300+ surveys of companies.
6. HR Systems Survey Sample
This survey was conducted by Sierra-Cedar in 2018. In total 1636 unique organizations representing a total workforce of 23.6 million employees and contingent workers participated in this survey. This survey suggests implications and recommendations not only for the practitioners but also for the vendors. Apart from core HR practices this survey report also includes insights on supporting HR practices like adoption blueprint, security and data privacy, integration practices and others.
7. HR Leadership Survey
This is a short survey report of SMEs and public-sector organizations in the UK. This report unfolds the reality behind the headlines aiming to get a sense of the functioning in SMEs and public-sector organizations. A brief insight with the statistics of the employees in different fields and address regarding the technological revolution in HR makes this report a must read. The report further discusses the key to organization success, creating collaborative cultures and about productive employee.
8. Hr Technology & Benefits Administration Survey
The purpose of undertaking the 4th PacRes survey was to increase the understanding of the employer's view on benefits administration solution. It focuses on health and welfare benefits administration and strategic benefits administration. The twenty-seven-page survey report includes respondents from across 91 organizations with an average size of 20000+ employees. The graphical representation of answers helps readers understand the employer's take on the subject.
9. HR Service Delivery and Technology Survey
The report presents key findings from the HR Service Delivery and Technology Survey conducted in 2014. The reports include a discussion on realising the full potential of HR, HR technology spending and employee engagement survey. Approximately 40% of the survey sample was from the Asia Pacific region including a large sample from China. The survey responses are from industries in financial services, insurance, manufacturing, professional services, retail and others. This short report includes graphs which are an important insight into the HR service delivery and technology.
10. HR Practices Survey Report
This is an in detail report of the 205 respondent employers who participated in the 2018 Associated Industries of Massachusetts (AIM) HR practices survey. This survey report provides a detailed comparison with the results of the survey from the year 2017. It includes discussion on the compensation practices, formal incentive program, pays equity, health care & insurance, wellness program, recruitment, candidate testing, employee relations, HR record keeping and others.
11. HR Staff Survey
This is a typical example of the HR Staff survey. It is segregated into three segments: 1.) Impact and analysis 2.) Outcomes 3.) Evidence. At the end of the report, an equity impact assessment & analysis action planning form is provided discussing all the factors from the overall objective to timescale. The equalities impact amongst the staff members is discussed in detail.
12. HR Organization Assessment Survey Data Review
This survey includes more than 200 activities typically performed across major functional areas in HR. The findings are obtained from a large scale survey of 192 individual respondents and 776 employees amongst which the majority of the respondents belonged to the HR customers and the rest as HR associates. The survey included almost sixty activities across seven key functions of HR, ten behavioural attributes and twelve overall HR function behaviour questions. The importance of how well HR met their needs for each activity and behavioural attribute was rated.
13. HR and Payroll Professionals Survey Report
This survey was conducted in order to understand the concerns of organizations about their current systems for time tracking. Different factors of time tracking like user interface, accuracy, reporting, compliance, time off racking, mobile access and others are discussed briefly in this report.  The four-page report covers major issues related to time tracking and has avoided the survey conducting companies customers for a fair result
14. Annual Human Resources Survey
This survey is conducted with the objective to address issues of increasing relevance directly impacting company strategy, in addition to top and bottom lines and to generate dialogue between peers and raise issues of interest and concern. Over 300 companies responded to an extensive questionnaire resulting in exclusive comparison with results of the previous financial year. In total eight different sectors participated as respondents in the survey which was topped by the industrial sector with 33% respondents. This is extensive research and helps in understanding the varied parameters of HR in detail.