When you send, say a letter or a package to someone far from wherever you are, you need to make sure that it gets to the right destination. Regardless of the value or importance of what you have sent, you want it to be received by the person you were sending it to. You may also see wine label designs and examples.
Not only only because that was your main goal, but also because it is such a hassle to resend it again with a high tendency of getting it lost its way back to you. In order to avoid such circumstances, you need to indicate the right information most especially the right receiver and return address. You may also like thank-you label designs and examples.
With the fast improvements in the technological world, the importance and significance of using an address label has somehow become lost and forgotten. People often choose the efficiency of formal emails and instant messaging rather than using old-fashioned snail mail. There is currently no point in writing and using address labels when there is also no need to send letters through envelopes.
However, even with the advances of technology, using address labels is still very much significant especially when sending big and valuable packages to people living in another state or continent.
Free Nautical Address Label Example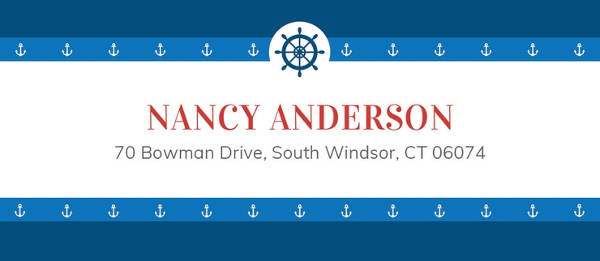 Vintage Wedding Address Labels Card Example
An address label is a used to add delivery information to the items that are to be delivered by post or by a courier/carrier service. These labels are commonly used for items sent though a post office such as envelopes and small parcels/packages. You may also see save the date label examples.
The label usually contains all the necessary information about the recipient such as hi/her name, address and contact information, this can also include additional bits of information such as a return address, contact information of the supplier, marketing messages, or an additional greeting. When there is a need for more than these information, a shipping label may be used in place of an address label or multiple address label may be used for your transaction. You may also like bottle label designs and examples.
Calligraphy Address Label Example
Round Address Label Example
Wrap Around Address Label Example
Importance of Labels
Opting to have your formal letters or packages delivered through post or courier is something you choose because you can't afford to personally deliver the items to the recipient. However, if you would have been offer that choice, you would choose it in a heartbeat, right? There is nothing more genuine than a personally delivered letter or care package, it just says that you are willing to go out of your way to make the person feel that you are thinking about them and that you care for them.
However, the downside of having your items delivered through post or courier is that your items have a high chance of getting lost on its way.
Be it a package that you have sent or items you have yet to receive, there is always a possibility of it getting lost or misplaced unlike when you deliver or collect them personally. This begs the question of how do you avoid such possibility from happening to you? What can you do on your end to make sure packages you send or are expected to receive end up getting rightly delivered? You may also see graduation label designs and examples.
An address label helps you avoid these circumstances from happening to you. There is no longer a need for you to hastily write the address in your packages since a pre-made address label is something you can quickly stick into the package. This will help you avoid getting your mail or package from being lost or returned from the post or courier because they can't read what you have written and can't find the said address. You may also like round logo design examples.
An address label helps you indicate the exact and correct address given that you made them yourself, you have reviewed the indicated name, address and contact information before actually printing it and sticking into the package.
Not only does it help with the above mentioned reasons, it is also a way for you to add more of a personal touch on the mail or package. It is also a way for you to save so much time since you only have to stick it into the envelope or box rather than writing and reviewing it. You may also check out best company logo examples.
You just have to peel, stick and mail. Three easy steps that can make your life way easier when you make and use your own address label. If the the item you wish to deliver relates to your professional career, it can help your package to appear more put together and more professional.
In conclusion, an address label helps get your mail to be delivered to right person and address. It also helps ensure that the mail is delivered on schedule since the reflected receiver and address are correct and true. Aside from all of these, it also adds a personal touch of flair since address labels can come in different styles, colors, and themes. And lastly, it provides you with its convenience and efficiency which is needed when you only have so little time to mail your letter or packages. You might be interested in abstract logo designs.
Sandy Beach Address Label Example
Rustic Sunflower Address Label Example
Christmas Themed Address Label Example
How to DIY Address Labels
Aside from the available address label templates online, you can also make one for your own. This will give you the autonomy to decide how your address label will look like. It can easily done in the comforts of your own home given that you have a computer with a word processing software, some printable sticker paper and a printer. Listed below are easy steps to make your own address label:
1. Open word processing software
On your computer, open a word processing software. For this example, it is advised to use the Microsoft Word as it is convenient and accessible. You need to open and choose a new document in Word. After that you choose the Mailings tab and choose the Labels option on the same tab. You may also see examples of modern logo design.
2. Choosing type of label
On the Labels tab, you have the option to choose the type of label you want to create and how may labels per paper you would want to make. To do this, you need to click the Options button on the same tab. A few number of options for the style of the label will be shown, all you need to do is choose which one you would like to use and also deciding how many row and columns you want to insert in a single sheet. You may also like examples of the best logo designs.
3. Formatting the content of the label
On the opened sheet, turn on the table grid lines (borders,) this will help you see the outline of each label. You can turn on the table grid lines by going to Table Menu and choose Show Gridlines.
You can then begin typing the content of your label by going to one of the column or box and typing in your desired content. If you wish to create an entire page with the same label content, you can easily do this by only typing in and formatting only one label, then just copy-pasting it on the other empty labels. This way you can save so much time than individually typing it in. You may also check out examples of business logos.
4. Add image on the label
You can also include an image to add a more personal flair on your label. You can do this by scanning you image or using an image already saved on your computer. Click Insert tab, click the Picture button after to insert an image. After that, you resize the photo so that it can fit on the size of your label or so that it can be the size that you want it to be. Lastly, you need to move it or place it on the side of the label that you want it to be. You might be interested in event management logo designs.
If you want to duplicate what you have already typed in and formatted, just copy and paste it on each label box that you already have on the sheet.
After this, all you need to do is preview what you have done to make sure it looks the same when you print it. To do this, click the File menu, then choose Print Preview. This will let you see how your sheet will look like when you print it given that you have inputted the right size of your paper prior to everything you have done. Lastly, all that needs to be done is to print the sheet and save it for future use. You may also see examples of corporate logos.             
Watercolor Succulent Address Label Example
Pastel Stripes Address Label Example
Rustic Antlers Address Label Example
Personalized Address Label Example
Watercolor Heart Address Label Example
Greenery Address Label Example
World Map Address Label Example
Conclusion
An address label is a label you stick into your mails. It reflects the name, address and contact information of the sender, and if also available, all the mailing details of the receiver as well.  It is convenient way of including the complete address needed so that the mail can be delivered to the right person and address. You may also see examples of restaurant logo.
Aside from that, it also helps provide you efficiency and convenience since pre-made address labels are made out of sticker paper that you can easily stick to your mail. You no longer need to actually write down all of the needed mailing information All you need to do is peel the label, stick it on the mail and proceed to the mailing process. You may also like service logo design examples.
Address labels help people that deliver mail or packages know to whom and where the items should be delivered. It helps in the efficacy of getting the job done correctly. Not to mention that it also helps the receiver know who the sender is and where to send a reply or return the items should it be needed. You may also check out examples of logo design.
Address labels ensures that you mail is delivered to the rightful receiver and maintain its expected schedule. In addition, it also helps you add that extra personal touch on your mail since you have the freedom to choose the style, design, color and theme of your address label. We hope that this guide has been a big help to you on your mailing activities.