Who doesn't love the holidays? It's basically a time where family and friends come together to relax and celebrate the occasion. Holidays always equate to no school and no work, making them the most looked forward dates of the year. Holidays differ from country to country, but some holidays such as Christmas, New Year's Day, Halloween, and Thanksgiving are spent in most countries around the world.
In this article, we will help you create your own holiday design. We also included some tips as well some steps to create a detailed and visually attractive holiday design.
Elements of a Good Holiday Design
Holiday-related images and graphics: The bulk of a holiday design should comprise of holiday-related images and graphics. A holiday design with purely text and zero graphics cannot be considered a holiday design at all. Incorporating the graphics and images should always be your priority when creating this kind of design, even if it comprises the text that you will write.
Readable text: Compromising text does not involve completely ignoring the text. You still need the text especially the greetings. This is a holiday design after all. There is no need to write lengthy sentences and paragraphs as a single phrase or sentence will do, as long as it is readable. The text does not have to be too large nor too small.
Festive colors: Depending on the design you are creating, holiday designs should all have colors (of which most of them are festive). A green/red/yellow combination for Christmas, a red/yellow combination for New Year, an orange/black combination for Halloween, a red/white/blue combination for Independence Day, a green/white combination for St. Patrick's Day, a red/orange/brown combination for Thanksgiving, etc. Use the appropriate colors for your holiday design.
11+ Holiday Design Templates and Examples
Holiday Dinner Invitation
Template Details
Available File Formats
&nbsp
&nbsp
&nbsp
&nbsp
&nbsp
Size: 4×6 Inches, 5×7 Inches + Bleed
Mother's Day Flyer Template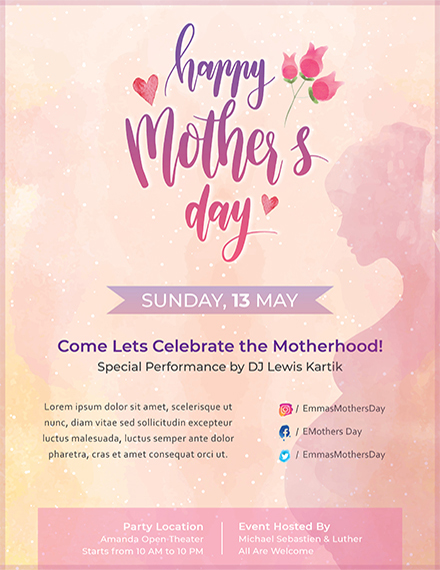 Template Details
Size: (US) 8.5×11 inches
Easter Sunday Snapchat Geofilter Sample
Free Eid Ul Fitr Instagram Design
World Music Day Greeting Card Template
Parent's Day Snapchat Geofilter Sample
Nelson Mandela Day Twitter Post Template
World Lion Day Design
4th of July Facebook Cover Sample
World Food Day Template
International Men's Day Poster Sample
The Grinch Christmas Movie Poster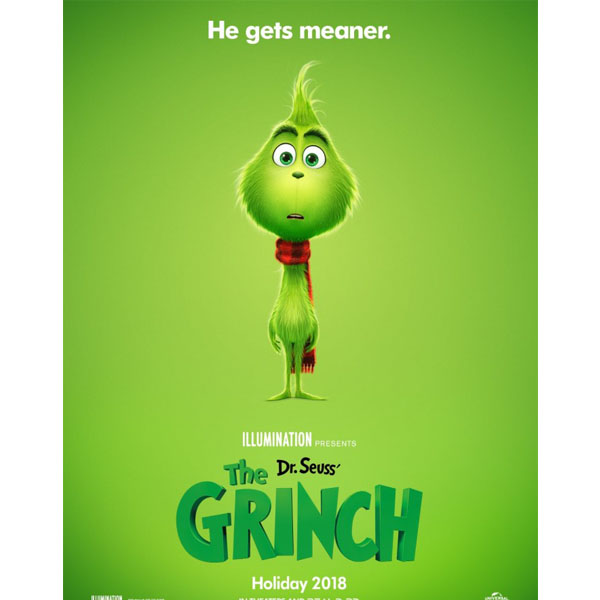 Lunar New Year Poster
2018 Year of the Dog Poster
Unicoi Thanksgiving Dinner Menu
Northgate Easter Event Poster
St. Patrick's Day Pub Crawl Flyer
As-Suffa Institute Ramadhan Poster
Westgate Chapel Labor Day Poster Design
Simple Tips for an Excellent Holiday Design Layout
Apply typography: Typography is how you project the text of your design. Basically, typography is the font style and font size that you will be using. Use a font style that matches with the design you are creating. There are numerous holiday-specific font styles you can download on the internet, so it won't be difficult for you to find these fonts.
Use the appropriate colors: As previously mentioned, use the appropriate colors for your holiday design. Blue may not be a good match for Christmas and orange may not be a good color to use for a Fourth of July holiday design. If you are using colors that are not compatible with the designs, combine them with other colors.
Use holiday-related graphics and images: This is probably the most basic tip when creating a holiday design. Holiday-related graphics and images increase the visual appeal of your design, so make sure to use the correct and holiday-appropriate graphics. For example, a Christmas tree and candy canes for Christmas, fireworks and sparklers for New Year, fireworks and the American flag for Independence Day, and clovers and leprechauns for St. Patrick's Day.
Edit and modify (if necessary): As true to all types of designs, you should edit and modify the holiday design if necessary. You will most likely be giving out the design to individuals especially if it is an event. So make sure before you will give out or even print it out, you need to check for typographical or design errors.
Steps to Designing a Good Holiday Design
Listed below are the steps in designing a good holiday design. Use these steps to make the holiday design detailed and visually attractive.
1. Create a concept:
Before you even start creating your holiday design, you first need to visualize on the design you want to create. If you are working with a team, brainstorm first as other members of the team might have suggestions for the design. You can create different concepts and choose the best one that you think is the most attractive and the one that creates a bigger impact to your audience.
2. Look for the appropriate graphics or images:
After creating the concept, it's now time to look for the appropriate graphics or images. As previously mentioned, look for images that fit the holiday design you are creating. You can easily search for holiday graphics and images in Google, but to save you the hassle, go to these sites instead as they have the most extensive (and free!) holiday graphics and images: pexels.com, pixabay.com, and unsplash.com.
3. Look for the appropriate font style:
After looking for the appropriate graphics and images, it's now time to look for the appropriate font style. The font style is as important as the images or pictures you choose. The font still needs to complement with the graphics or images, so be careful when looking for the fonts.
4. Create design in a graphic design software:
Once you've compiled all the images and fonts you need, it's now high time to create the holiday design. Creating a holiday design is not difficult, as you don't need to have extensive graphic design experience just to create one. You can use graphic design software such as Adobe Photoshop, Illustrator, or Corel to create your holiday design. But if you think that the holiday design will be more creative if a real designer creates it, then go ahead. Remember that he or she might not be offering his services for free, so make sure to pay up if the situation arises.
Types of Holiday Designs
Designs vary for each holiday. So here are some designs you can use for the most common holidays celebrated around the world.
Christmas:
Probably the most important and most exciting holiday for billions of people around the world. Christmas is a Christian holiday that was originally intended to celebrate the birth of Jesus Christ. But different symbols have cropped up the past decade to celebrate Christmas such as the snowman, Santa Claus, reindeer, candy cane, and Christmas tree, to name a few. There is no shortage of graphics and images you can use when you will be creating a Christmas holiday design as there are hundreds.
New Year or Lunar New Year:
New Year is celebrated to welcome a brand new year. Lunar New Year is meanwhile celebrated by (mostly) Asian countries such as China, Malaysia, Taiwan, Singapore, and Vietnam, to name a few. New Year celebrations differ from country to country, but all celebrations always include fireworks, sparklers, and food. You can easily implement a fireworks image in your New Year holiday, while you can also add culture-specific images depending on which country you live in.
Halloween or Day of the Dead:
Halloween is another holiday that is celebrated around the world. It's not really meant to frighten people, but sometimes Halloween symbols and imagery are too disturbing even for a grown adult to handle. In Mexico, they have their own Halloween celebration called Dia de los Muertos (Day of the Dead). Halloween and Day of the Dead use the same symbols (images)—pumpkins, skeletons, caskets, witches, monsters, and tombstones, to name a few.
St. Patrick's Day:
St. Patrick's Day (Feast of Saint Patrick) is a holiday to commemorate the death of St. Patrick. Similar to Christmas, St. Patrick's Day was originally intended to celebrate St. Patrick but over the years, different symbols have added, and one might say it has become to commercialized. Nonetheless, the holiday is still celebrated with green as the color being associated with the said holiday (after all, the holiday originated from Ireland and the national color of the country is green together with orange). Aside from the green color, numerous symbols are associated with St. Patrick's Day such as the clover, leprechaun (together with the leprechaun outfit), pot of gold, and beer.
Independence Day:
Independence Day is a holiday that celebrates the independence of a country or nation. Of course, Independence Day is celebrated differently for each country. Additionally, the symbols and imagery used in an Independence Day holiday design is attached to the country's cultural symbols and colors. For example, the prominent symbols used in an US Independence Day design include an eagle, red/white/blue combination, and the American flag.
Easter:
Easter is another Christian holiday that celebrates the resurrection of Jesus Christ from the dead. Similar to Christmas and St. Patrick's Day, Easter was originally intended as a holy holiday. In recent years, this holiday has become quite commercialized and new symbols have been added such as rainbow-colored eggs/Easter eggs and the Easter bunny.
Hanukkah:
Hanukkah is a Jewish holiday celebrated in November and December similar to Mexico's Day of the Dead. On Hanukkah, many Jews eat potato pancakes, sing songs, and spin a top called a dreidel to commemorate the celebration. For the images, you can use pancakes and dreidels or use Jewish cultural symbols such as the Star of David, menorah, kippah, hamesh hand, and the tallit/tzitzit.
Holi:
Holi is a Hindu spring festival where people dress in green and squirt each other with water pistols filled with red- or yellow-colored liquid. They also blow colored powder on each other through bamboo pipes. You can simply use green, yellow, and red colors for the Holi design or use Indian national and cultural symbols such as the tiranga, elephant, and tiger.
Holiday Design Sizes
2 × 3 1/2: This size is very small and should be used mostly for holiday blank cards, business cards, flat place cards, and favor tags, to name a few. Since this size is too small to run through a printer, handwriting or stamping is much more ideal.
4 1/4 × 51/2 (A2): This size is similar to the first size mentioned above. You can use this size as a holiday reply card, post card, thank-you card, and note cards.
4 7/8 × 6 7/8: This size is designed to be paired with 5×7 pockets and pochettes. This is a standard size used for any type of holiday design.
5 1/2 × 8 1/2: This size is quite large. Also called a half fold, this can be used for a holiday invitation, program, and menu.
Holiday Design FAQs
What are the types of holiday designs?
Designs vary for each holiday. The holiday designs we listed above are the most common holidays celebrated around the world, specifically Christmas, New Year (Lunar New Year), Halloween (Day of the Dead), St. Patrick's Day, Independence Day, Easter, Hanukkah, and Holi.
Why is a holiday design important?
A holiday design adds to the festivities of the holiday. They make people more excited and more in-sync with the holiday being celebrated.
We hope you found this article to be informative as well as helpful when you will be creating holiday template. We have also provided some examples and templates that you can download for free.