Want to make a magazine about street art or a medium for daily news on the art community? That's where an art magazine comes in and here's how you can make one that will be a hit in the art community.
10+ Art Magazine Examples
1. Art Magazine Template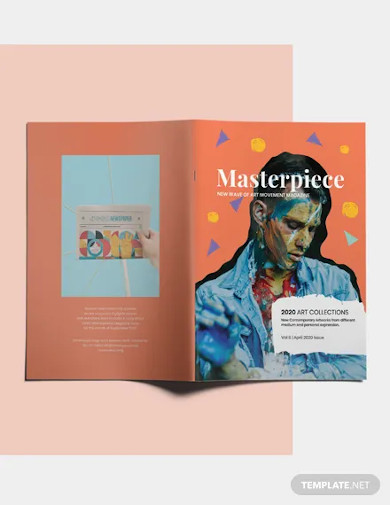 2. Modern Art Magazine Template
3. Elegant Art Magazine Template
4. Art school Magazine Template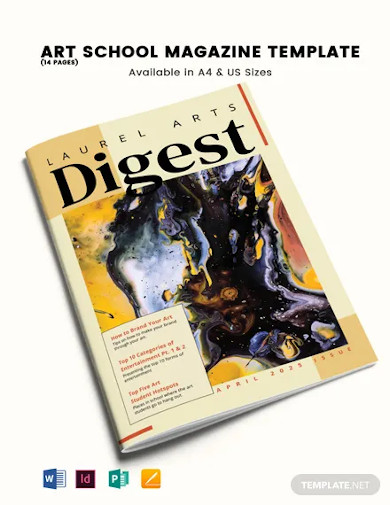 5. Free Art Magazine Ads Template
6. Free Art School Magazine Ads Template
7. Sample Art Magazine Template
8. Art and Architecture Magazine
9. Creative Art Magazine Template
10. Street Art Magazine
11. Art Magazine in InDesign
What Is an Art Magazine?
An art magazine is a type of magazine whose content involves articles, photos, and other entertaining content all involving the subject of art. These are a part of a magazine subscription usually made for an audience of artists and art lovers.
How to Create an Art Magazine?
While there are various magazine templates available, making your own magazine copy is an easy endeavor as well. Take note of these six steps while creating your art magazine.
1.) Specify Your Content
Similar to most magazines, your art magazine might focus on a specific type of art to determine what sort of art it is will make your content-making process a lot easier. Will you be focusing more on pop art or fine arts? Whatever the subject matter is, determine them now before you begin.
2.) Choose a Title
A magazine is similar to a brand or a company, in that everyone recognizes a magazine through its title. Choose a title for your magazine spread, one that fits its brand and its style of content.
3.) Choose a Magazine Layout
Pick a layout for your magazine where your designs, text, and other forms of content can be placed in an organized and coherent way. Make sure it is able to fit with the page size and creates a proper flow for readers when they look through the pages of your magazine.
4.) Create Articles
Create and add articles that have something to do with art. These are the main meat of your art magazine template besides the images. You can write articles about artists, works of art, or even the history of art. Have fun with whatever topics you want to talk about just as long as it is relevant to the subject of art.
5.) Add Images
Magazines are entertaining not just for their articles but for the images they display. Have your collection of images placed in your art magazine. Make sure your images are relevant to the articles and to art whether it is taken from photographers or made through digital design.
6.) Proofread Your Content
Finally, remember to proofread your content for mistakes and errors. Have editors look through the articles and have everyone check if the photos are placed well. Eliminate any mistakes before you put it all into print.
FAQs
What is the difference between an art magazine and a fashion magazine?
While their content may often overlap, an art magazine focuses more on everything that has to do with art, while a fashion magazine focuses on promoting brands and members of the fashion industry.
What is the difference between an art magazine and an art brochure?
Apart from the sizes, art magazines tend to have more emphasis on content for entertainment while art brochures focus their content on informing readers about something that is for an art-related business.
Who is in charge of the content for an art magazine?
While many people work on the content of an art magazine, the editor-in-chief of a magazine publication has the final say on how this content is presented if they ever make it to the final draft.
You will be attracting a lot of art lovers and artists to your magazine as long as you keep the above-mentioned steps in mind. For more references, feel free to check out magazine templates.