Establishing a branding for your company is not an easy thing to do. People may often ask, what is branding? Branding is the marketing practice that actively promotes your company by making its products and services known not just to your customers but also to other potential customers. Creating a branding means decluttering all the other companies that has the same nature with your business and catches the attention of your clients. It is the very first step in transforming your first-time customers into lifetime customers that would most probably recommend you to their peers and family members who needed your products and services.
Branding is what makes your business stand out, make an impact and brings your business to the next level! As the marketing specialist of your company, you may find it a hard thing in deciding what to put in your branding brochure. Worry no more, this article will help you with the necessary steps of making a competent branding brochure as well as providing great templates that would help you avoid doing everything from scratch!
10+ Branding Company Brochure Examples
1. IT Company Bi-Fold Brochure Template
2. Software Company Marketing Tri-Fold Brochure Template
3. Furniture Company Bi-Fold Brochure Template
4. Electronic Company Tri-Fold Brochure Template
5. Company Tri-Fold Brochure Template
6. Company Brochure Example
Download
7. Corporate Company Brochure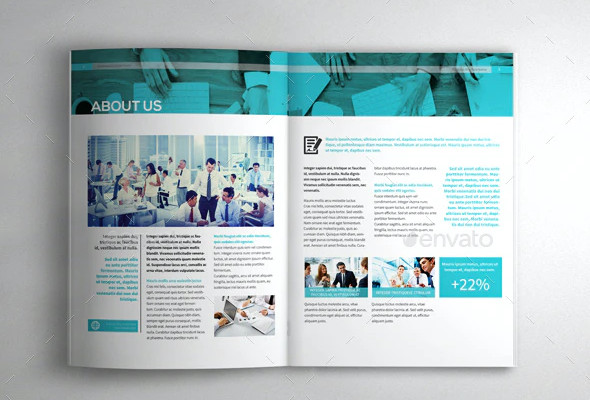 Download
8. Branding Company Brochure
Download
9. Sample Company Brochure
Download
10. Landscape Company Brochure
Download
11. Company Brochure Design
Download
What Makes Branding Important?
Branding is very important because of these following reasons:
It Helps You Stand Out from the Competition
It wouldn't matter as to what kind of company you have, what industry you're in nor what kind of costumers you would like to attract to patronize your products and services, when you are in the field or in the business, the competition gets so tight that you really need to make some serious efforts to stand out. Branding helps you establish a reputation that is unique, distinct and special for your loyal costumers and potential clients. It clearly shows why there is a strong suggestion as to why the costumers should choose you and your company in giving them the products and services that they need.
Branding Builds Recognition
If you want to build a successful brand reputation, you really need to make your product be recognized to everyone, even those who doesn't need it yet. The right branding (including designing an impactful logo, website, and other brand assets) helps you establish a catchy recognition and would help you stand out in the market.
Gives a Consistent Experience to Your Costumers
Marketing plays a very big role in making a business succeed. With this, consistent marketing is equal to consistent product taste or service satisfaction that your costumers get from your company. Constant updates in social media and other sites could help not just making your brand known to many but also allowing your customers to interact with you and know more about their feedback and suggestions for improvement.
Develops Great Company-Customer Relationship
Creating branding as well as effective marketing and feedback getting may help you build trust among your costumers, loyal or not. Most of the successful companies are the ones that connects and fosters the emotional aspects of their consumers. The main question is, how do you establish this aspect in branding? Learning the psychological effect of your chosen company color, company logo, constant company font etc.
What Are the Elements That Should Be Included in My Branding?
Mission, Vision and Brand Values
These branding statements are the foundation of your branding. These identifies the direction of your company, if what your products and services should intend to influence your costumers. In making your branding mission, think of a short yet concise statement of the present condition of your company and most especially, the purpose as to why you are building one. For your vision statement, think of something that you want your company to be after 5-10 years, that's how you start your vision statement, a long-term goal of your company that touches the heart of the consumers.
Brand Manual
Establishing branding for your company means that you should also establish a set of standards that should be included in a manual (physical or not) or brand policy. These standards will make your company different from others for it will provide you a guide whenever something needs to be decided with.
Create Your Logo
Logos are very important in establishing brandings for your company. Designing your logo might need a lot of brainstorms form your committee but the very first step in designing it is thinking about answering this question: "How do I want my costumers to perceive my company?". Start with that, and continue with the logo designing process.
Design Your Website
Your website is your brand's digital identity and when your customers visit, it should be visually engaging, easy to use, and most important of all a reflection of who you are as a brand. A lot of people nowadays are using the digital world as their platform in promoting their business and even themselves using social media platforms. Do not just stick with the traditional physical marketing, go to the virtual world and gain more costumers by being active in replying to their inquiries and suggestions.
FAQs
What does branding mean?
Branding is the process of giving a meaning to specific organization, company, products or services by creating and shaping a brand in consumers' minds.
Who is you ideal costumer?
Know your product first, after this, know the age range of your most loyal costumers. In this way, you may able to identify the age bracket of your consumers that would help you decide on your marketing strategies.
What are the three branding services?
Individual Branding, Attitude Branding, Company Name Branding
Branding is a really serious task to do as the marketing specialist of your company. This is the very first step in upgrading your products and services into a different level in the industry. But worry no more, by availing the ready-made branding brochures, branding flyers, branding proposals and branding posters that you can see online, it will make your job a little easier and would help your business boom at its best!