In making flyers, it is somehow difficult to compress everything at a single page and compromising the sole purpose of your flyer, to reach the audience, market, and let them understand what it is all about. With this, extending your output to another page may cost you extra penny but will also increase the quality of your job. Flyers can either be single-sided or double-sided sheets, if you intention is to hang up the flyer, you should consider choosing the single-sided one. If you are advertising something that is somehow detail-orientated and detail-specific, employing double-sided flyers is a great option. Double-sided flyers are mostly used in business, educational, promotional and travel purposes since it shows complete information and important details on what the institution, product or travel itinerary is all about.
10+ Double Sided Flyer Examples
1. Mobile Apps Double Sided Flyer Template
2. Double Sided Fast Food Burger Flyer Template
3. Double Sided Fast Food Flyer Template
4. Christmas & New Year Party Flyer Template
5. Double Sided Pet Care Flyer Template
6. Double Sided Flyer Example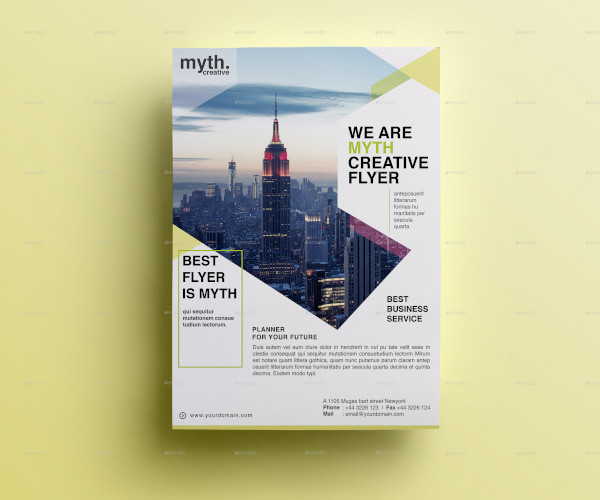 Download
7. Corporate Double Sided Flyer

Download
8. Golf Tournament Double-sided Flyer

Download
9. Event Double Sided Flyer

Download
10. Double Sided Sweet Shop Flyer

Download
11. Corporate Flyer Double Sided

Download
Why Are Double Sided Flyers Important?
Having limited space to communicate your message effectively to your customers is a pain in the head for flyer, brochure and poster designers. With this, it is best to utilize double sided flyers in order for you not to limit yourself in just a page.
Cost-Effective Printing
By using both sides of the flyers, you can create a low-cost flyer without sacrificing important and relevant information that needs to be digested by the customers regarding your product, services, discount offers, or events that a single-sided flyer couldn't supply with.
Design Efficient
Marketing designers often have to compromise the unleashing out of their design ideas because of the limitedness of a single-paged flyer. They are sometimes forced to make effective solutions in order to fit all the details and information in a page which would result to smaller font sizer, small and unidentifiable images and icons etc. With double-sided flyers, you would not worry anymore on the structure and outline of your flyers. Be creative and clear on what you are trying to project to your target audience.
More Content
Having more space means more content that you can include that would relate or connect your details from one information to another. You don't have to worry about being too concise or too short on your sentences or phrases because you are given another page for you to expound more on what your content is. With this, the customers would have a chance to know almost everything just by reading your flyer. For businesses that offers a wide and a lot of varieties in their products and services, this kind of flyers is most effective for them.
Environment-Friendly
As much as everything is highly encourages to do paperless transactions, if not avoided, printing on both sides of a paper is more environmentally-friendly and cost-friendly. Instead of creating multiple flyers to promote your products to the public, you can just create a single-papered yet double-sided flyer for everyone then hand them over that piece of creation. In you own a restaurant or food business,  there's no need for you to create multiple flyers to present all your dishes. You may use the the front portion as your introduction or advertisement, providing all the contact details, social media accounts and complete address for pick-up and deliveries for your orders. In addition, you can use the back portion in presenting your menu that customers could choose from.
FAQs
What size of flyer is recommended most by experts or designers?
After A4, A6 is commonly used in the flyer making industry. This is measured as 148 mm by 105 mm. This is similar to the size of a postcard.
How do I print the flyer front and back?
Click File >Print. In the Printer list, select the printer you want to use. Print the first page by typing 1 in the Pages box, then click Print. When the first side is printed, flip the sheet over, then reinsert it into the printer.
How do I print two pages in one sheet?
Choose File > Print. From the Page Scaling pop-up menu, select Multiple Pages Per Sheet. From the Pages Per Sheet pop-up menu, select a value. Click OK or Print.
Creating flyers is a pain in the head for some of the designers especially when they do it from scratch, but by availing the ready-made materials such as flyers, brochures and posters that you can see online can help you a lot in your job. Advertisement doesn't only drive customers towards patronizing your business but also let them be informed that you are offering the best quality of products and services that anyone could offer.