If every person has a wall of milestones, wedding ceremonies would undoubtedly take the center spot in every display. For most, it's a once in a lifetime experience. This prompts almost every bride and groom to give all they have for a rare and lavish event of their lives. It wouldn't be as special as it claims to be without the presence of everyone who led them to where they are. If you're gearing towards the most memorable day of your life, invite all of your family and friends to celebrate with you with an equally beautiful wedding invitation. If you're on the lookout for one, go through our collection below.
10+ Best Wedding Invitation Examples
1. Beach Wedding Invitation
2. Calligraphy Wedding Invitation
3. Country Wedding Invitation
4. Fairy-tale Wedding Invitation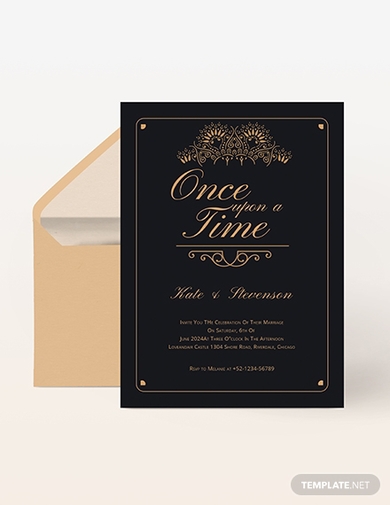 5. Formal Wedding Invitation
6. Halloween Wedding Invitation
7. Photo Wedding Invitation
8. Wedding Invitation Card
9. Sunflower Wedding Invitation
10. Royal Wedding Invitation
What Is a Wedding Invitation?
A wedding invitation, like any invitation card, answers the who, what, when, and where of it's intended occasion. It doesn't only tell the recipient the details about the wedding, but it also signifies that he or she is more than welcome to come and celebrate with the couple. Which means, it's a fancy card that grants a person entry into a nuptial event.
Nowadays, it seems like everything has already been consumed and altered by the digital era, including traditional wedding invitation cards. Most people opt for email and group chat RSVPs because it's cheaper and faster. But why are invitation cards still relevant? According to Apartment Therapy, paper invitations are still useful because it reaches everyone, especially those who are not on social media. It's also more private, and it clearly identifies who's going to be there. And here's the most crucial part: nothing can ever trump a wedding invitation card's style and artistic value.
How to Design a Wedding Invitation
If you've been wandering in the dark about how you can design your wedding invitation, learn from the steps below:
FAQs
When is the best time to send your wedding invitation card?
The best time to send your wedding invitation is three to four months prior to your wedding date.
Is a save a date card the same with an invitation card?
A save a date card functions the same way as an invitation card, but it is sent out way earlier. It acts as a pre-invitation to let the people know that a couple is going to get married, and as the wedding draws nearer, a follow-up invitation card will be given.
What's the typical paper size for a wedding invitation?
The typical paper size for a wedding invitation is 4.5″ x 6.25″.
Weddings are special because it's a celebration you spend with people who matters to you. It creates a lasting bond and a memory you'll look back with fondness and joy. And events like this takes immense preparation time and a long to-do list. Leave the worry on how your wedding card will look like to us and take a ready-made wedding invitation template from our collection. They're professionally made in high-quality designs to match the grandeur of your special day. Download now!