In this "selfie generation," it is advantageous to have a business that mainly caters to making individuals appear beautiful and look good in everything they do and on how they look. The beauty industry has been profiting so much from this generation and you can probably clearly see it everywhere—the emergence of a number of beauty products and services that promise nothing to their customers but the assurance that they will, indeed, become beautiful and look good right after they use their products and avail their services.
One of the beauty industry's best methods in marketing their beauty care products and services is through the use of beauty care flyer designs. Just like how easy you can profit from this industry, the use of this marketing tool is also equally easy since these are not entirely difficult to create and are not too costly.
Elements of a Beauty Care Flyer
Listed below are the essential elements that every beauty care flyer must have in order to become appealing to its target readers.
1. Goal or Purpose: A goal- or purpose-driven marketing tool can reap so many good results. If you want to ensure that your beauty care flyer will indeed appeal to your target readers who will also eventually become your potential customers, you also have to ensure that you are going down a path that is driven with the goals that you want to achieve and the purpose you intend to deliver. You will also have no problem in the further steps because your goals or purpose will already serve as an excellent basis of how you are going to make the overall content and layout of your flyer.
2. Compelling Headline: The headline you place on the topmost part of your beauty care flyer is perhaps the first thing that your prospects can see and read on your flyer. Headlines generally come in short phrases but if these are well-written, then you can definitely entice your readers into getting them avail of your beauty products and services. One of the things that make a headline compelling is to add words such as "Free" and "Limited Offer Only" because this can give your target audience urgency and the sudden need of buying what you are selling.
3. Persuading Message: Once you lure your readers with your compelling headline, then go right in and pitch your sale. After all, that is the main point of having a beauty care flyer. Write something persuasive and catchy about your beauty care products and/or beauty care services. Answer the questions "why will I buy your product?" and "why do I need your services?." A true test to check if you have you have persuaded your readers is when they take action. They would either contact you or ask for more details about the products and services. You may also see beauty spa flyer examples.
4. Attractive Graphics: The graphic elements you include on your beauty care flyer greatly enhance the message you are trying to convey through your flyer as this can elicit the emotions and reactions that you want to get from your target customers. Keep in mind that what you are trying to sell is something that is related to appearance and you will surely not sell anything if you are going to include images that are not attractive at all.
5. Contact Information: Your entire beauty care flyer will be pointless if you don't include your contact information. Once your target customers get attracted with what you are selling on your beauty care flyer, they will probably have further questions, and not finding your contact information will immediately make them forget about your business. Goodbye chance in selling! Check and make sure that the information you provide is updated and accurate. Your contact information can include your landline, cell phone number, email address, and your social media links.
10+ Beauty Care Flyer Templates
Nail Salon Flyer Template
Template Details
Available File Formats
&nbsp
&nbsp
&nbsp
&nbsp
&nbsp
&nbsp
Size: US, A4
 Hair Salon Grand Opening Flyer Template
Template Details
Available File Formats
&nbsp
&nbsp
&nbsp
&nbsp
&nbsp
&nbsp
Size: US, A4 Inches,+ Bleed
Spa Flyer Template
Template Details
Available File Formats
&nbsp
&nbsp
&nbsp
&nbsp
&nbsp
&nbsp
Size: US, A4
Beauty Care Flyer Template
Beauty Spa Flyer Template
Beauty Salon Flyer Template
Multipurpose Beauty Salon Flyer
Template Details
Available File Formats
&nbsp
&nbsp
&nbsp
&nbsp
&nbsp
Size: US
Professional Beauty Salon Flyer
Spa Beauty Flyer Template
Beauty Care Salon Flyer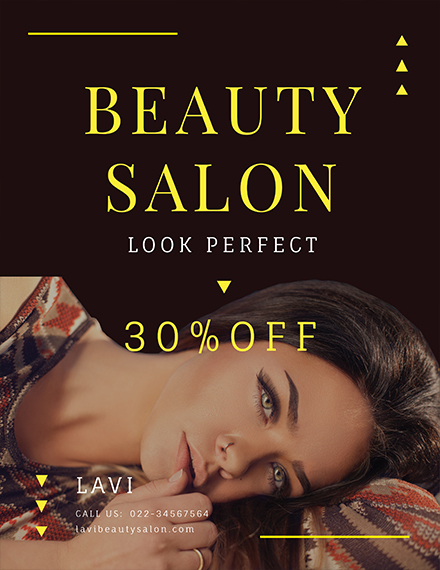 Template Details
Size: 8.5 x 11 inches
Free Beauty Care Flyer
Template Details
Available File Formats
&nbsp
&nbsp
&nbsp
&nbsp
&nbsp
Size: 8.5 x 11 inches
Hair Salon and Beauty Care Flyer
Template Details
Available File Formats
&nbsp
&nbsp
&nbsp
&nbsp
&nbsp
Size: 8.5 x 11 inches
10+ Beauty Care Flyer Examples
Beauty Skin Care Flyer
Clinique Beauty Care Digital Flyer
Hydrafacial Beauty Care Flyer
Naturderma Beauty Care Flyer

Sage Spa Beauty Care Flyer
Sephora Beauty Care Flyer
Sheet Masks Beauty Care Flyer
Skin Beauty Care Flyer

Teen Facial Promotion Beauty Care Flyer
Watson Beauty Care Flyer
How to Create a Beauty Care Flyer
Here are the steps that can help you in the process of creating a beauty care flyer.
1. Know the goals and purpose you want to accomplish with the flyer: Your beauty care flyer can be used for various reasons and you must know what these are to figure out what your end goals are and what your purpose is for creating a flyer. Perhaps you want to advertise a new product and/or service to your customers and perhaps you are just about to open your business. Whatever it is, you must ensure that you have already defined your business goals and purpose so you will be able to move to the rest of the steps without having a hard time.
2. Have a concept and a theme for the layout of your flyer: In determining the concept and theme for your flyer's layout design, make sure to include design elements that will perfectly present your business' brand and deliver the message you want to convey to your prospects. Whatever design elements you would like to include, ensure that this would indeed put your business' into a good light and that you will always incorporate your business' brand identity.
3. Organize important information on your flyer a logical manner: Not everyone has the luxury of time to read any form of material that looks all over the place and that looks overwhelming to the eyes. This is why you should make sure to organize the information that you want to place on your flyer in a logical manner. Make sure to give the eyes of your target readers a direction on what message you intend to deliver. Since your readers will only have a very limited time to read your flyer, make sure to go directly to the point.
4. Lay out the overall and final flyer design: When you have already determined the contents that you want to include on your beauty care flyer, you must now then lay out everything in order to come up with the final design of your flyer. As you lay out, do not settle for less and make sure that your work has high quality. And in order to do so, just keep in mind two important things: keep written contents short but relevant and keep design elements equally relevant and of high quality.
5. Take time to review your work before printing: Reviewing your work may sound like an extra task that you can easily ditch but do not make the mistake of realizing your errors in the final printed product a little too late. Whatever design project you are creating, never take proofreading and reviewing for granted. Any error, such as spelling or grammatical mistakes and wrong placements of graphics that can be seen on your final output can affect your credibility and it might just result to poor sales.
Tips in Designing a Beauty Care Flyer
Here are some tips you might want to consider as your guide in the designing process of your beauty care flyer design.
1. Always keep your target audience in mind: Who are your target customers? That is always the first question that you need to answer before you start making or designing your beauty care flyer. Any marketing tool should be centered towards the people you are making it for and those are your target audience or your prospective customers. Without designing your beauty care flyers according to your target's preferences, you will surely not achieve your end goals and purposes of having a flyer as a marketing tool in the first place.
2. Choose colors that would naturally attract the eyes: There are some colors, such as red, orange, and yellow, that has more impact than other colors as the pastel ones. If you want your beauty care flyer to be worth the second glance and worth receiving, you can never go wrong with the bold colors.
3. Consider printing both sides of the flyer: People will always look out for additional information once they get enticed with a certain product and/or service advertisement; however, the downside is that not every one of them will be willing enough to make a call to ask for further information. This is why you should consider maximizing your flyer by printing on both sides of your beauty care flyer where you can easily fit in FAQs and other information for your readers' convenience.
4. Always choose the right typography: Your typography choices will affect the entire outcome of your beauty care flyer. That is why you must ensure to choose the right font style, font size, and font weight for the text that you plan to incorporate on your beauty care flyer. Aside from affecting the entire outcome of your beauty care flyer, your typography can also affect the perception of your readers toward not just your flyer but to your entire business as well.
5. Avoid complicating simple matters: In creating any design project, the one thing you must never do is to complicate things that will work best if it is done in a simple way. If you want to deliver an important message through your beauty care flyer, then you must ensure that it is understandable enough that your readers would not need to read and go over your flyer again and again just to understand it.
Beauty Care Flyer FAQs
Here are the answers to the most frequently asked questions regarding beauty care flyers:
What should a beauty care flyer include?
A beauty care flyer must always include the basic information regarding what the business can offer to its current customers as well as to their prospects. Such information includes the name of your business, office address, contact details, list of offers, images of highlighted products and/or services, list of prices, and promotional deals.
What editing tools you can use in creating a beauty care flyer?
Among the editing tools that you can use in creating a beauty care flyer include Adobe programs such as Adobe Indesign, Adobe Photoshop, and Adobe Illustrator. You can also make use of Microsoft Office programs such as Microsoft Word and Microsoft Publisher. In this article, we have provided templates that can be utilized using the editing tools mentioned.
Why is a flyer a useful and timeless marketing tool?
Flyers have been long used as a marketing tool for business from before and even up until now in the digital age. What makes flyer a timeless marketing tool is that its effectiveness has never wavered despite the emergence of various marketing tools that may seem more convenient over it. Flyers are very useful for people that had just started in advertising their products and services without having a large sum of money as budget.
Promote your beauty care products and services now with the use of the beauty care flyer templates and examples that we have posted here in this article. For more articles that are related to beauty flyers, you may also check out these beauty salon flyer examples.