If you're going to have a big party to celebrate whatever important event you may have, you're also going to have to create a couple of  Party Invitations to make sure that they know the why, when, and where of your party. Also, you have to make sure that your invitations match the kind of party you're going for.
A good example would be sending out Pool Party Invitations to all of the people that you want to invite to your pool party. So in the event that you want to hold a big party during the summer where you have the people you want to attend, then you're going to have to learn how to make summer party invitations and this article will teach you how to do to just that.
Summer Party Invitation Example
Summer Pool Party Invitation Template
Tropical Summer Party Invitation
Electro Summer Party Invitation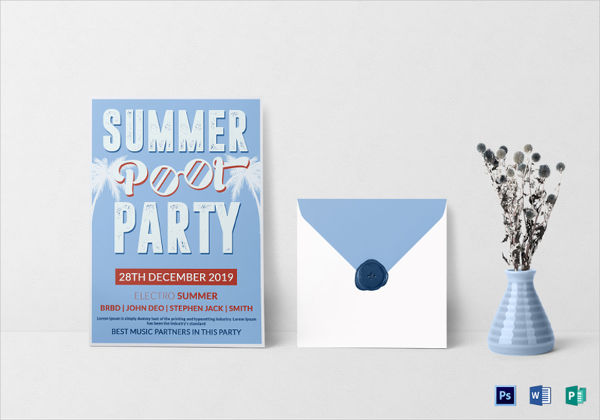 Free DJ Summer Party Invitation
How to Make a Summer Party Invitation
If you want to be able to make a well-made summer party invitation, then you're going to have to follow these steps:
1. Go With a Design Which Matches the Theme of Your Summer Party
No matter what kind of invitation you want to send, you have to be sure that its design matches with the kind of party that you're going to throw. So let's say that you've decided to hold a summer party where a ton of DJ's would participate in the event.
The design of your summer party invitation would have to be the same as DJ Party Invitations where you add a couple of images of these DJ's, while the background showcases a well-lit atmosphere that's meant for the summer.
If your summer party is one that's just full of activities purely for entertainment purposes, then the design can be similar to that of  Funny Parrty Invitations where you carefully put in images such as summer beach balls or those of funny summer moments that will tell your invitees that it's going to be fun.
2. Write Down the Complete Address of Your Party
If you're going to have a party, then you want to make sure that all your invitees know the precise location of the venue. Also, before you start writing down the address of the party, you want to pick a place that actually matches the kind of party that you're going for.
So let's say that you've decided to hold a cocktail party for that social gathering you've been longing for. This would mean that your Cocktail Party Invitations should provide an address to like a fancy restaurant or somewhere which all of your guests can socialize.
If it's a beach party that you want to have during the summer? Then obviously your Beach Party Invitations should contain all of the details one needs to point him/her out to the beach where your party is being held.
Free Summer Party Invitation
Summer Block Party Invitations
Summer Birthday Party Invitation
Watercolor Summer Party Invitation
Summer Pool Party Invitation
3. Right Down the Exact Time and Date of the Party
If you're going to throw a summer party, then you want your invitees to know the day and time it starts, as well as the time that it's going to end. There are two reasons for this.
The first being that letting them know the date and time is the best way to ensure that they know when the festivities are going to take place, thus giving them little to no excuse for arriving late or not arriving at all.
The second being that by pointing out the time and date, your invitees will be able to respond to your letter as to whether or not they're able to go.
Also, remember that you have to pick the best time to hold the party. You would not want to end up in a situation such as you sending out kitty Party Invitations to celebrate your kitty's birthday, only to have nobody show up because the time and date of the party on your invitation wasn't clear from the very start.
4. The Importance of Sending Out These Invitations
Now that you've learned how to make them, it's just as important to remind yourself why it's so important to make them. Here are a number of reasons as to why you should send out summer party invitations for your summer blowout:
5. It'll Tell Your Invitees What to Expect
Once your invitees receive the invitation, all they have to do is open it, view its contents, and then completely understand the purpose of the invitation. Let's say that you've decided to send out a couple of Disco Party Invitations for your summer disco party.
With the invite, those people who have received them will expect a ton of dancing as well as a disco-themed party the moment they arrive.  So long as you're able to place in all the information one needs to be able to figure out just what kind of party it's going to be, then you shouldn't really have any problems in this department.
Summer Wine Party Invitation
Green Bunting Summer Party Invitation
Summer Beach Party Invitation
Decorative Summer Party Invitation
Summer Party Invitation in Memphis Style
Barbecue Summer Party Invitation
Summer Holiday Party Invitation
Flamingo Summer Party Invitation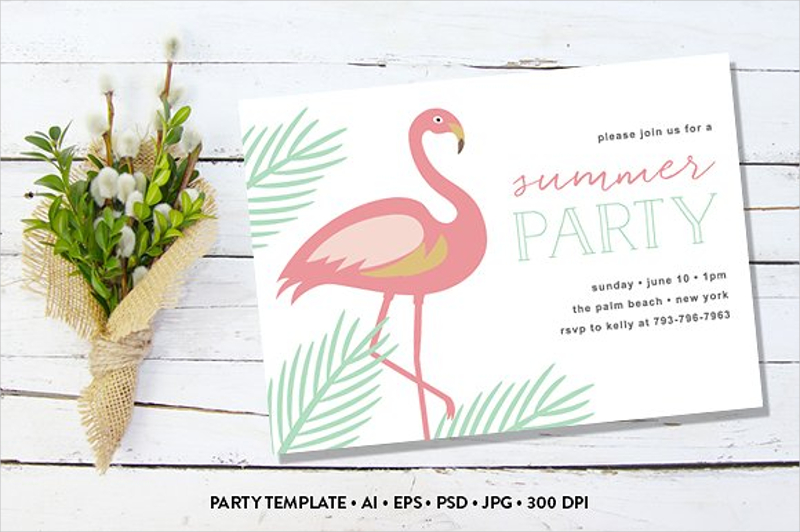 Colored Summer Party Invitation
6. It Will Get Them Interested in the Event
If you're able to come up with a design as well as providing these people the party information in entertaining ways, then most likely you'll get them excited well before the party's actual date. Also, you want to give them information that will actually make them want to go to your party.
Because let's say that you've decided to send out Spa party Invitations because you wanted to hold a spa party during the summer. You want to place in just what kind of spa treatments your invitees will be receiving if they decide to attend your party. So that's everything from facials, manicures, etc. Just give them enough to make them want to come.
7. It'll let Your Invitees Know the Purpose of the Party
While this may have already been mentioned, it's important that invitees know why you're holding the party in the first place. By letting them know what or who the party is for, they'll know what kind of activities are going to take place, as well as what they should bring to make the party even more fun.
So let's say that you've decided to send out Kids Party Invitations and your invitees go through its contents and see that it's for your kid's birthday. They'll know that they're going to have to bring gifts that will match the celebrant's taste, and possibly even food.
If you want to learn more on how to create a proper summer party inviation or any other type of invitation, then all you have to do is go through our site until you find the articles that will give you the informaiton you need.