Even DJs need to find the right platform to let the world know they're in business. Today, people can always turn to fast and easy sources of information. A DJ can always advertise themselves on social media, through their own website, and other means. However, more traditional methods like a DJ flyer can still command attention. If this is what you're on the lookout for, then you're in luck. As you can see below, our extensive list can provide you with any DJ flyer template of your choosing. Scroll on to choose and learn more about this.
21+ DJ Flyer Examples
Santa is a DJ Flyer Template
Kosmo DJ Flyer Template
DJ Birthday Flyer Template
DJ Battle Flyer Template
DJ Live in Club Flyer Template
Guest Dj Party Flyer Template
DJ Party Flyer Template
Guest DJ Flyer Template
DJ Event Flyer Template
Guest DJ Flyer
Santa is a DJ Flyer Template
Solo DJ Flyer Design
Night DJ Flyer
Artist and DJ Flyer Template
DJ Nightclub Party Flyer
Free DJ PSD Flyer Template
Retro DJ Flyer
DJ Flyer Sample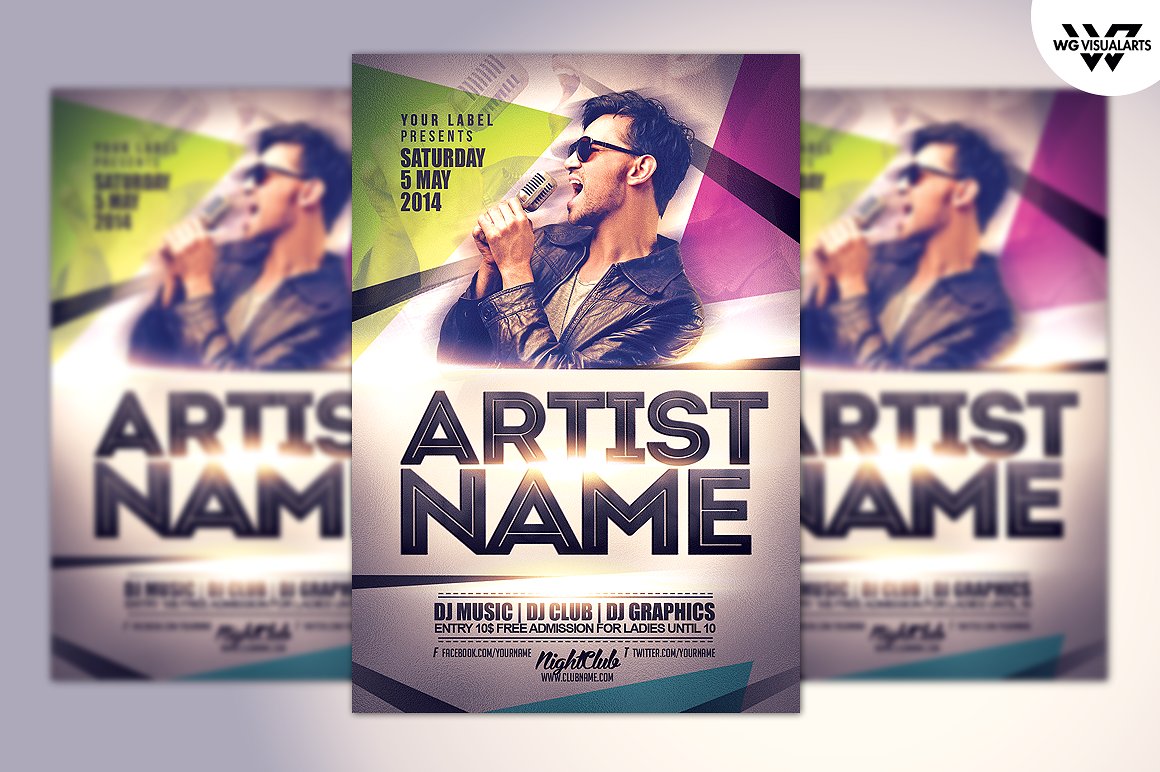 Live DJ Flyer
DJ Live Event Flyer Examples
The Importance of Using DJ Flyers
Before we delve into the act of creating your own DJ services flyer, we must tackle one very important topic. The use of DJ flyers can go beyond that of a tool used to get a DJ hired. A DJ booking flyer, for example, can provide tons of wonderful and useful information about certain events. It stands to reason that flyers should not only be visually impressive, but must also provide as much details about specific events as possible. That way, people will know where a particular DJ has been and what that event was all about. Leaning towards its potential as a marketing tool, a flyer can also help establish brand identity. Properly used, it can help a broad audience know all about certain brands—be it that DJ's own or that of the company or individuals hosting the events that need the DJ in the first place.
Tips for Creating Your Own DJ Flyers
While it is certainly easy to download any kind of DJ flyer template out there, it is always satisfying to be able to make your own whenever needed. The following tips will not only apply for those making DJ flyers, but also for those who are trying to make other variants such as graduation prom flyers, for example.
Tip 1: Organization is Key
Cohesion is always a top priority for those seeking to create their own flyer. It isn't just limited to the flyer's design, but also in regards to every bit of information you include. Take any professionally-made flyer as an example. A club flyer will be as cohesive as possible in terms of design, so make sure your own flyer is just as well-made.
Tip 2: Go for Achievable Results
Some take the term creativity to mean shoot for the sky. While that's a good attitude to have, it is better to aim for something more realistic. This isn't just in regards to what you can include design-wise, but also with what you can promise your audience. Don't advertise something you cannot produce. This will not only apply to DJ flyers but also to other kinds of flyers, such as concert flyers.
Tip 3: Don't Neglect the Most Important Information
There will be a ton of info to include in your flyer. With all the things to take into consideration, you may end up forgetting a few necessary details. Always make sure that things like the name of the DJ, the venue, the date, and others are included in your flyer. Crucial information like that may seem inconsequential at first, but they can contribute to one's business branding efforts
Tip 4: Know Your Audience
Take your audience into consideration whenever you create something. As a DJ, there'll be no doubt that your audience is the party-going types, but there should be more information to work with than that. Do as much research as you can on who will be receiving your flyers before starting. This is a lesson you can take from marketing efforts like digital marketing, or any kind of marketing for that matter.
FAQs
First of all, there is the fact that a flyer is incredibly easy to come up with. Not to mention cheap to mass produce. There's also the possibility of getting really creative with something tangible. With a flyer, you can actually present it to a potential customer to bring with them. Having a physical item on hand can leave a much different impression on your audience, which can lead to positive things for your corporate branding.
What is the typical information found in DJ flyers?
When it comes to a DJ or party flyer, you'll see the name of the business, establishment, or company organizing the event. This can also include the club or corporate entity representing the DJ if the individual has such affiliations. There's also the party or event theme for the benefit of those who wish to attend.
What are some of the most common businesses or events that make use of flyers?
Events such as concerts or parties are among the most common utilizers of flyers. Other events such as baptisms or weddings utilize it less so, but it isn't unheard of for people to see a wedding DJ flyer and then hire the individual afterwards. Startups may also utilize flyers to help them look for talented new employees or as a marketing tool for their customers.
An individual dedicated to success must experiment with as many platforms and avenues as possible. DJs are no different. With the right Dj services flyer or DJ advertising flyers, you can get an equal chance of attaining your desired level of success. Now all you have to do is choose. Will you create your own flyer from scratch, down to the DJ flyer design and DJ banner design? Or is downloading free DJ flyers and other flyer examples more to your taste? Regardless, you now have the capacity to go for either choice, so decide fast so you can act as soon as possible!