You've surely heard the saying, 'the only certain things in life are death and taxes.' As interesting as the latter may be as a subject, it's death that concerns this article. Primarily due to what needs to be done when a loved one passes away. There's so much to take care of, from the obituary to the funeral, that so many don't know where to begin. Having said that, this is where a funeral booklet comes into play. If you want to learn more and download a funeral booklet template free of charge from our list, all you have to do is scroll on.
1. Customizable Funeral Booklet
2. Designed Funeral Booklet
3. Funeral Mass Booklet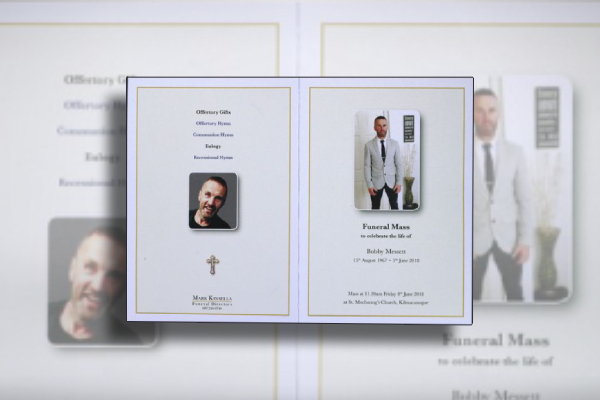 4. Funeral Order of Service Booklet
5. Funeral Order of Service Booklet
What Is a Funeral Booklet?
A funeral booklet is a document that details what the key points in the memorial service or funeral are. It is also meant to summarize what achievements the recently-departed had in life. Other names for it are memorial service booklet and Catholic funeral booklet. Funeral booklet printing is often done by either the surviving kin of the deceased or by whoever is tasked with organizing the funeral in the first place.
How to Create a Funeral Booklet
Creating a funeral booklet is an act that does not have to be too difficult or time-consuming. However, for those who need a bit of a boost, the following tips are bound to be of great help:
1. Do Your Research
If you are a member of the family, then you can directly contribute to the information gathering via your own recollection of what the deceased was like in life. You must also enlist the help of other family members for their own input. If you are not a member of the family, then take care when asking for personal information, as you will be treading into sensitive areas.
2. Select the Most Appropriate Programs
Putting everything together has a lot to do with what software or program you are using. Do not attempt this with something you are neither familiar nor uncomfortable with. Programs like Adobe Illustrator, Microsoft Publisher, and Apple iWorks are just some examples of what you can go for. Concerning the outline, you may also download templates if you are not particularly sure of what to do.
3. Select the Images and Fonts
Tasteful imagery is a must for any funeral booklet, obituary, or funeral flyer. The use of personal photos must be handled with absolute care as to not accidentally disrespect the deceased or the family. Pick out the ones that represent him or her the best when he or she was alive. Besides images, the font to be used is also another important consideration. Be consistent with it once it's been chosen for a better overall aesthetic.
4. Get it Printed
Once you've finished designing and compiling everything, the last step is to finally get it printed. There are typically two ways for you to do this. One, you can always print it yourself from the comfort of your own home. Two, there's the option of availing of professional services.
FAQs
What needs to be in a funeral order of service?
Songs, religious hymns, and even poetry readings are often included in a funeral order of service. Photographs that depict important events of the dearly departed's life are also a common part of it.
Who is typically responsible for giving out the order of service during funerals?
Different people can serve separate functions during funerals. For example, family members or a friend of the deceased are often tasked with handling tributes or non-religious readings.
Where are obituaries usually posted or announced?
Traditionally, an obituary is posted in newspapers. These days, it has become easier to announce the death of a loved one due to social media.
Since dying is one of life's few certainties, it pays to prepare for it in more than one way. For many, looking into future funeral arrangements are the way to go. That's why articles like this one exist. Coming to the end of this topic, you should be much more knowledgeable now in regards to what funeral booklets or a funeral pamphlet is all about. Not to mention, you now have a trustworthy resource for when you need a free funeral booklet template, like our funeral booklet template Word variety. Take what you've learned here and make sure you put it to good use when a loved one passes away.