People who belong to a Christian congregation believe that a child should be baptized in order to wash away the original sin, and some congregation believe that a person should be old enough to understand that baptizing them means they formally welcome a full Christian life. In any case, baptism is a sacred sacrament that upholds the values of Christianity. In this article, various creative invitations you can use for the baptism of your daughter or niece are provided for your use.
Girl Baptism Invitation Templates and Examples
1. Editable Girl Baptism Invitation
A simple baptism invitation will still help you convey the details about the event to your guests. It is maybe even more effective since there are no designs and illustrations that distract the readers from the pertinent information you provide. However, simple doesn't necessarily mean that the invitation should be plain and boring. Like this template, you can use a light-colored background and a simple border, with that your invitation will surely look amazing.
2. Floral Baptism Invitation Card
Achieving a simple yet chic look for the baptism invitation is not that hard; you just need to make sure that you have a clear picture of how it should look like so you can choose the right designs and illustrations. A floral invitation can be achieved by using dainty floral designs that do not overcrowd the page similar to what has been done to this template. If you love how this template looks, you can download this and edit the colors and contents to suit your preferences.
3. Blush Baptism Invitation
Give your guests a cute invitation by using this blush baptism invitation template. This template features a girly pink blush as background, minimal floral designs, and cute pop of purple in the border and fonts. You can include all the pertinent invitation on the event and state your desire to have them join you on such a beautiful day. You can download this template and easily edit this to suit your preferences.
4. Baptism Invitation Card
Wanna go for a simple yet chic invitation for the baptism of your sweet baby girl? Then this is the perfect template for you. This baptism invitation card template balances the white space on the surface by using a big floral illustration on one side of the page. Although the texts are not on the center of the page, it balances out the illustration on the other side. You can easily achieve this good-looking invitation by downloading this template from this article.
5. Winter-Themed Christening Invitation
Who says that only boy baptism invitations can use the color blue as its main background color? Certainly not us; you can use this template for the baptism of your daughter or niece. You can totally go for a winter wonderland theme with this crisp blue background along with its glittering snowflake-like designs. However, if you wish to change its colors, you can easily do so by editing this is MS Word and Publisher, and Adobe Photoshop.
6. Printable Baptism Invitation Card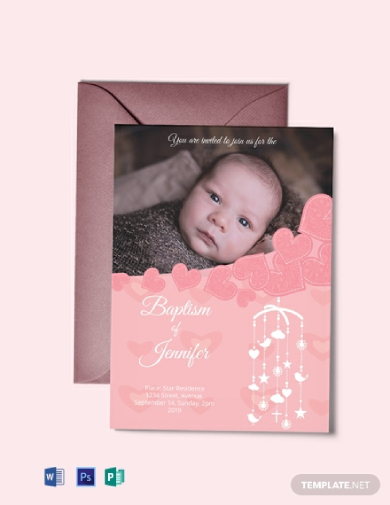 Looking for a printable photo card that you can use a baptism invitation? This template is perfect for that. This template will allow you to showcase the best photo of your baby girl along with cute and fun designs and illustrations. This template is also very easy to edit; you can change the colors, change the font styles, illustrations, layout, etc. as you see fit. Download this template to make use of its creative design and layout.
7. Rose Wreath Baptism Invitation
Contrary to the previous template, this baptism invitation example is over the top. Not only does it feature and use floral elements, but it has also used gold speckles or dots that make it look stylish. This invitation is perfect for the post and sassy mother-and-daughter duo. If you look at the example, it has managed to balance out the number of the design elements used with the texts and has avoided making it look overcrowded and messy.
8. Pink Watercolor Baptism Invitation
Nothing speaks classy than a well-thought-out minimalist design. Looking at this baptism invitation example, you will clearly see how chic and cute the invitation is with its pink watercolor background and gold accent colors used in the cross symbol and fonts. With its neat and sleek design, this pink watercolor invitation is able to emphasize the details about the event such as the name of the child, time and date, location or venue, and so on.
9. Baby Girl Baptism Invitation
Showcase the beauty of your daughter or niece by using a photo card format or postcard format for her baptism invitation. You can include an image of your child on the baptism invitation you sent out to your guests, you can also add floral illustrations to make the invitation look more dashing. Using floral two-sided borders will make the image looked framed; thus, making it look more cute and classy.
10. Rose Gold Baptism Invitation Card
Go for a stylish invitation for the baptism of your baby girl by following the layout and design of this example. Using a rose gold color to achieve a stylish theme for an invitation is only fitting for a classy-themed party. Your invitation can use champagne-colored confetti, similar to this example, and rose metallic font colors to make sure it pops. If you want to include more details into the invitation, you should neatly separate them with the use of lines to create a structured outcome.
11. Simple Baptism Invitation
Sometimes, you get caught up with other important things that you need to do and you simply will not have the time to DIY the invitation for your daughter's baptism, and that is totally okay. There are a bunch of beautifully made baptism invitations out there similar to this one. The advantage of buying a ready-made invitation is that all you need to do is just fill it out with the pertinent details you wish to include like the name of the child, date, time, location, RSVP information, and so on.