Music concert events generate millions in ticket sales every year with attendees coming in from all around the world. But hosting a concert is never easy, especially when it comes to crowd control. So for you to ensure an organized and secured event, establishing a ticketing system will certainly be a strategic move.
Music Concert Event Ticket Template
Music Event Ticket Template
Music Theme Event Ticket Template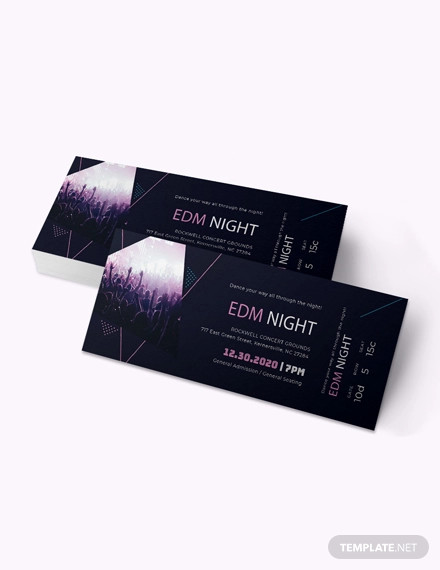 Event Ticket Template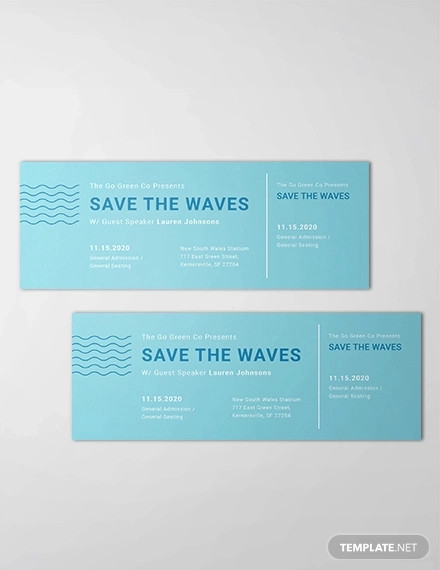 Music Concert Event Ticket Template
Music Concert Ticket Example
Music Concert Ticket
Jazz Music Concert Event Ticket Example
Why Are Concert Tickets Expensive?
Remember when your favorite band finally released a much-awaited list of tour dates?
The long wait was excruciating, it even kept you at the edge of your seat for the entire week. But the feeling of anxiety disappears when you realize they're coming to a city that's only an hour away from yours. You tell your concert buddies about the good news, and soon enough, you're all waiting for the tickets to go on sale. But as soon as the ticket site puts up seat prices for the show, you're greeted with a three digit number that's beyond your intended budget.
A concert experience for a few hundred dollars. While that doesn't seem too bad if you're trying to snag some VIP event tickets with a Meet & Greet package along with it, you'd be surprised to know that these prices are already for the "cheap" seats.
Music concert ticket prices are on the rise, and it definitely doesn't sound good for any concert-goer seeking for an affordable experience. It has been this way for a few years now, but things are only getting worse.
But why are live shows so expensive to take in these days?
Is the music industry trying to get back at us after our excessive use of LimeWire to acquire illegally downloaded songs back in the early 2000s?
Though this may not be the main reason as to why ticket prices have skyrocketed since then, the whole idea of it may have played a part.
Who to Blame?
The Beatles once played a show at Shea Stadium in New York with their most expensive ticket priced at $5.65. But since this was in 1965, it might have been pretty pricey for fans back then.
Fast forward to 2014, the most expensive ticket to a One Direction show at the MetLife Stadium in New Jersey was priced at—you might want to sit down for this one—a whopping $900! Resellers even had the audacity to list these tickets for $4,895 online, and considering the high ticket demand at the time, people were desperate enough to pay thrice as much as the original price.
Though there are many factors to consider when it comes to ticket pricing, such as the venue and production costs, not to mention a couple of dollars more in service fees and taxes, we can't help but point a finger to the entities responsible for these ridiculous ticket prices.
The Bots (Scalpers)
As a common enemy to music lovers everywhere, we all know the frustration that comes when bots and scalpers buy up all the event tickets the second they drop. They usually purchase them in batches, which explains why certain seat sections sell out immediately only minutes after they were opened. It's even more frustrating to know how many people are willing to purchase tickets from scalpers despite the extreme price range. Reselling these tickets for a few more dollars is one thing, but to resell them at double, triple, or even quadruple the original price is an outrageous move that only someone with evil intentions would dare to do.
Though buying your tickets from a site as opposed to visiting a ticketing outlet may seem convenient to most people, this only gave scalpers and bots the opportunity to launch an underground business that takes advantage of desperate music lovers. While it's nearly impossible to avoid cases like this, some ticket-selling sites are working to improve their systems in order to eliminate the use of bots. As for the ongoing issue with scalpers, concert promoters can only do so much to keep fans from buying these overpriced tickets.
The Artists
Similar to what was mentioned previously, artists aren't exactly making enough money off record sales anymore. With music-streaming applications like Spotify and Apple Music, not a lot of people are too fond about visiting a record store to purchase their favorite CDs. This is why it's getting harder and harder for artists to make a buck off recorded music. So to make up for those losses, artists (and their teams, specifically) are charging more for live concert experiences.
After all, you don't just pay to see your favorite artist perform. You pay for the overall experience that comes with the performance provided by the artists, the back-up dancers, the band, the stage crew, and even the flying objects and machinery that fill the platform. Some artists even go as far as using indoor fireworks, lasers, and giant flying hot dogs (think Miley Cyrus: The Bangerz Tour) to keep people entertained.
But then again, let's not forget that we have to pay the artist for doing their "job" as well. Some artists can barely make ends meet even when they've started playing small shows at local theaters and pubs. But as their popularity grows, so does their asking price. You can't blame them for wanting more, as the climb toward success is not something that everyone can endure.
The Fans
When it comes to business and economics, it all boils down to supply and demand.
Even if we take scalpers and bots out of the equation, concert venues still have the ability to sell out at costly price points thanks to an artist's solid fan base who would do anything to get their hands on a concert ticket. So because concert tickets are on high demand, and even if an artist wanted to make them affordable for fans to obtain, we still have to consider the business factor of the entire thing.
Naturally, when running a business, you'd want to optimize on the situation where the demand is high. Otherwise, you could be missing out on an opportunity to increase company revenue
In the end, there's no firm answer to how companies can offer these tickets at a more accessible value. It's a threefold problem that can't be solved overnight, so until then, don't be afraid to spare a few bucks for a concert ticket, as long as the price stays within your means.
Music Concert Ticket Pass Example
Music Night Concert Event Ticket Example
5 Tips for Scoring Good Concert Tickets
Before you can enjoy the hype surrounding a concert event, you still have to purchase the tickets to get inside the venue. Getting tickets, especially if you're very particular about the seat section or ticket type (VIP or GA) available, can be pretty challenging for any concert virgin. Some shows can sell out in under 10 minutes, and for the lucky ones, it probably took a few tabs and an excessive number of refreshes to score a live show ticket.
Ticket-selling season is comparable to the Hunger Games. You need to be smart and quick when purchasing, and having a few strategies up your sleeve would certainly help your cause.
That being said, here are some tips that will lead you to the checkout page of the ticketing site in no time:
1. Set a reminder. 
Ticket selling dates are often announced weeks or even months before the actual date. And because we live with busy time schedules and have a bad habit of forgetting things even at the last minute, you might as well set an alarm for the show's beginning sale time. This way, you wouldn't feel too bad about waking up one day to see all your friends boasting about their tickets on Facebook and Instagram.
You might want to keep your phone and computer on standby as well, just in case the site begins acting up as soon as the clock strikes selling time.
2. Open multiple tabs. 
You're bound to encounter high website traffic if you plan on buying your tickets on the actual selling date. This means being put on a loading screen for a few agonizing seconds (or minutes) until you're directed to the right page. If your internet connection is good, and your device is of moderate speed, you could try opening the purchase page on multiple tabs to test your luck. This might seem like a desperate move, but when it comes to buying tickets, you're better safe than sorry.
3. Have the funds to cover expenses. 
Concert season usually happens around the summer in most states. This is the time when music festivals are everywhere, and if you want to go to every one of them, you have to make sure you have the funds to have fun.
In most cases, an artist would go on tour as soon as an album is released. When this happens, you have to be financially prepared for what's to come. Or your last resort could be to borrow a couple of bucks from someone you know, or sell an organ on the black market to afford the ticket.
4. Make an account beforehand. 
Ticket selling sites typically require users to set up an account before making a purchase. To avoid the hassle, it's best to start early. You can even use the pre-made account again just in case another show comes to town using the same ticket selling site.
5. Look for updates on social media. 
Thanks to social media, you can stay updated on the latest happenings and news in real-time. Though you could always use concert apps for validation, artists tend to post directly from their own accounts before their concert promoters do. This includes the location, lineup, and show dates. And if the show is a popular one, your timeline and news feed are sure to be filled with concert-related posts from friends and followers anyway.
Pop Music Concert Event Ticket Example
Retro Music Concert Event Ticket Example
Simple Music Concert Event Ticket Example
How to Organize a Successful Music Concert
Music concerts are money-making machines, depending on how they are planned and produced, of course. Organizing your own concert, show, or gig is a great way to build exposure for an artist. But before you can plan something big and memorable for your audience, you need to cover the basics of a good concert event.
1. Search for a venue. 
Find a suitable venue for your event. If you're planning something small and intimate, a pub, a bar, or a community center may be a good option. You also have to consider the location of the chosen venue, as you wouldn't want attendees to travel for hours by car or bus just to get to a deserted spot outside the city. You need to be considerate with the size of the function room as well. This would usually depend on the expected turnout for the show. If you think you can attract around 100 people to the event, find a place that can accommodate such number. A little capacity allowance would also be good in case you exceed your expected limit.
2. Set the date. 
Hosting a concert in the middle of the week isn't exactly a good choice. Instead, you'd want to go for a day that's closer to the weekend. It's also important to allot enough time for you to generate interest and sell tickets. A four- to six-week allowance is most advisable, especially if you're new to the whole concert planning scene.
3. Design the tickets. 
Since you're hosting the event at a place that could only accommodate a limited number of people, you might want to keep things under control with the help of a ticket. A ticket design can also be used to deliver significant information about the event to buyers, including the time, date, and venue of the concert. Some organizers even use tickets as a form of incentive for attendees to enjoy. Using the number indicated in the ticket, you can host a raffle during the show with door prizes as the main attraction.
4. Advertise the event. 
One of the most important elements of a successful event is your advertising efforts. You could stick with the traditional means of marketing with the help of a good event flyer and concert poster. But if you want to reach out to your online audience, you could always try using social media as a platform to communicate your message. The advantage of using various social networks is that you could easily widen your reach through likes, comments, and shares.
The key is to make your advertising materials eye-catching and engaging enough to prompt a desired reaction from viewers. A compelling content and attention-grabbing visuals are sure to give your concert the buzz it needs to generate an impressive turnout.
5. Look for extra help. 
Unless you're hosting a huge music event with an entire team of professionals by your side, you need to look for a few helping hands to willingly assist you with your project. You can't be a musician, a sound manager, a lighting director, and a ticket collector all at once. This isn't a one-man show you can take the risk with; otherwise, your poorly hosted gig would be the talk of the town in the coming days.
So instead, you can ask a few friends (or fans) to help out with certain things. Even if they volunteer to do the work without asking anything in return, the least you could do is offer them a free meal or a round of drinks to show your gratitude for their services. Again, you wouldn't want the weight of their tasks to be heavier than yours, so it's best to allocate these responsibilities accordingly.
6. Post pictures.
Even after the concert has taken place, you'd still want to let your followers know how successful your event was. Showing people what they missed might just make them feel encouraged to attend your next show. You can upload these photos on your website and social pages to create a buzz around the network.
Ultimately, music concert events would never be complete without a proper ticketing system in place. So if you find yourself in need of a ticket design for your upcoming event, these examples and templates are sure to come in handy.