Every people dream of having their own house someday. Or perhaps, purchase land where they can build their business. It is a huge investment for some. But sometimes, looking for a property can be stressful as it needs thorough analysis and smart decision-making, especially if you don't know where to start. Because people seek help with their choices and decisions, a real estate company provides convenience and ease of access to modern and luxurious dream property you can ever imagine. Part of the process is a brochure that will highlight what a company can offer. It also helps real estate companies market their brand for more awareness, especially to investors and entrepreneurs. 
46+ Real Estate Brochure Examples
1. Residential Real estate Agent Agency Bi-Fold Brochure
2. Residential Real estate Agent Agency Tri-Fold Brochure Template
5. Real estate Mortgage Company Bi-Fold Brochure Template
6. Real estate Mortgage Company Tri-Fold Brochure Template
7. Property Tri-Fold Brochure Template
8. Property Bi-Fold Brochure Template
9. Modern Real Estate Brochure Template
10. Real Estate Tri-fold Brochure Template
11. Free Real Estate Property Brochure Example
12. Free Commercial Real Estate Brochure
13. Free Realtor Brochure Example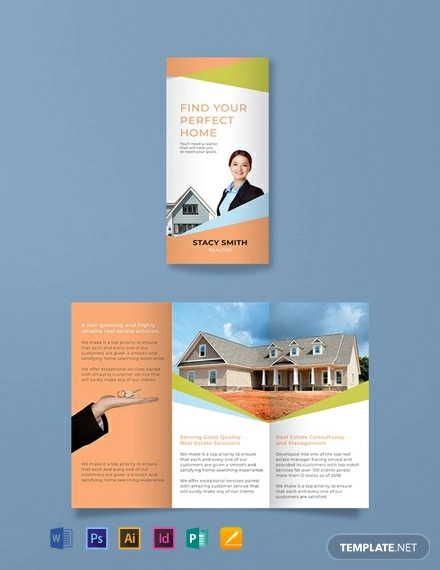 14. Free Home Real Estate Brochure Template
15. Free Real Estate Agent Brochure Template
16. Tri-Fold Real Estate Property Brochure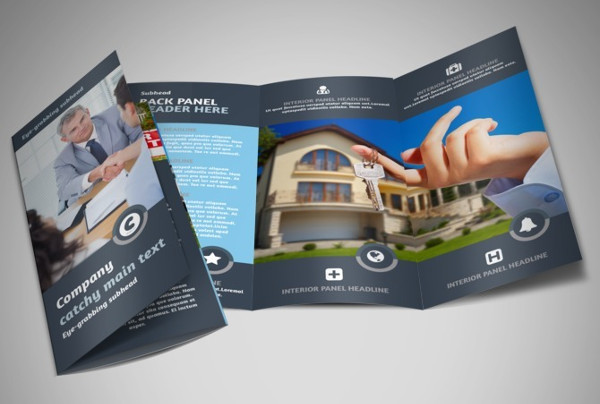 17. Creative Real Estate Property Brochure
18. Real Estate Business Tri-Fold Brochure
19. Modern Real Estate Tri-Fold Brochure
20. Commercial Real Estate Tri-Fold Brochure
21. Real Estate Agent Personal Brochure
22. Real Estate Agent Marketing Brochure
23. Real Estate Agent Bi-Fold Brochure
24. Tri-Fold Real Estate Agent Brochure
25. Luxury Real Estate Bi-Fold Brochure
26. Luxury Free Real Estate Brochure
27. Real Estate Company Square Brochure
28. Real Estate Company Trifold Brochure
29. Real Estate Corporate Business Brochure
30. Real Estate Corporate Tri-fold Brochure
31. Free A4 Real Estate Brochure
32. Free Real Estate Portfolio Brochure
33. Multipurpose Landscape Real Estate Brochure
34. Landscape Real Estate Bi-Fold Brochure
35. Modern Real Estate Tri-Fold Brochure
36. Modern Real Estate Agency Brochure
37. Modern Real Estate Bi-Fold Brochure
38. Real Estate Portfolio Bi-Fold Brochure
39. Creative Real Estate Portfolio Brochure
40. Real Estate Bi-Fold Square Brochure
41. Real Estate Business Bi-Fold Brochure
42. Real Estate Company Bi-Fold Brochure
43. A4 Real Estate Agency Brochure
44. A4 Corporate Real Estate Brochure
45. Minimal Real Estate Square Brochure
46. Minimal Real Estate Ecologic Brochure
47. Minimal Modern Real Estate Brochure
What Is a Real Estate Brochure?
A real estate brochure is a material that helps a company advertise or market for sale or rent properties. It contains marketing materials, such as images, detailed information, and price list. 
Real Estate's Rising Competition
Competition is normal in business. Among the rising and competitive sector in the industry is the real estate. Various agencies in town are offering more luxury homes, bigger properties, and contemporary commercial establishments. Perhaps, according to a report published by Statista, 306.5 thousand employees work in real estate offices in the US in 2016. This assessment only explains that there is also a rising number of real estate agencies in town. With this, competition succeeds in making investors, and ordinary individuals have a hard time making smart decisions. For that, a great marketing tactic must be developed. This is why brochures will never get old and out of phase. 
How To Create a Real Estate Brochure
Creating a real estate property brochure follows the format and elements that need proper consideration. It can get complicated because you need to take good care of the content and your creative juices for the design. While this may be daunting, we help you produce a comprehensive and useful business brochure with the list of steps below. 
1. Familiarize Yourself with the Properties
To begin with, know that there are many aspects that you have to consider, such as the property available, location, property features, and rates. Therefore, you must familiarize these elements to make a comprehensive and useful marketing brochure. Be handier in doing research and visiting the site. This way, you know precisely what particular content will in the booklet you will be making. 
2. Construct a Good Content
At this point, you already familiarized and finalized the details you need. Now, it is time to construct your content by outlining the company profile, service lists, testimonials, house rates, and complete address into your professional trifold brochure. Since you do not want to violate your clients' expectations, always be accurate and realistic when writing down the information. If the house isn't fully furnished, don't include furniture details in this section. With this, you are helping your client weigh in particular matters that won't affect their budget. 
3. Include Relevant Images
Aside from the information, complete your content by adding relevant images. In this section, you have to be true to what you offer. Present your client an original image of the property or lot from exterior to its interior finishes. Add them to the cover page and inside pages of your company brochure. This will help in promoting visual access to what you can offer. 
4. Customize It
Lastly, make it more professional and attractive by adding design elements to your document. Because you want to market your brand, be it minimalist or stunning with your company's color palette, keep it professional by adding your company logo. With this, you can enhance brand awareness. 
FAQs
Is a brochure a type of magazine?
Brochure, somehow, is a booklet or magazine. However, it commonly highlights what a company offers mainly for marketing.
How much does brochure printing costs?
Printing a brochure is expensive. However, it varies on the type of paper you want. Typically, it would cost around $300.
What type of paper is appropriate for brochures?
The matte and glossy papers are among the commonly used types. These are available in any printing that costs depending on the designs and size of the brochure.
Indeed, there are now emerging real estate agencies that will always allow competition to rise. Because of this, your marketing strategy might not work at all. But you can now create an elegant realtor brochure that will be effective in advertising what you can offer. Other than that, a brochure will expand your brand to reach more clients in town. So, seal the deal today with brochure you are ready to give away.