Publicizing or promoting a product, service, or event in a public medium is defined as an advertisement. A potential customer buys a product or service only when he/she is aware of it and advertising plays a major role by conveying the product details & features to the customer. It helps people in discovering best and updated products in the market. A travel advertisement is intended for the customers to book their travel with the travel agency/agent instead of choosing another company or doing it by them. Travel Ads play a major role in attracting tourist for a specific destination and planning a trip. Massive competition in the market and the rising number of aspiring visitors each year has resulted in the booming of the travel advertisement sector.
Travel Advertisement comes in many forms like banners, print media, social media, online promotion, and others. This article will cover examples, templates, and sample related to different kinds of travel ads.
Travel Ads Examples & Templates
1. Travel Banner Ads Template
Banners are a general method of advertising and have evolved as a digital banner advertising medium in the age of the internet. Banner of varied design, texture, and size are used in online in the promotion of travel agency Ads. This file is one such editable template of travel banner advertising. It is available for download in ten different sizes.
2. Travel Agency Magazine Ads
Magazines are the best method of target advertisement. If you intend to advertise for your travel agency in a magazine, then download the above travel agency magazine advertisement template and conveniently customize it according to your requirement. The template has a serene background image featuring the mountains and a traveler. It is available for download in four default advertising size.
3. Travel Email Ad Design
Email promotions have turned out to be effective and emerging forms of marketing. The above file is an editable template of travel email advertisement. It has been professionally designed and smart objects have been used for an instant image change. Download this template and publish your travel agency advertisement in an email for promotion.
4. Travel Agency Facebook Ad Banner
Facebook is one of the best advertising media for a travel agency due to the presence of a large audience. This file is an example of a travel agency ad banner template for advertisement on Facebook. It has a simple design with original artwork and is fully editable. It is also compatible for advertisement on Snapchat.
5. Travel Instagram Ad Template
Instagram achieved popularity in the last decade and has managed to sign up billions of users on its platform making it a potential advertising hub. The above file is an editable template of travel advertisement for Instagram. It has a unique design and convenient customizations open.
6. Travel Magazine Ads Template
7. Travel Magazine Ads Layout Template
8. Simple Travel Magazine Ads Template
9. Printable Travel Magazine Ads Template
10. Sample Travel Magazine Ads Template
11. Commercial Travel Magazine Ads Template
12. DIY Travel Magazine Ads Template
13. Editable Travel Magazine Ads Template
14. Basic Travel Magazine Ads Template
15. Customizable Travel Magazine ads Template
16. Travel Advertising Magazine Ads Template
17. Travel Agency Magazine Ads Template
18. Travel Agent Magazine Ads Template
19. Travel Guide Magazine Ads Template
20. Travel Photography Magazine Ads Template
21. Travel Photographer Magazine Ads Template
22. Travel Agency Banner Ads Template
23. Travel Agency Magazine Ads Template
24. Travel Ad Banners in PSD
This file is an editable template for creating a travel advertising banner. One can download the template in fifteen standard ad banner sizes. It has vector shapes and editable layer. The file is fully organized and can be easily customized in Adobe Photoshop.
25. Tour Travel Flyer Ad Template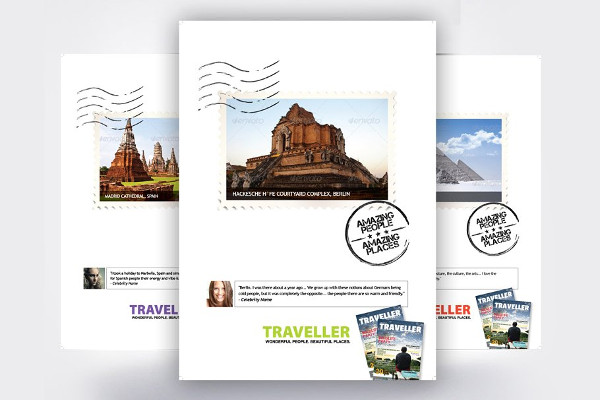 Flyers are an affordable medium of promotion. The above file consists of three layouts of A4 magazine travel ad/flyer. It is designed in a basic white background with simple graphics. Download this file and easily prepare an ad flyer for your travel agency.
26. Travel Ad Example
This file is a vintage 1963 advertisement of British Travel with the theme of Shakespeare. It includes two pages with texts and neat photographs. It can be purchased for an antique collection and as a gift for a traveler or for a Shakespeare fan.
27. Cherry Blossom Tour Travel Ads
Are you looking for a travel advertisement template? Download this cherry blossom tour ad editable template to prepare a customized attractive advertisement for your agency. It includes flying flowers and aircraft in 3D illustrations. With basic formatting and sufficient space to accommodate the advertisement matter, this template is one of the best available online templates.
28. Travel Advertisement Sample
The above is a sample advertising template of Tabung Haji Travel Ads. It is a pictorial advertisement featuring magnificent monuments and the rich cultural heritage of the city. Contrasting font colors and style make it an ideal pictorial advertisement sample for reference.
29. Travel Ad Banner Template
A classy and elegant travel ad banner attracts tourists. This editable file template is designed in a lighter shade of grey with a combination of yellow for a travel advertisement. It comes in twelve standard banner ad sizes. It is layered and sliced ready. It is a fully organized one of its kind template available for download.
30. Travel Facebook Ad Banners
A simple travel agency advertisement banner with an unbeatable promotional scheme can generate a considerable promotion. This file is one such example of an editable travel Facebook ad banner template. It comes in two different sizes with free fonts and convenient customization options.
31. Sky Tourist Travel Ad
This vintage advertisement sample is a 1955 Trans World Airlines Travel Advertisement published in a magazine. It has wonderful artwork and contains a comparison of price & time difference between TWA, train, and bus travel. It has bright vibrant colors and a frame covering the wrinkling of light at the top.
32. Travel Guide Advertisement

This file is an editable template of fall color autumn travel guide for a travel agency advertisement. It includes elegant maples frame, luggage, and camera elements in a 3D illustration which makes the advertisement attractive and eye-catchy. It is a fully editable file and can be modified as required by the travel agency advertisement campaign requirements.
33. Luxury Travel Ad Design
The above file is a traveling advertisement sample of Arabco Travels. The template has superior graphics and high-resolution images. It is published in multiple designs with varied color variants and travel packages. Download this sample for reference to build similar travel advertisement.
34. Tourism Travel Ad Banner
Tourism banners come in different sizes and the above template of tourism travel banner is available for download in fifteen standard sizes for publication. It has an organized and clean design with free fonts. Vector shapes are used and the editable layer is also present.
35. Travel Advertising Ads
An animated advertising template has a separate fan base which can be beneficial for the promotion of product/service. This file is one such template of a traveling advertisement ad with an illustration of an airplane combined with a golden & blue color theme. It is customizable and has a standard size for convenience in publication.
36. Transit Tour Travel Ad
The above file is an ideal sample of pictorial travel advertisement by Transit Tour & Travels. It has a perfectly balanced brightness & contrast sync for the background with focused images of attractive destinations of the world. The last page of the ad includes relevant contact information for further details about different packages.