As the world continues to progress, do does gender equality. Step by step, we are taking the right path into becoming a better society – a society where everyone is treated equally, a society that is fair and just. On March 8, we take another step forward towards a brighter future. On March 8, we celebrate International Women's Day, where we commemorate the movement of women's rights and pay tribute to their achievements that helped make our world a better place. You may also see advertising flyers.
The more we understand each others battles, the easier it will be for us to progress. Women have gone through difficult times and are still continuing to do so. Through this day, we can enlighten others of their struggles so that we can help improve society as a whole. You may also see business flyers.
8 March Women's Day Flyer
Minimal Feminine Flyer
Women's Day Flyer with Pink Ribbon
Women's Day was observed to have started on 1908 in New York City. Gender inequality was prevalent in different socio-economic aspects. Women weren't allowed to vote, had lesser pay, and had disregarded opinions. They lived in a unfairly patriarchal world. This along with several other factors caused 15,000 women to rally and protest against the inequalities. They stood their ground and a year later, Women's Day was officially born. You may also see event flyers.
The aim for this day is simple, but the process of achieving it is difficult due to intolerance and close mindedness. Women's Day is a day of spreading awareness. It is a day set out to soften hardened hearts, soothe brittle ears, and inspire frightened voices. From powerful talks and amazing performances to insightful conferences and motivational marches, Women's Day offers thousands of different events around the world. Each year, these events give a voice to unheard women as they press on against the fight for progress. The movement continues to grow, and as it does, it causes abuse and bigotry to fade away more and more each day. You do not have to be a female or feminist to support this movement. The only thing required of you is to understand the cause and advocate it for the betterment of our world. You may also see campaign flyers.
Women Club Promotion Flyer
Creative Flyer for Women's Day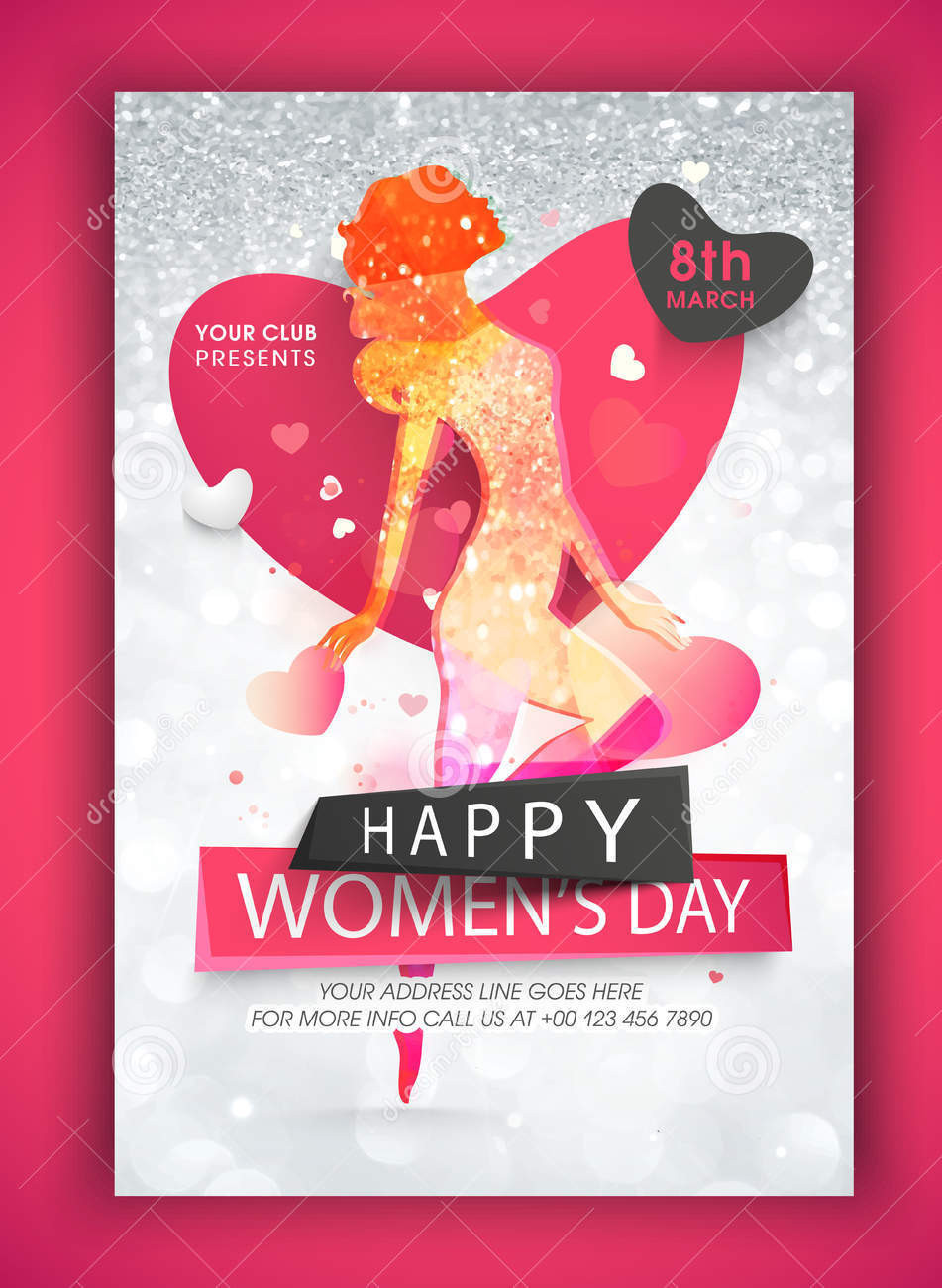 Women's Day Event Flyer
International Women Day Flyer
Women's Day Cocktail Party Flyer
PSD Women's Day Flyer
Women's Day Out Flyer
Women's Night Party Flyer
Informing other people can be a tedious task. Most people are so caught up in their lives; it is sometimes difficult to reach out to them. Thankfully, there are mediums we can use to do so. One way to ensure that people know about Women's Day is through flyers. They are tried and true mediums of communication that are able to grab hold of a person's attention. You may also see flyers designs.
Through the use of these flyers, we can make more people aware of this movement. Together we can Press For Progress and inform others to celebrate this special day. All these flyer templates can be downloaded for free. Let everyone become aware of the plight of women. You can put these flyers up in your school, church, local mall, or even post them digitally on social media. Designed for it to be easy to edit, you don't need to hire a graphic designer to get the type of flyer you want. Through its smart layer features, you can edit the images yourself with ease. This way, you can customize them accordingly to make them appropriate for certain types of events or environments. You may also see fitness flyers.