Certain plans may involve doing things on specific days so to keep track of it all, using a calendar might be helpful as a reminder which is where a planning calendar comes in. Read on and discover how users can create a planning calendar suited to their own needs.
15+ Planning Calendar Examples
1. Annual Planning Calendar Template
2. Project Planning Calendar Template
3. Restaurant Marketing Planning Calendar Template
4. HR Annual Planning Calendar Template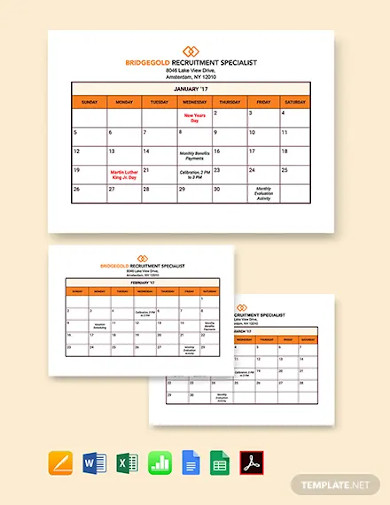 5. Free Business Planning Desk Calendar Template
6. Free Annual Planning Desk Calendar Template
7. Junior College Planning Calendar
8. Conference Planning Calendar
9. Board Planning Calendar
10. University Planning Calendar
11. Student Annual Planning Calendar
12. Sample Planning Calendar
13. No School Planning Calendar
14. Semester Planning Calendar
15. Swimming Planning Calendar
16. Exhibitor's Planning Calendar
What is a Planning Calendar?
A planning calendar is a type of calendar used specifically to mark certain dates for a long-term plan. It is used in businesses like content marketing campaigns, event planning, and other similar industries, but it is also used for personal reasons such as college plans.
How to Create A Planning Calendar?
Making a planning calendar sounds simple enough. However, there are some other tips you need to keep in mind while crafting it to ensure it is both well-designed and organized.
1.) Choose a Software tool
When your planning calendar is online, it is important to use an effective program to create it. Whether it is as simple as Google Sheets or something like Microsoft Illustrator, make sure it is something you already know how to use so that you can make the best layout for your planning calendar.
2.) Determine the Specific Type of Calendar
Do you need a yearly college calendar or a Social Media calendar? Knowing what kind of calendar you need will make it easier for you to design the layout and content of your planning calendar.
3.) Use Color Coding
When it comes to making a planning calendar, you want to make it visually distinct so that a quick glance can be helpful similar to a Gantt chart. One way to do this is by making use of color coding. Add colors that can indicate specific dates, for example, making an important day in the color red while marking a date that has passed in green. This should help users be able to keep track of their plans when glancing at the calendar.
4.) Add Notes
Place small notes and keywords in the space of your calendar so that you can remember your plans. Say for example you are making a planning calendar for travel, you can add notes for things like flight details, meetings, reminders, etc.
5.) Update Changes
Plans change whether we want to or not, update any changes that have happened on your planning calendar if there are any new updates. Say for example you are running a marketing campaign on Instagram, if you are using a planning calendar to coordinate content marketing, then you can update your content for when to post certain content.
FAQs
What is the difference between a planner and a planning calendar?
A planner is usually a book/journal used to mark down plans in greater detail while a planner calendar is a type of calendar where users can make small reminders of certain plans.
Can a planner calendar be used online?
Yes, planner calendars are also available in online form besides physical copies.
What are three examples of a planning calendar?
Three examples of a planning calendar include a meal planning calendar, a workout planning calendar, and a hotel planning calendar.
Whatever the situation is whether it's for a budget, bills, schedule, or editorial content plan, using a planning calendar can really help you organize your strategies so that everything fall at the right place and the right time. For more references, you can check out our other calendar and planner templates.