The word concept has a broad range of meaning depending on its usage. Its core meaning is abstract. Abstract means it is conceived in the mind yet unrealized into the reality. A concept proposal is the same as a design proposal although they differ in their outputs.
A concept proposal focuses on ideas, theories, and hypothesis. They are called the 'what ifs'. In the business world, a request for proposal usually arises when the body realizes that there are some things to be improved or to be worked on. Let us then delve further what concept proposals are.
Event Concept Proposal Template
Free Business Concept Proposal Template
Free Concept Proposal Template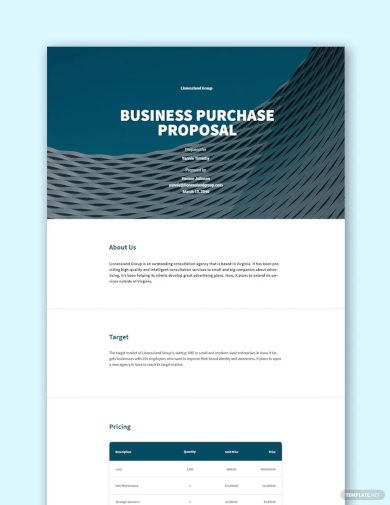 Sample Concept Proposal Template
Design Concept Proposal Template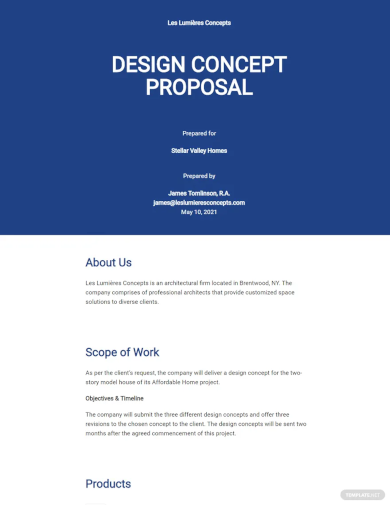 Project Concept Proposal Template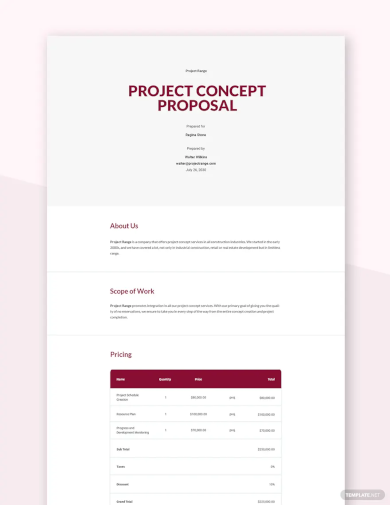 Concept Design Proposal
Project Concept Example
Business Concept Proposal
Event Concept Proposal
Exhibition Proposal Example
What Is a Concept Proposal?
A concept proposal can be simply defined as a written proposition of an abstract idea supplied and speculated by the mind with the purpose of bringing in new thoughts and views. A concept proposal can be applied in a multitude of ways. It can be used in architecture and designs, engineering and infrastructure, and even in the business plan and marketing plan. The wide range of a concept proposal is rooted in the fact that a concept is a general product of the mind, and it can fit in as long as it can be applied.
What Is a Proof of Concept Proposal?
To get a proof of concept (POC), you have to bring a certain method or idea to reality in order to demonstrate its feasibility and verify that this concept or theory has practical potential. Following this, one can then assume that a proof of concept proposal is a test of effectiveness. It is a method by which a concept, which is abstract, can be realistic. You may also like service proposal examples.
A simple proposal example in many ways gives a futuristic layout of a subject. By using a proof of concept proposal, an organization can then presume that the idea presented can be actualized.
Brand Concept Sample Proposal
Fundraising Concept Proposal
Marketing Proposal Sample
Concept Proposal Template
New Product Development Example
Research Concept Proposal
What Is the Difference between Concept Paper and Project Proposal?
The difference between a concept paper and a grant proposal are their objectives.
The concept paper a written document formulated and addressed to appeal potential buyers in finding a certain project or program. It has a convincing tone that appeals to the emotions of some promising prominent people. It is also sometimes regarded by some as an initial step in a marketing proposal.  You may also check out research proposal examples & samples.
On the other hand, a project proposal is another type of a written document that has its main objective of solving a specific problem. It contains a specific, detailed and logical presentation of information on the steps and strategies of making a project a success.
How to Write a Business Concept Proposal
Writing a business concept proposal requires thorough research and unmatched skills. However, here are the steps on how to write a business concept proposal.
Create a system. When providing your concept, make sure to outline it in a systematized and logical manner. This makes your proposal easy-to-understand.
Understand the subject. This should be the first step in writing a business concept proposal. Try to understand the subject matter in order to conceptualize the value statements and ideas.
Do your research. Make sure to do an extensive research about business ideas and concepts. The key to a successful business concept proposal is originality. Make sure that your proposal is unique. You may also see proposal memo examples & samples.
End it with a clear conclusion. When closing out your proposal document, make sure to wrap everything up starting from your main point up to the least detail. If necessary, reiterate your important positions. You may also like short proposal examples & samples.