In the competitive world of job applications, a well-crafted cover letter can make all the difference. It serves as your introduction, showcasing your skills, qualifications, and enthusiasm for the position. Join us as we explore different cover letter formats, providing you with the tools to create a professional and impactful document that captivates employers.
1. Cover Letter for Fresher Template
2. Banking Cover Letter Template
3. Cover Letter for Internship Template
4. Shadow Teacher Cover Letter
5. Paraeducator Cover Letter
6. Editable Cover Letters
ymcaottawa.ca
7. Athletic Director Cover Letter
teamusa.org
8. Human Resources Analyst Cover Letter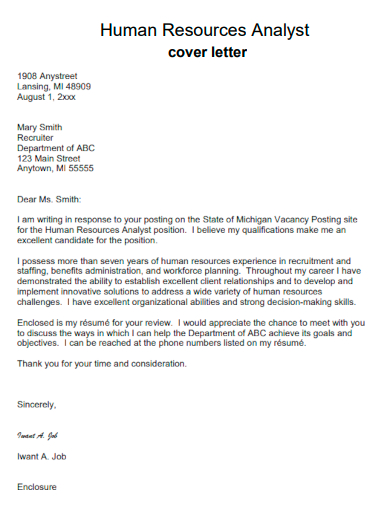 michigan.gov
9. Purpose of a Cover Letter
up.edu
10. Modern Cover Letter
uhsp.edu
11. Advanced Cover Letter
capital.edu
12. Policy Director Cover Letter
luc.edu
13. Cover Letter Template
training.nih.gov
14. Cover Letter Content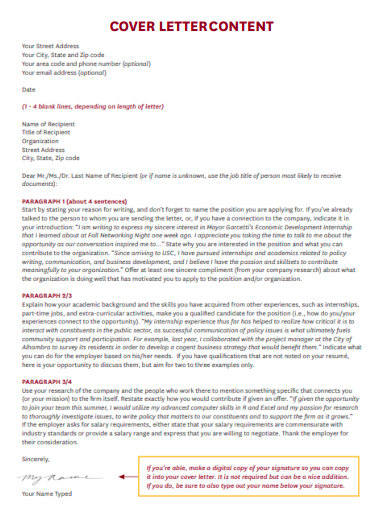 usc.edu
15. Employers Cover Letter
newpaltz.edu
16. Career Connection Cover Letter
econ.ucsb.edu
17. Framework for Crafting a Cover Letter
umass.edu
18.  Cover Letter or Letter of Introduction
vsu.edu
19. Chemical Engineering Cover Letter
engineering.cornell.edu
20. General Cover Letter
tisch.nyu.edu
21. Cover Letter Example
22. Simple Cover Letter Template
23. Cover Letter For Specific Job Opening
24. Cover Letter For Director of Catering position
25. Cover Letter For On-Campus Job
What is a Cover Letter Format?
Cover letter formats refer to the structure and organization of a cover letter, which is a formal document submitted alongside a job application. These formats outline the sections, such as the introduction, body paragraphs, and conclusion, that help convey your qualifications, experience, and motivation to the prospective employer.
How to Format a Cover Letter
Formatting a cover letter requires attention to detail and adherence to professional standards. Follow this step-by-step guide to ensure your cover letter stands out:
Step 1: Header and Introduction:
Include your name, address, phone number, and email address at the top of the letter. Address the letter to the hiring manager or specific contact person, if possible. Start the introduction with a strong opening sentence that grabs the reader's attention and clearly states the purpose of the letter.
Step 2: Body Paragraphs:
In the body paragraphs, highlight your relevant skills, qualifications, and experiences that make you a great fit for the position. Use specific examples to demonstrate your accomplishments and how they align with the job requirements. Customize each paragraph to target the specific job you are applying for.
Step 3: Conclusion:
In the conclusion, restate your interest in the position and briefly summarize your key qualifications. End on a positive note, expressing gratitude for the opportunity to apply and your eagerness to discuss your application further.
FAQs
What makes a great cover letter?
A great cover letter is tailored to the specific job, showcases your relevant skills and experiences, and effectively communicates your enthusiasm for the position. It should be well-organized, error-free, and demonstrate your understanding of the company and its values.
Should I address the cover letter to a specific person?
Whenever possible, address the cover letter to a specific person, such as the hiring manager or HR representative. It shows that you have taken the time to research and personalize your application. If the job posting doesn't provide a name, try to find it through online research or by contacting the company directly.
Should I send a cover letter as a separate document or in the body of an email?
If applying through email, it is generally best to include the cover letter in the body of the email itself, along with a brief introduction. However, if the job posting specifies attaching a cover letter, save it as a separate document in PDF or Word format. Follow the instructions provided in the job posting.
Do I need to include my address on the cover letter?
Including your address on the cover letter is optional, especially if you're submitting it via email. However, it is essential to include your email address and phone number for easy contact.
Mastering the art of cover letter formats is a crucial step in presenting yourself as a qualified candidate for a job. By following a well-structured approach, introducing yourself professionally, and addressing the key aspects of the position, you can create a compelling cover letter that sets you apart. So, take the time to craft a standout introduction, showcase your skills, and express your genuine interest in the role. With a well-formatted cover letter, you'll be one step closer to landing your dream job.