Contracts ensure win-win deals and arrangements between two or more parties. For that reason, it's important to issue an employment contract whenever you hire a new employee in your company. Preparing a contract can be quite time-consuming. All of us in the business world don't have the luxury of time. Fortunately, there's a quick way for you to formulate worker contracts. And that's by using our ready-made Employee Contract Examples. We listed them below so that you can download them.
16+ Employee Contract Examples
Employee Contract Template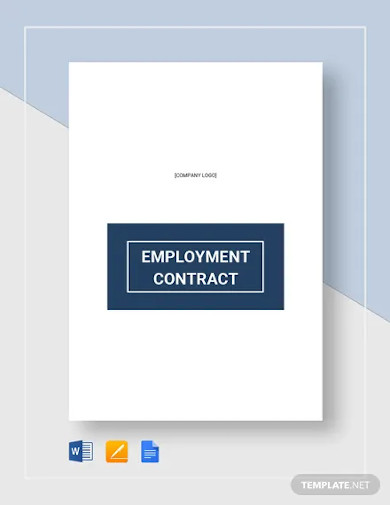 Simple Contract Employment Agreement Template
Employee Remote Work Contract Template
Contract Employee Offer Letter Sample Template
Work From Home Employee Contract Template
Restaurant Employee Training Contract Template
Employee Recruitment Agency Contract Template
Contract Employee Agreement Template
Sample Standard Employment Contract
Model Domestic Worker Employment Contract
Employee Contract Example
Casual Employee Contract
Shared Employee Contract
Senior Executive Employment Contract
Termination The Employee Contract
Employment Contract Checklist
Printable Employee Contract
What Is an Employee Contract?
An employee contract, job contract, or labor contract is a legally binding document focused on an employer-employee agreement. It primarily states all the terms and conditions that an employee must follow. This is the document that an employee should sign before he or she starts working for the employer. Once an employee signs it, he or she becomes an official member of the workforce. In other words, he or she is officially hired.
How to Create an Employee Contract
As an employer, it's your job to create an employee contract. It should be complete with all the necessary sections. If you miss one, then the contract might not be as effective as it should. Make sure to follow these steps in creating an employee contract.
Step 1: State the Parties Involved
The parties involved are you, the employer, and the employee. And you should state that clearly in the contract. Input both of your full names as a form of formal introduction. In introducing the employee, don't forget to indicate his or her job position and type of employment—temporary, permanent, probationary, or part-time.
Step 2: Outline Job Duties
It's important to inform the employee of his or her specific duties. That said, you have to outline them in the contract. List them down, starting from the most important job task down to the least important. You can simply base them on the duties and responsibilities section of your company's job descriptions.
Step 3: Establish Terms and Conditions
The most crucial section of any type of contract is the terms and conditions. So make sure to be careful in listing them in the document. Those are the rules that the employee must follow under your employment. You need to cover every regulation to avoid violations that the employee might commit, either mistakingly or intentionally.
Step 4: Discuss Salary and Compensation
Salary and compensation are a big deal in an employee contract, especially on the employee's side. The employee would want to know what he or she gets working for you. That's why it's important to discuss salary and compensation. Provide details on how much they will be and what benefits the employee will receive.
FAQs
Can I terminate an employee's contract?
Yes, you can terminate an employee's contract if he or she commits glaring violations and incompetence. But as a professional courtesy, inform the employee a month or a week prior through a termination letter.
What rights do contractual employees have?
According to NPR.org, 51% of contractual employees don't receive benefits from their employers. But they enjoy the same rights as regular and permanent employees. These rights are:
Receiving enough pay on time
Being granted leave if sick
Being respected in the workplace
Receiving equal treatment as regular employees
Recieve overtime pay
What are the components of a valid contract?
The components of a valid contract are:
Offer
Agreement or acceptance
Consideration
Obligation mutuality
Competency and capacity
Highly-competent employees are a bit hard to come by nowadays. So if you're lucky enough to find them, of course, you should hire them. Seal the deal asap by preparing employee contracts. They're not that difficult to prepare. You just need the right materials, such as our Employee Contract Examples. Download them now!