As an employer, it is your responsibility to ensure that the rights of the employees are well implemented in your company or organization without sacrificing your right to confidentiality, implementation of proper work hours, provision of work or job details, and so on. In this sense, it is important to have a contract that states essential stipulations that uphold the right of both parties. Although contracts may vary depending on the type of industry, business, work, position, etc., it ensures that both the employee and employer are informed of their rights and obligations.
If you are looking for templates that you can edit and examples that you can use as a guide, we have here professionally created employee contracts that you can easily download and use as your main outline when drafting or creating your own.
Employee Contract Templates and Examples
1. Editable Employee Contract
In order to hold each party accountable for all obligations, risks, issues, etc., the employment contract should be clear and comprehensive. Although there are quite a few clauses and stipulations included, it is best to keep the contents straightforward and simple for the employee to understand. This editable employee contract template will help you easily provide all the necessary information in each important sections.
2. Restaurant Employment Contract
This restaurant employment contract ensures that the employee knows of his or her obligations and responsibilities since it is clearly provided in this template. You can also include other important details such as the employee's basic pay, number of required working hours, regulations about benefits, insurance, NDA, and so on. You can easily edit the contents of this template in Google Docs, MS Word, and Apple Pages.
3. Temporary Employment Contract
If you want to hire an employee for only a limited period of time, using this temporary employment contract template will help you efficiently create a clear and comprehensive contract for the employee. You can provide the exact number of days or months the employee will be hired for the job as well as his or her basic pay for the said job. You can establish a transparent relationship between you and the employee with the help of this template.
4. Physician Employment Contract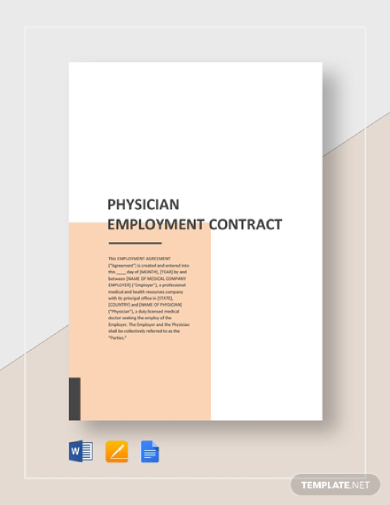 Ensure that your company physician knows of his or her obligations and responsibilities with the help of this physician contract template. This template will help make sure that you are able to provide all the important terms and conditions to achieve a peaceful and unified professional relationship. This template will give you a head start once you start drafting the contract to use for your own company.
5. Director Employment Contract
Create an organized and comprehensive contract for your newly hired director with the help of this director employment contract template. You can easily provide all the terms and conditions, and other prerequisites with the professionally created layout and format of this template. Download this contract template and easily edit its contents in Google Docs, MS Word, and Apple Pages.
6. Freelance Employment Contract
Freelance employment means that there is no regular working days or hours, some factors highly depend on the agreement that the employee and employer have made. Thus, as an employer, you should provide a freelance employment contract that states everything that the employee needs to know. You should provide information about the job responsibilities, terms of employment, salary, number of days and hours required, and so on.
7. General Manager Employment Contract
Salary or wages, schedule, duration of employment, general responsibilities, confidentiality, benefits, future competitions—these are just some of the major terms that should be clearly discussed in the employment contract of your new general manager. Using this template will help you easily provide all the essential details under each term. You can also easily edit and customize it in Google Docs, MS Word, and Apple Pages.
8. Physician Assistant Employment Contract
Want to ensure that the responsibilities for the job as well as other business terms are upheld by your employee? Then, you should create and provide a contract that states all the terms and conditions of a physician assistant job. This physician assistant employment contract template has comprehensively provided all the important sections, which means you can immediately provide all the pertinent information.
9. Domestic Employee Employment Contract
A domestic employee, also called as a domestic helper, domestic servant, manservant, or menial, is a person that works within the household of the employer. If you are looking for a guide to use when creating a contract for your domestic employee, you can use this example. It is well made and provides a complete overview of what you should include in the contract that you create.
10. Library Employment Contract
The contract you use for your new library employee should clearly inform him or her of the responsibilities and obligations for the position. Aside from that, you should also include the essential details about the job like his or her salary, schedule, the term of employment, benefits, and so on. Should you need a guide, you can download this library employment contract example.
11. Youth Employee Contract
It is one thing to hire people of legal age, and it is completely another thing to hire underaged teens. However, there are circumstances where that is completely allowed and legal. In that case, the contract you provide should have a section where parents need to give full consent to the employment of the underaged teen just like in this example. But same as any other employment contracts, you should still provide the job description and other important details.