In business, the organization of vital information is an absolute necessity. There will be times that you need to pay for the rent, and then save the rest for your revenue. Moreover, the presence of necessary documents, reports, and statements can help the management to become more organized. One of the reports that are substantial in specific periods by businesses is a financial record. This report should be based on real information, lawful regulations, and set standards of accounting and auditing. If you are not yet sure how financial reporting is done, browse through the samples that you can download from this post.
24+ Financial Report Examples
1. Sample Financial Report Template
2. Treasurer Financial Report Template
3. Annual Financial Report Template
4. Financial Report Template
5. Monthly Financial Management Report Template
6. Financial Audit Report Template
7. Financial Analysis Report Template
8. Monthly Financial Report Template
9. Church Financial Report Template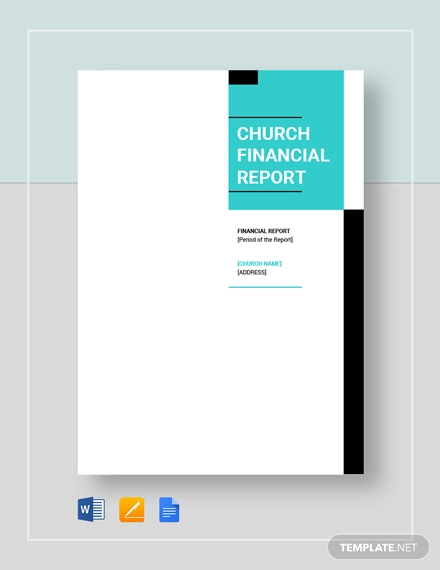 10. Editable Financial Report Template
11. Sample Financial Report Template to Print
12. Sample Annual Financial Report Template
13. Free Financial Report Template
14. Monthly Financial Report Template
15. Financial Management Report Template
16. Annual Financial Report Example
17. Financial Statements/Reports Example
18. Financial Statements Used for Reporting Example
19. Example of Annual Report and Financial Statement
20. Sample Financial Report Example
21. Annual Report and Financial Statement Example
22. Annual Financial Report for a Small Business Example
23. Annual Financial Report Example
24. Financial Report Example
25. Annual Financial Report Example
What Is a Financial Report?
A financial report is an essential document that holds the financial performance of a company. It contains a list of records, such as the income statements, total monthly revenue, and expense worksheet, that will help know where a company stands financially. 
Dealing With Money is Overwhelming
Financial statements or hard money can be overwhelming, especially when you are in business. Calculating your annual revenue is indeed a pat in the back. But when it is time to prepare financial documents, it is a lot of different stories. According to an analysis published by the National Taxpayers Union Foundation, businesses with above $500,000 income typically pays $39 of tax. It is easy to cash in your payments, but the preparation is much complicated than you thought. Therefore, preparing a monthly financial report keeps you sleep at night. 
How To Write a Financial Report
Financial analysis is, indeed, a daunting task to do. You have to gather information, pen down various aspects, and do the calculation. Perhaps, financial accounting can be stressful. So, to help you with numbers, we listed down the tips that you can consider. 
1. Review Your Ledgers and Financial Records
To begin with your financial reporting and analysis, always take time to revisit all your financial documents. Go through each page of your yearly or monthly receipts, ledgers, and financial sheets. All of this helps determine what you have spent and earned throughout. Since you probably have a lot in your records, make sure only to include double-check and include only what's relevant for that whole year. In this way, you can already exclude the expenses from that of two years ago, which may promote false hopes and confusion. 
2. List the Sources of Revenue
Once finalizing all your records is done, you can now start listing your income sources. Since there may be various aspects adding to the rise of your revenue, you have to specify them correctly. For businesses, your revenue may be coming from enterprise sales, franchise agreements, or other services. Be sure to report accurate numbers or amounts. For example, the franchise costs $2000 monthly with an additional $500 for the materials, then the total amount you are getting is $2500. These are factors that will help you determine where the cost of good will be deducted.  
3. Specify the Goods Sold
Since you now have a clear financial overview, the process doesn't end there alone. Always make sure that you total the goods sold within that period. To solve this, get the total value of the delivery expenses, labor fees, resources, and factory rentals. These are the expense budget where you can subtract from the total amount of revenue that you have. With this, you know exactly where the money goes. 
4. Calculate the Retaining Earnings
Lastly, end your sales report by getting the retaining earnings. This is the sum of the income subtracted with the losses and liabilities throughout the year of business. Make sure that you provide proper labels on your document to avoid confusion later on.  
FAQs
What are the types of financial statements?
The five types of financial statements are statements of changes in equity, balance sheet, statement of cash flows, the note of financial statements, and income statement.
What are the various kinds of financial reports?
The balance sheets, cash flow, income statements, and statements are the four types of financial reporting. These types function depending on their purpose in the business.
What is the purpose of making financial reports?
The significance of financial reports is to provide detailed information about the company's financial status. It also serves as a proper organization of financial records that will be helpful for future references.
The more income you gain, expect that there will be higher considerations for organizing the finances. There will be gains and losses along the run that could interrupt your business plans. But fret not. You can always consider the steps above to help you outline your finances in a written report for proper management. With this, you know where your financial standing is.