When you do business, you know for a fact that managing your finances is a part of the job. Being able to manage how much money you are going to spend on projects, on maintaining the business and how much you will need to keep up with your budget is important. This is why it is not something of a surprise to see businessmen and women writing up management reports that focus mainly on the financial aspects of their business. Are you thinking about making a report for your financial management? Check out the examples for them and start right away.
10+ Financial Management Report Examples
1. Financial Management Report Template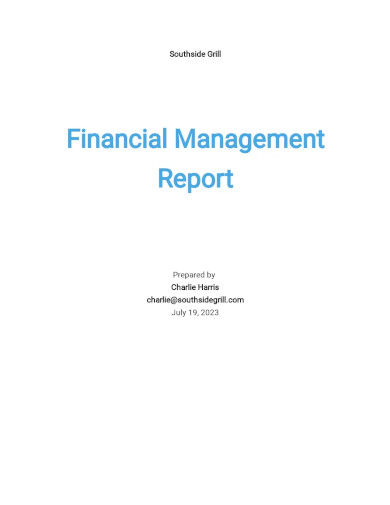 2. Monthly Financial Management Report Template
3. Financial Management Assessment Report
4. Monthly Financial Management Report
5. Financial Management Narrative Report
6. Federal Financial Management Report
7. Project Financial Management Report
8. Public Financial Management Report
9. Report on Budgetary Financial Management
10. Financial Management Training Report
11. Financial Management Audit Report
What Is a Financial Management Report?
A financial management report is a written document that provides information about how a company, a business, or an organization can function in the way it should through managing the financial aspects of the business. The report acts as a roadmap to help find the right balance and path to a successful business or a successful financial outcome. 
In addition, due to the nature of these documents, how a financial management report is addressed and administered will be based on the previous annual financial reports that were made. The main purpose of this report is to give a periodic view of the financial status of a business, a company or an organization. The report is to track down any issues regarding the financial status or financial budget of that given month or quarter.
How to Create a Financial Management Report
Creating a financial management report is crucial for any business, company, or organization to thrive. Especially one with a tight budget. As you continue with your report, take a look at some of the steps to creating a financial management report and what you should and should not add to it.
Step 1: Create a Financial Budget for the Entire Year
The first thing to be seen in your report is to create a financial budget for the entire year. You can also check out your financial budgets from the previous years to get a good glimpse of whether or not your previous budgets can be added to your current ones.
Step 2: Make Some Cost Estimates for Projects
The next part of your report will be to make some cost estimates for projects. Since this is a financial management report, it is expected to also add in cost estimates for projects that would benefit the company or the business. In order to get the proper budget for these kinds of projects, writing a cost estimate is beneficial.
Step 3: List Down in Details the Projects and Resources Used
Apart from the cost estimates, you must also add a summary of details regarding your projects and the financial resources used. This will give you a rundown of how much budget is required for this and see whether or not it may affect the overall budget being proposed or given.
Step 4: Review Your Report before Handing It Over
The last part of your report is to review. Simply put, to make sure that all the important aspects and details of the report are written down. The budget, the projects, and the management of the budget as well. It is also the best way to see whether or not you need to make some changes to your report.
FAQs
What is a financial management report?
A type of report that focuses mainly on how to manage a financial budget that covers projects and tasks for an organization, a company, or a business. The report acts as a roadmap that gives businessmen the right path to take so they do not suffer from huge financial losses.
What are other types of budget reports?
The types of budget reports are:
Monthly budget management reports
Budget reports
Project budget reports
When can a financial management report be written?
Many companies often write this report before the year ends, but others write them within the first month. When you are going to write it will depend on the company or the business.
When doing business, companies and organizations know that a financial report is part of the paperwork they go through. The report explains the ongoing progress of the financial budget they make for a year, a quarter, or even a month. It shows them where the budget is going and how it is being processed.