You've probably decided to follow your dreams and open your very own hotel. But before you begin spending your financial resources and designing your hotel blueprint, you need to have a hotel business plan. It will guide you every step of the way and serve as your road map to the opening.
14+ Hotel Business Plan Examples
Hotel Business Plan Example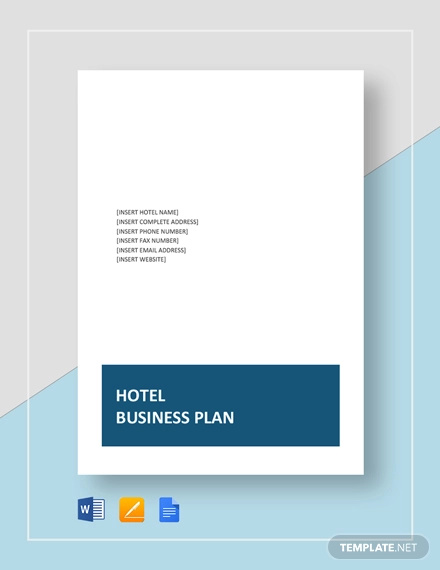 Small Hotel Business Plan Example Template
Hotel Sales Plan Example Template
Hotel Business Plan Example
Hotel Sales Business Plan Example
Family Hotel Business Plan Example
Hotel Business Plan Guidelines Example
Hotel Business Plan Sample
Hotel Business Plan Template
Hotel Restaurant Bar Business Plan Example
Luxury Hotel Business Plan Example
Simple Hotel Business Plan Example
Three-Star Hotel Business Plan Example
Free Hotel Business Plan Example
Hotel Business Plan Example
What is a Hotel Business Plan?
A hotel business plan contains the goals of the owners, the methods, and the timeframe for accomplishing them. It also describes the hotel as a business, its recorded history, as well as its financial projections and information. They serve as a road map for the owners on how to run the hotel.
How to Create a Hotel Business Plan
Statista reports that as of March 2020, the average daily rate of hotels in the United States to be $110.66 million. The current state of the world shows how a hotel business can go down without specific content in the plan. It has to be adaptable with unexpected events occurring all over the world by finding new ways of providing service and gaining profit. If you have never made a hotel business plan before, check out these tips for some ideas on your design.
1. Add Executive Summary
Place the executive summary in your business plan's introduction. Your mission statement serves as an introduction to your design. It's typically a one-line statement that describes the essence of your company. This explains why you are in business or the market's need for your services. Your plan's objectives or business goals will then specify what you hope to accomplish with this corporate venture.
2. Write Down Company Analysis
The concept you have for your hotel should contain a unique selling point to succeed in a competitive market. This general analysis comprises the distinctive qualities that differentiate your hotel business from others. Provide detailed information for this section to make it easier for investors and other stakeholders to grasp your ideas.
3. Present Market Analysis
Market research and customer analysis is a vital aspect of your document. After all, you can't serve a market you know nothing about. In-depth information about your target customers will help you determine the primary needs of this market segment in terms of location, amenities, and service.
4. Discuss Operations Plan
This constitutes the management responsible for running key aspects of the business. You need to identify the type of staff members and administrative body your hotel business requires, such as the number of employees and their responsibilities.
FAQ's
Do I pay for my hotel stay before or after I check-in?
Generally, most hotels charge you for your stay when you are checking out, right after your stay in the hotel. However, you can also pay beforehand for your stay if you wish to book a room in advance.
Is a hotel a good investment?
Hotels are generally a good investment and make for an excellent source of income as long as you have a large market and an effective way to draw in customers. The economy can significantly impact the success or failure of your hotel.
Who creates the hotel business plan?
It is usually the owner of the hotel who comes up with the business plan. However, one must be business savvy and have an education in hotel management when it comes to this. If the owner is not very knowledgeable, they can have a team prepare it for them instead.
Hotels vary depending on the characteristics they possess, including the services that they provide, the location, the prices, and whether the establishment is an independent firm or part of a chain operation. Whether you own a startup bed and breakfast or a 5-star luxury hotel, the only way it will thrive is to have a solid hotel business plan to guide your endeavors in the hospitality industry.