Facilities and offices are always on the grind, making operations valuable in the everyday event. Throughout the years, construction, real estate, lawn care, and other industries have been more focused on providing the best performance to ensure client satisfaction. Because of this, damages within the equipment and resources is inevitable. You can expect delays with the operations when there is a broken circuit, dead battery, or necessary maintenance. Therefore, it is substantial for a service company to give a resolution to a particular issue. With this, a maintenance proposal must be provided that the organization may consider. Make your proposal as convincing by looking at the following maintenance proposal examples. 
23+ Maintenance Proposal Examples
1. Vehicle Maintenance Proposal Template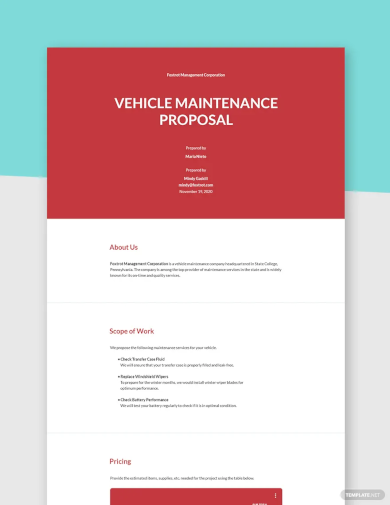 2. Building Maintenance Proposal Template
3. Maintenance Proposal Example
4. Website Maintenance Proposal Template
5. Software Maintenance Proposal Template
6. Website Support & Maintenance Proposal Template
7. Maintenance Services Proposal Template
8. Annual Maintenance Contract Proposal
9. Lawn Maintenance Proposal Template
10. Website Support and Maintenance Proposal Template
11. Property Maintenance Proposal Template
12. Simple Lawn Maintenance Proposal Template
13. Maintenance Proposal Template
14. Website Maintenance Proposal
15. Building Maintenance Proposal
16. Preventive Maintenance Proposal
17. Landscape Maintenance Proposal
18. Lawn Maintenance Proposal
19. Maintenance Contract Proposal
20. Maintenance Service Proposal
21. Maintenance Proposal Sample
22. Maintenance Plan Proposal
23. Maintenance Services Request proposal
24. Operations & Maintenance Proposal
What Is a Maintenance Proposal?
A maintenance proposal is a document that is given to a client by a maintenance company as a resolution to a particular problem. It contains a list of maintenance service elements that will help address the issue, such as terms, action plans, and budget. This serves as a letter that will persuade the client to consider the company.
Pay Attention to Details at Work
In the work setting, employers have the responsibility to make sure that the employees are safe and convenient. But because a warehouse or facility contains various heavy equipment and fragile materials, damages are inevitable. Perhaps, according to the report published by Nsc.org, 75% of death at work is due to the massive resources. This only means that having preventive maintenance is an absolute necessity. This plan will help address issues within the workforce equipment and increase productivity at work. 
How To Make a Maintenance Proposal
Landscape maintenance, property maintenance, or electrical maintenance, these are common in the industry. These, too, follow the same format when writing a service proposal. It must be persuasive enough for the prospective client to sign a contract right away. Therefore, it must be comprehensive and easy to understand. So, follow the steps below to start with it. 
1. Discuss the Problem
When writing a business proposal, collecting information must always be part of the first step. Since facilities maintenance may require different methods of solutions, you have to know what your prospective client needs. It can be in the HVAC system, flooring, or landscape properties. You have to see the job's specifics to understand if this project is right for your company. You can schedule a meeting agenda with the potential client and discuss the issues. With this, you will know the specific actions that your team will do to address the issue. 
2. Propose Valuable Solutions
This section is an essential part of your proposal letter. Therefore, you need to highlight the project action plan where you will outline the solution that fits well with the issue. Use how, why, and what as a guide in addressing the problem. Ensure to discuss the best idea that gives a more significant impact. Always do your research so that your prospects will leave the proposal with the assurance to get the maximum service. In doing this, you can also secure to seal the deal. 
3. Include the Budget Plan and Schedule 
This maintenance proposal letter serves as an investment for your clients. So, to make sure that it will be a fair share between two parties, you have to outline the budget plan and schedule. Provide a well-organized estimate for your client to understand what to expect in terms of funding. Next, provide precise information about the work timeline. Will it be an 8-hour three days schedule? Does the client want it to rush? Plotting an accurate time frame will help clients secure that their budget is enough. 
4. Wrap Up, Edit and Proofread Your Work
Always take your time to edit your work. You can present this to an authorized person before sending it off. Because many clients are particular with their requirements, you have to be competent too. Check if you have stated all the details that will push through the project. If everything is good, discuss the document to your potential client. 
FAQs
What makes a proposal significant and strong?
A strong proposal must be concise and relevant. It should communicate with what the readers or users need to understand.
How should a proposal end?
In your simple proposal, it should end with a conclusion. It should also highlight the main points that the client will understand. All in all, it must develop a solution to the problem.
What are the qualities of a proposal?
It should be innovative, significant, relevant, and focused on the main issue.
Repair or camera installation maintenance demands expert hands to solve the issue. Because of this, service companies offer their best knowledge in helping prospective clients. So, before you seal the deal, prepare your work plan and discuss it with your client. Make sure it outlines everything that will help in the process. With that, follow the steps above to come up with a significant proposal.