We often take simple notes as a reminder of what transpired during a meeting or to quickly deliver a short message to a recipient. That way, we could easily get a message across without worry. However, notes are more than just a piece of paper with scribbles on it, as they often contain vital business information that project leaders and company managers may want their employees to know about.
So to learn more about how these written materials are made, continue reading.
Essential Elements of a Note
When it comes to taking down notes in a professional setting, the document will likely contain key information about a particular subject that another party may use as reference. Here are the elements that every note must have:
1. The Date: The date when the note was written must be specified to help settle potential disputes. This will prove that the recipient was made aware of a certain matter and that the writer was able to issue the note during a particular date. With documents like loan notes and delivery notes, the specified date may be used as reference in tracking key information as well.
2. The Name of the Recipient: Always specify the name of the note's receiver. You could use a person's first name or full name, depending on the type of note you are constructing. Be careful with spelling errors as well. If you don't plan on sending the note in person, a spelling mistake in one's name may lead it to the wrong hands.
3. The Subject: This is the title or topic you wish to tackle with your note. This must be made clear from the very start, as this often indicates what the document is for. People tend to glance at a paper without fully absorbing what it has to say, considering how our brains are wired to look for certain keywords before prompting a reaction. Thus, the subject must be apparent even at first glance. You may also see blank note examples.
4. The Body: As the main part of the note, this is where the details concerning the subject are discussed. The length of the body may differ according to the number of bases that need to be covered. Although this should be kept short and simple, you still need to make it as detailed as possible for better comprehension.
14+ Note Templates
Demand to Pay Promissory Note Template
Template Details
Size: A4 & US Letter Sizes
Collection Letter Following Promissory Note Template
Template Details
Size: A4 & US Letter Sizes
Blank Delivery Note
Children's Clinic Doctors Note
Debit Note Format
Template Details
Size: A4 & US Sizes
Delivery Note Template
Help Desk Standard Operating Procedure Note
Minute Clinic Doctors Note
Return Delivery Note
Return to Work Doctors Note
Sample Goods Delivery Note
Template Details
Available File Formats
&nbsp
&nbsp
&nbsp
&nbsp
&nbsp
Size: A4 & US Sizes
Simple Delivery Note Template
Nursing SOAP Note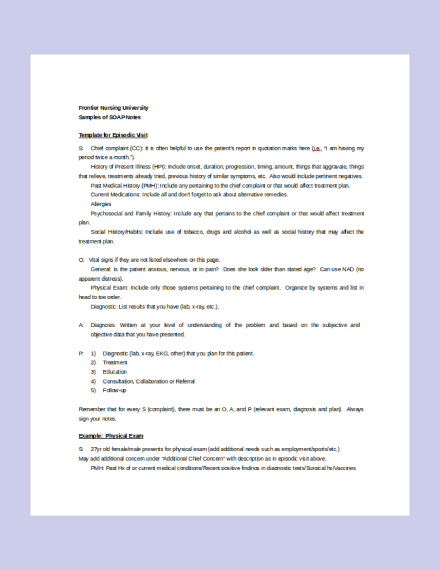 frontier.edu
Physical Therapy SOAP Note
mccc.edu
Project Team Briefing Note
hertfordshire.gov.uk
Simple Promissory Note
carrolllibrary.org
Thank You Note
careereducation.columbia.edu
How to Create a Note
Writing notes is a lot like letter writing. But instead of following a three-part structure with an introduction, body, and summary or conclusion, notes often go immediately to the point. To write a good note, follow the guidelines listed below.
Identify your purpose: Why are you writing the note? Who is it for? The answer to these questions will help determine how the note should be written and what type of information shall be included in its content. Keep in mind that these notes can greatly vary in both structure and tone depending on its specific purpose.
Outline when necessary: Unless you're writing a friendly note, it's important to gather the necessary information to include in the document before you begin writing. You might have a couple of points you'd like to cover and want to make sure they are communicated clearly. This is especially important for notes that require to be printed or are longer than an ordinary sticky note. You may also see credit note examples.
Decide between a type or handwritten note: This would depend on the type of note you're writing. Notes that are used to settle a business matter must be typewritten and printed accordingly. As for an informal note, you could spare yourself from the hassle and write things down by hand.
Sign the note: Imagine coming back from your lunch break to find a note sitting on top of your desk. It instructs you to file a few documents and submit it to the sender immediately after. Unfortunately, whoever sent the note failed to sign it, so now you have you no idea who to send the files to. Unless you want to keep your identity hidden, always remember to sign the note.
Tips for Writing a Note
If you're hoping to become a better note-taker, here are a few tips on how you can improve your notes.
Date the note and keep the main topic visible: You can easily tell what the primary subject of the note is if you make it visible at first glance. The date and title of the note should be placed at the top portion of the page for emphasis. This allows you to keep your notes organized and easy to find when the situation calls for it.
Don't write everything down: Similar to a short report, a note is meant to be a summarized version of a discussion. Scribbling everything down word for word will make it difficult for your brain to process everything at once. It's best to focus on important points that might be valuable to you later on.
Make it short: Long sentences can be ambiguous and confusing. This will make it hard for you to get the gist of what is being said right away. Allow yourself to process information more easily with the help of bullet points and numbered lists. If possible, you can also try summarizing your thoughts into at least two to three lines in order to convey your message more concisely. You may also see chart note examples.
Include illustrations and drawings: Infographics can do wonders in communication. Not to say you should rely on images to express your ideas, but this can help deliver information in such a way that could easily be absorbed. If you're sending a thank-you note to a coworker, you can draw something friendly and relevant to relay your message.
Use headings and subheadings: Some types of notes may require headings and subheadings to break up long paragraphs of words. This will bring clarity to your note while also enabling you to make connections between different points. You can also apply this writing technique to categorize your content into specific sections.
Leave space for comments: Apart from using margins to divide sections of information, you can also use these extra spaces for additional comments you might want to include in the future. Meeting notes that are handed out to employees usually have a space for people to jot down reminders and other important details.
Keep it organized: It's always a good idea to arrange the content of your note in a structured manner. It's hard to read what's written in a note with a cluttered layout. Be sure to prioritize information, arrange it in a chronological sequence when necessary, or emphasize important data using bold text or a different type size.
Types of Notes
Notes typically vary according to their specific purpose and written content. Generally, these could either be formal or casual.
1. Formal Notes:
These notes are often used in a professional setting. They could be made to relay details about an upcoming event or meeting, or to communicate information about an important matter, similar to that of a medical note.
In certain cases, the note can also be written to make an official statement about a concern that will be addressed accordingly once the necessary resources are available. These type of formal notes are referred to as promissory notes. Other examples that fall under this category include delivery notes, progress notes, doctor notes, and nursing notes.
2. Casual Notes:
Casual notes are a lot friendlier in nature compared to their counterpart. They could be given to a friend to extend one's greetings and well-wishes or to a new coworker as a welcome note. These notes are usually kept short and simple, and are extremely common during an informal exchange. Casual notes may also be written to send random messages to colleagues and loves ones.
Note FAQs
How can I make a note?
If starting from scratch doesn't sound appealing to you, you can always opt for a template instead. You can simply download a template that best suits your purpose and customize it to meet your needs. Editable templates are extremely easy to work with, as they are already designed to cater to standard industry requirements for the convenience of its users.
What is the purpose of a note?
Notes are used to document important information about a subject in a clear and organized manner. That way, you can quickly record key details in words or phrases in order to replace lengthy paragraphs without losing sight of your main thought. Some notes may even be used to record vital information which shall be used as evidence to support the occurrence of an event or action. You can then keep the note for future use or put it in plain sight for reference. You may also see welcome note examples.
Why is a note important?
Let's say the owner of the company comes in for a surprise visit. He asks his assistant to gather all company leaders for an important meeting in fifteen minutes. Since some people could be busy with paperwork or field inspections, you can't expect them to be on their computers 24/7. Hence, taking the traditional route with a simple note will be an efficient alternative. You can easily hand out the note to the respective individuals just in time for the meeting.
And there you have it! With the right techniques and the help of a ready-made template, note-taking has never been easier. Get started with your notes today through these simple guidelines, templates, and examples.