Whether you are running a football game in your college or organizing a national volleyball program, you are going to have to give your participants something to thank them for their time and energy in joining your event. One way to reward these winners for their skill and show appreciation for their participation is by giving them a sports certificate.
28+ Examples of Sports Certificate
Sports Example Certificate Template
Certificate of Sports Day Example
Funny Sports Completion Certificate Template
Funny Sports Training Certificate Template
Funny Sports Participation Certificate Template
Sports Day Appreciation Certificate Template
Sports Day Excellence Certificate Template
Funny Sports Achievement Certificate Template
Funny Sport Appreciation Certificate Template
Sports Participation Certificate Example
We always want to be appreciated for the effort we did, especially in the field of sports. In that case, the better way to appreciate the effort made by the players is to give them a sports certificate. A certificate that acknowledges their hard work and perseverance in the sports they play.
Baseball Award Certificate Example
Example Sports Award Certificate
Simple Baseball Award Certificate Example
Modern Baseball Award Certificate Example
Creative Baseball Award Example Certificate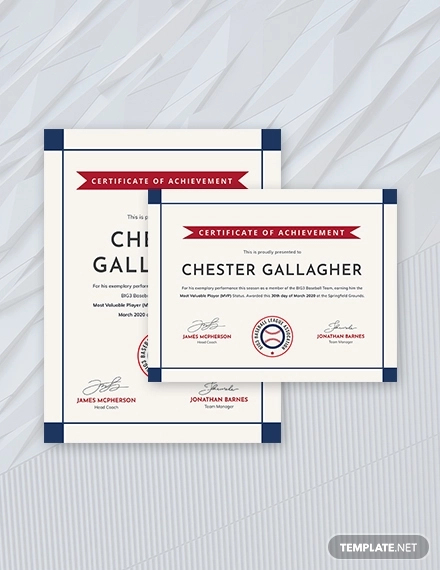 Netball Sports Certificate Template
Sports Certificate of Participation Template
Soccer Sports Certificate Template
Simple Sports Certificate Template
Kid's Sports Award Certificate Example
Sports Appreciation Certificate Template
Participation Certificate for Sports Template
Sports Achievement Certificate
Sports Day Certificate
Sports Event Certificate
Sports Medical Certificate
Sports Award Certificate
What is a Sports Certificate?
A sports certificate is a certificate given to a person who excelled in a sports competition. It serves as a recognition for the winner's athletic achievements and the acknowledgment of their knowledge and skill in that particular sport. These usually serve as awards handed over to students who do well in their school's sports day and to athletes of any age during a competition.
How to Make a Sports Certificate
You should design your sports certificate with creativity to suit the kind of sports program affiliated with the event. You need to have good knowledge when using your resources in creating most of the sports certificates.
1. Decide What the Certificate is About
Determine what sports certificate you are going to make, whether it is a certificate of achievement, excellence, or participation. This will make it easy for you to come up with the words and content that you are going to incorporate in the certificate. It would be best if you also remembered to specify whether the certificate is for the person who got the first place or not because that detail is most often forgotten by those who design them.
2. Know What Sports Its About
Try to make your sports certificate a lot more specific rather than going for a general design. Identify the sports planned for the event. That way, it will be easy for you to create a relevant model. For example, if you are making a certificate for the winners of the basketball competition, then it will be a breeze to come up with ideas on how to design it.
3. Use a Fun Color Scheme
Another way to get started on your sports certificate design is to choose a color scheme for it. For starters, you can always go for the signature color of whatever organization sponsors the sports competition. Using a fun color scheme will make your certificate a lot more visually pleasing that it will certainly cheer up the winner when presented with it.
4. Proofread Your Content
Seeing a mistake on the certificate can put off anybody even if they win. Once you finish the final draft of your certificate, take some time to double-check everything you have written. Check if you spelled the names correctly and if the placement of logos and designs are aesthetically pleasing.
FAQs
What is a sports medicine certificate?
A sports medicine certificate is a certificate given to a person who completed the course of being in a field of sports medicine. This person could be new in sports medicine or an experienced veteran physician who practices sports medicine.
In regards to sports certificates, what is the difference between one for participation and one for excellence?
In regards to sports, a participation certificate is for a person who has taken part in a sports competition whether they've won or not. An excellence certificate, on the other hand, refers to someone having won or achieved something during this event.
What makes a sports certificate different from a sports award?
It is important to note that sports certificates are a signed piece of paper that acknowledges a sports person's achievements. In contrast, a sports award can refer to any material prize given to a person for their victory in a sporting event. Certificates can be a part of the prize but not all count as one.
According to a graph by Statista, the market size of sports in North America have been going upwards in the last decade. This means athletes who join these will undoubtedly come into a lot of opportunities, especially if they are a victor in sports events. The best part of receiving a certificate is that it tells the player that they did well and will make them think of their bright future in sports.