As a landlord or property owner, you must see to it that your tenants or renters will pay on time. Hence, even before the due date, you can send them a rental invoice, detailing all the items they have ordered and demanding or requesting for payment. An invoice also serves as a reminder in case the renter forgot about his payment obligations. So, start creating your own rental invoice now and see a great difference in your accounts receivable collection. You can refer to the templates and examples below as your guide.
Rental Invoice Examples and Templates
Simple Rental Invoice
See to it that you remind your renter pays on time by sending them a rental invoice. Through this, they will also get to see the breakdown of the items that they have rented and their respective amount. To help you create a professional invoice, you can use this invoice template that is easy to download and edit.
Car Rental Invoice
Starting from scratch especially when creating an invoice for a car rental is a hassle as it requires you to exert a lot of effort and time and you need to carefully think what to include and how to format your document. The good thing is you can use this car rental invoice template as your own. It is easily editable, making it very convenient for you to customize the template according to your current needs.
House Rental Invoice Template
Monthly Rent Invoice Template
Office Rent Invoice Format Template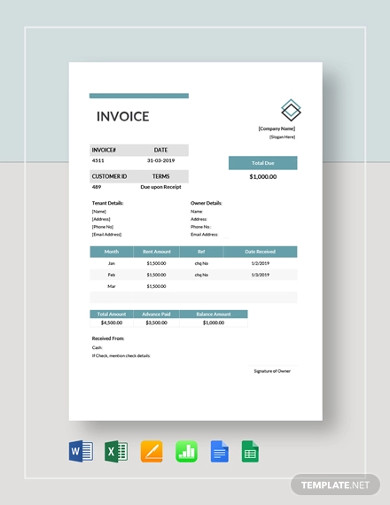 Late Rent Invoice Template
Commercial Rental Invoice
This commercial rental invoice template is perfect when you want to create an invoice for your commercial space. It can easily be customized as it is available in Illustrator and Photoshop file formats. You are guaranteed not only with a great design but also with useful and relevant content.
Generic Rental Invoice
For your rental invoice to be complete, it must have the following essential elements: business information, date, unique invoice number, a list of the rented property, amount, taxes and other charges, payment terms, and other comments or notes. Make sure to include all these in your invoice, or you may use the template above and skip the hassle.
Vehicle Rental Invoice
Whether it is for short term or long term, when you are renting your vehicle to someone, make sure that you document the transaction in an invoice, such as the one presented above. Do not forget to include your company name and other branding elements, such as your company logo, as this is essential in establishing your brand.
Cylinder Rental Invoice
Cylinders or gas cylinder or tank is important for a lot of people since it can contain or store gases at above atmospheric pressure, for example, compressed gas or supercritical fluid, thus making the cylinder rental business profitable. However, you have to make sure that you record the rental properly in a document called cylinder rental invoice which is to be sent to the renter when you demand for payment.
Xerox Copy Machine Rental Invoice
Xerox Company is notable for their services and products such as print and digital document. The company was founded in 1906 in Rochester, and until today, it is still operating. Among their business operations is having a rental for their copy machines. The rental is evidenced by an invoice, such as the one presented above.
Wedding Venue Rental Invoice
There are a lot of instances when the couple forgot their payment responsibilities for the wedding venue they reserved due to their busy schedule for the wedding. So, keep them reminded through a wedding venue rental invoice, just like the above invoice example.
Boardroom and Meeting Room Rental Invoice
In this boardroom and meeting room rental invoice example, the following details are presented: company name and logo, renting organization details, such as the name of the organization, contact person, address, phone number, email address, date and time of function, room configuration, rate, other optional services and equipment, and room and equipment rental agreement.
Mountaineering Equipment Rental Invoice
If you are offering mountaineering equipment rental, here is the perfect rental invoice example that you can refer to. The following information must be presented in a rental invoice: company name, date, invoice number, bill to, ship to, customer's phone number, date delivered, date returned, number of hours used, and rate.
Emergency Equipment Rental Invoice
As can be seen from this emergency equipment rental invoice, it contains the following important information: name and address of the contractor, equipment model, incident or project name, effective date of the agreement, resource order number, rates, and other deductions or additions.
Space Rental Invoice
Make use of your space by turning it into a commercial space for rent, and do not forget to prepare ahead the rental invoice, just like this space rental invoice example. It is important to include your company information, renter's information, rent details, and payment methods and terms.
Apartment Rental Invoice
In your apartment rental invoice, include only those that are essential, such as the date, invoice number, renter's name and contact number, unit address, rent terms, move-in date, taxes and fees, and the total and breakdown of the amount.
Car Rental Invoice
When you are the car owner, you have to make sure that your car is in good hands and that your renter is responsible in paying the rent. The best thing that you can do is send the renter a car rental invoice, such as the example above, in order to demand or request for payment.
Plant Rental Invoice
Having a plant rental requires the owner to be extra careful in assessing the renter as the materials and equipment in a plant are quite costly. Hence, in order to ensure that the renter is credible, apart from an agreement, you must also have a plant rental invoice, detailing the items rented and their specific descriptions. Just like plant rental invoice example, you can have an agreement where the renter will be held responsible for damage or theft of the plant material, and you must include this agreement in your invoice.