A business that prospers in its market is a business that understands its internal and external components. But to succeed in a competitive industry, an organization must develop an effective business plan and marketing strategy with the help of a good SWOT analysis.
For any company, especially those in the retail industry, conducting a SWOT analysis can be advantageous in many ways. This model presents the current condition of the organization, as well as the areas that need to be attended to in order to attain sustainability and operational success for the business. However, creating a successful SWOT analysis requires a good amount of time, research, and effort for the management to invest on.
The planning, development, and implementation procedure must be conducted accordingly as well. So in this article, we shall discuss the basics of a retail SWOT analysis for you to learn from.
Retail SWOT Analysis Template
SWOT Analysis Template
SWOT Analysis Gantt Chart Template
Retail SWOT Analysis Example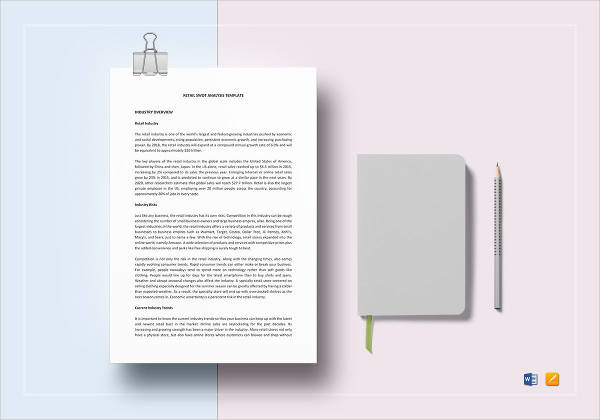 Amazon Retail SWOT Analysis Example
Retail Store SWOT Analysis Example
What Is SWOT Analysis?
A SWOT analysis is a framework used to examine a company's competitive position in the marketing by defining its strengths, weaknesses, opportunities, and threats. This acts as a general assessment model that measures what the company can and cannot do, along with the potential opportunities and threats that affect its operations.
In business, a SWOT analysis may also help you generate a sustainable niche in your market. On the other hand, in a personal context, a SWOT analysis can help you develop your career in such a way that complements your talents, abilities, and opportunities.
What makes a simple SWOT analysis a potent business technique is that it can help you uncover various opportunities that you can exploit to the fullest. By understanding your organization's weaknesses, you can tackle and avoid possible threats that would otherwise catch you when you least expect it. A SWOT framework also allows you to craft a strategy that will distinguish you from existing competitors, giving you the chance to compete successfully in your market.
1. Advantages
A detailed SWOT analysis offers several benefits to a company and its management. For one thing, using a SWOT analysis is one of the best ways to guide managers in organizing business-strategy meetings. It's a powerful approach to gather everyone in a room to discuss the company's core strengths and weaknesses, moving on to defining its opportunities and threats, and then finally brainstorming ideas that may help the company prosper in a fast-changing market.
One of the reasons why many organizations opt to use a SWOT analysis is that it's an extremely flexible method that a company can use to focus on specific segments of a business, such as marketing, production, or sales. A visual overview of the company's overall position in the market provides managers with a general insight to the number of opportunities when measured up to the number of threats, and so forth. You may also see personal SWOT analysis examples.
Retail SWOT Analysis for Amazon Example
Retail SWOT Analysis for Haley's Example
Retail SWOT Analysis for Nike Example
Retail SWOT Analysis for Peacocks Example
The 5 Most Successful Retailers in the World
Let's take a look at some of the leading retailers in the industry:
1. Walmart Inc.
If you're living in the U.S., this might be one of your family's go-to shopping centers that caters to every consumer's basic needs.
Walmart Inc., which was formerly branded as Wal-Mart Stores, Inc., is an American multinational retail company that operates a chain of grocery stores, hypermarkets, and discount department stores across the United States. As of January 2018, the popular retail corporation has 11,718 stores and clubs in 28 countries, operating under 59 different names. You may also see SWOT analysis worksheet examples.
Walmart is also considered as the world's largest company by revenue, with over 50 million US dollars according to a list conducted by Fortune Global 500 in 2018. The company is known for running various retail chains in countries like the United Kingdom (Asda), Japan (Seiyu), and India (Best Price). You may also like manager SWOT analysis examples.
Despite its undeniable success in the U.S. and Canada, the company's investments outside North America have seen mixed results, with success in it U.K., South America, and China operations, and rather disappointing numbers in Germany and South Korea.
2. Costco Wholesale Corporation
Costco Wholesale Corporation, popularly known as Costco, is an American multinational corporation that operates a total of 751 membership-only warehouses in the United States, Canada, Mexico, Japan, South Korea, Taiwan, Spain, Australia, Iceland, France, and the United Kingdom. As of 2015, Costco was named one of the largest retailers in the world coming only second to Walmart. You may also check out internal audit SWOT analysis examples.
However, in 2016, the company earned the crown for being the world's largest retailer of choice and prime beef, wine, rotisserie chicken, as well as organic foods.
By 2017, the company gained an average of 90.3 million members worldwide.
3. Kroger Company
And yet another American retailing company in the list, the Kroger Company is the United State's largest supermarket chain by revenue, generating about $115.34 billion for fiscal year 2016. It comes second to Walmart as the largest general retailer, and an impressive eighteenth slot as one of the largest companies in the U.S. You might be interested in HR SWOT analysis examples.
Though Kroger's main headquarters are in downtown Cincinnati, it manages various markets in 34 states, operating 37 food processing or manufacturing facilities, 1,360 supermarket fuel centers, and 2,122 pharmacies in those areas.
The Kroger company is also known for operating under various brand names, including Kroger, Fry's, Fred Meyer, Ralphs, Quikstop, Littman Jewelers, and Food4Less.
4. Walgreens Boots Alliance, Inc.
Walgreens Boots Alliance, Inc., an American holdings company that owns Walgreens, Boots, and other pharmaceutical manufacturing, wholesale, and distribution companies, was formed on December 2014, after Walgreens made the purchase to own the UK and Switzerland-based Alliance Boots. You may also see marketing SWOT analysis examples.
For the fiscal year of 2014, the company reported sales amounting to $103.4 billion. Walgreens had previously operated solely within the United States, while Alliance Boots took in an international market. After the merge, Walgreens Boots Alliance, Inc. is said to operate more than 12,800 drugstore locations in over 25 countries. You may also like personal SWOT analysis examples.
5. Tesco PLC
Unlike other companies mentioned on this list, Tesco PLC is a British multinational groceries and general merchandise retailer that has gained the title as the third-largest retailer in the world based on its gross revenues. It has shops in seven countries across Asia and Europe, not to mention a market share of around 28.4% in the U.K. You may also check out hospital SWOT analysis examples.
In addition to its grocery store locations in the U.K. and Europe, the company runs a series of major operations in Malaysia, Thailand, China, and India as well.
As of April 2015, Tesco has had a market capitalization of approximately £18.1 billion, making it the 28th-largest of any company listed on the London Stock Exchange.
Free Retail SWOT Analysis Example
Retail SWOT Analysis for Ulta
Retail SWOT Analysis for Wal-Mart Example
Retail SWOT Analysis Sample
Guidelines for Creating a Retail SWOT Analysis
Many retail companies use a SWOT analysis to assess their business. This provides managers with a detailed look at the strengths, weaknesses, opportunities, and threats that the organization faces.
To carry out a successful evaluation, take note of the following steps:
1. List your strengths.
The first step in conducting an effective SWOT analysis involves identifying one's strengths. Keep in mind that the company's strengths are considered to be an internal factor in which a retailer has more control over. You may also see hotel SWOT analysis examples.
For instance, a possible strength may be the retailer's financial backing if it has a large capital, including an easy access to bank loans for potential market investments. Another strength could be the company's offered retail prices which may be relatively cheaper compared to that of market competitors. You may also like competitor SWOT analysis examples.
The company may even offer a more unique set of products compared to other retailers. Whatever the case, it's important to formulate a list of retailer strengths versus key competitors.
2. Identify your weaknesses.
When there are strengths, there are also weaknesses.
With the help of careful market research, the company may examine its brand identity in the marketplace or a lack thereof. Say for example, you may be carrying both cheap and expensive brands in your outlets. Due to how broad your market image can be, it fails to establish a clear identity in the minds of consumers. Without an edge over the competition, your target market may find it difficult to set you apart from other retailers. You may also check out competitive analysis examples.
3. Look for opportunities.
Your opportunities as a retailer may be hard to define with insufficient market research, which is why it's vital for the company to study the buying behavior of its customers along with the actions exhibited by its competitors.
Opportunities may entail various factors, specifically the unfulfilled need of a customer. This can also be a great approach for companies hoping to expand to different consumer markets. If a retailer hopes to increase its market share by purchasing a smaller retailer company, they can solidify their decision by performing a business SWOT analysis.
4. Point out potential threats.
Retailers face a lot of threats in the fast-changing industry. These threats include a decrease in consumer demand, a recession in the local economy, price wars among primary competitors, a change in consumer shopping habits, and even an increase in the competition. These threats can be crucial to the retailer's survival in the marketplace. You might be interested in critical analysis examples.
For example, the growing popularity of online shopping and e-commerce is an ongoing threat to many bricks-and-mortar retailers, forcing many to jump in on the trend by enhancing company websites and social media pages to address the said demand.
5. Analyze SWOT to make better decisions.  
Apart from identifying one's strengths, weaknesses, opportunities, and threats, a retailer should also make the most out of this analysis to design effective marketing strategies. This can be obtained by matching an internal variable (strengths) with an external variable (opportunities). If you run a company with a tech-savvy marketing team (a strength), then you can use this to your advantage by seeing this as an opportunity to increase sales and profits through various social media marketing campaigns over the Internet.
SWOT analysis is a useful technique that retailers may integrate into various practices. Apart from marketing and accounting, a SWOT analysis may also be used in a retailer's hiring procedure. When executed correctly, a SWOT analysis can offer numerous benefits to a retail corporation and its entire workforce.