There are different ways on how a portfolio can be used depending on the needs of the person who will develop the specific tool. One of the realistic and possible ways on how a person can benefit from the usage of a model portfolio is by using it as a tool that can compile artworks and different samples related to creative processes and artistic undertakings.
A professional career portfolio can help an aspiring or professional artist be known by more people as using this tool can give his/her target market the chance to view his/her actual outputs. Take inspiration from the list of art portfolio samples that we have put together in this article so you can have a faster and easier time to develop your art portfolio.
Pop Art Portfolio Brochure
Daedra Creative Portfolio Template
What Can Be Placed in an Art Portfolio?
When creating an art portfolio, an artist should fully understand the weight of putting together strong samples that can showcase himself/herself the best way possible. Deciding on what to put in a portfolio is a very tedious task as one should be careful and meticulous enough to select work samples that can be helpful to his/her current application or presentation. An art portfolio's content may depend on the following factors:
The specific kind of art that an artist practices
The reason why the art portfolio is needed to be made
The personal style of the artist
The requirements that are needed to be considered when finalizing the actual compilation
With the variety of art forms that can be created by an artist, there are also different kinds of art portfolios that can be developed. All art portfolios must contain specific artworks that are either a combination of different styles and art forms or a strict samples compilation of one artistic discipline. The content that you may place in an art portfolio layout can be any of the following:
Paintings, drawing and other items that are visual products of fine arts
Graphic design, may it be physical or digital
Interior and outdoor space design
Poetry, essays, and other kinds of writings
Apparel design
Architecture, engineering and construction design or blueprints
Images of sample sculptures, ceramic, and pottery products
Film discussion
Photography outputs
Printmaking end products
Art education and history; and
Other kinds of art forms
Having a well-defined art portfolio can help you present yourself in an organized and impressive manner. Make sure that you will consider the organization of your art portfolio based on the content that you will place in it.
Simple Artist Portfolio
Studio Portfolio
Where Can You Use an Art Portfolio?
An art portfolio is a versatile tool that can be used in different ways and manners within the fields of creative works and the arts. You can use attractive portfolio examples that specifically contain your artworks in these circumstances, events and activities:
Client Presentation. One of the main usages of an art portfolio is to present the artworks either as a freelancer or a professional artist. A client first needs to see some of the works of an artist so that they can entrust a project to him/her. A comprehensive display of your artworks can make you more marketable and desirable as an artist.
Personal skill showcase. Your art portfolio can serve as your own reference. This can help you browse through your previous works so you can spot the developments when it comes to your personal style and artistic preference. You can also identify the skills that you have learned through the years if you will look at the changes that have occurred the way you create your craft. Listing your artistic skills and experiences from time to time can help you update your art portfolio accordingly.
 Application for an art program. Academic institutions that focus on art programs mostly have a number of slots for enrollment, or even just for admissions. If you want to be considered by your dream school or university, you have to make sure that your art portfolio can present quality works that can showcase your value as a prospective student.
Application for a job. Aside from presenting your art portfolio to possible clients, you can also show it to employers. There are already a lot of job positions that are looking for highly-skilled and artistic individuals who can do professional work functions in the field of graphic design, theater, film, and arts.
Artiste Multipurpose Minimal Portfolio
Photo Art Portfolio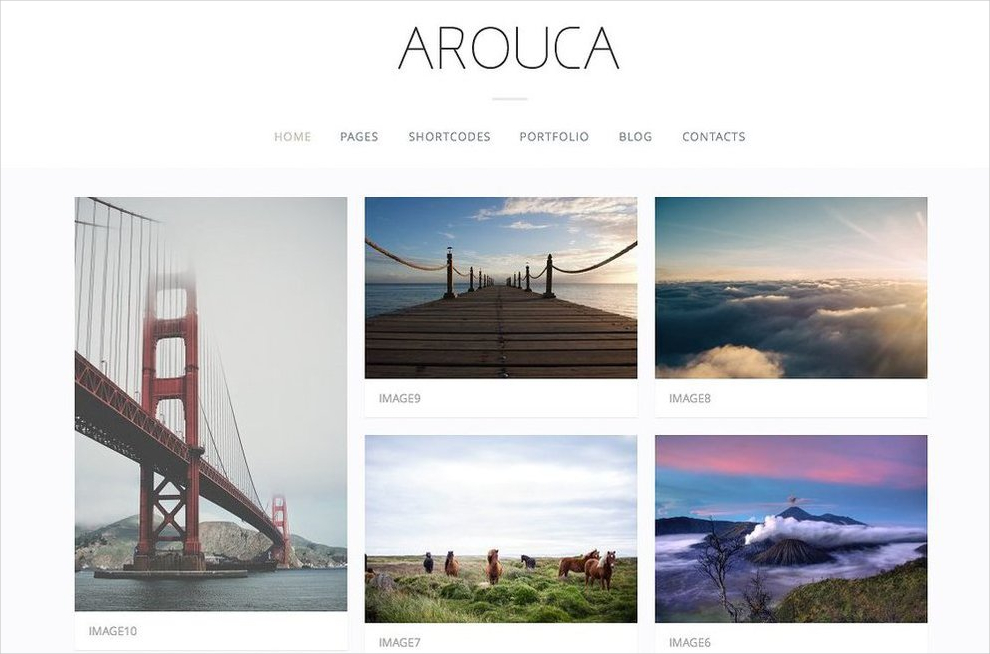 Factors to Consider in Developing an Art Portfolio
Within the development processes of a minimalist paper portfolio or a digital portfolio, you have to be aware of the things that you should put in mind to assure the maximum effectiveness of your output. The factors that you always need to consider when creating and updating your art portfolio are listed below.
Your mastery of the craft. May it be a client, a business, an employer or an academic institution; the entity who will review your art portfolio will always look on the technical aspect of your compilation. Your technical skills, abilities,  and knowledge areas are the most important things to be reflected in your art portfolio as these can eventually contribute to the operations or functions of your possible employer or prospective customers.
The quality of your art samples. As an artist, you are expected to have a high level of attention to detail. If you are already aware of the of basic and advanced art principles relevant to the field where you are currently practicing your competencies, then your art portfolio should be able to present that to your audience.
The relevance of the art samples to the objective of the art portfolio. Putting art samples together is something that you should carefully plan, do, and review. The relevance of the samples to the purpose of the art portfolio creation is essential as a sensible and usable content can give you higher chances of being remembered by the people who will look at your art portfolio.
The number of art samples that you will put together. Aside from quality, the quantity of your art samples must also be well thought of. Provide enough samples that can showcase both your versatility and style. It is recommended to present five to fifteen samples of artworks. However, there are some institutions that may ask you to provide them with a specific number of work samples. Always review the requirements of your application or presentation so you can add the specified number of samples that are expected to be seen in your portfolio.
Your showcase of versatility. Clients and employers always seek for an artist who can show variety. May it be a variety of art skills or a variety of media and platforms that an artist is aware of using, it is essential for customers and businesses to be aware of the capacity of an artist through the compilation of his/her artworks. Versatility is one of the major signs of a talented and resilient artist. If a person can apply artistic skills in different ways and manners, it will be easy for people to ensure that he/she can work for or collaborate with them with ease.
Uniqueness. Your style and personality shall be observed in your art portfolio. These things can set you apart from other artists. Most of the successful artists have strong individual characters which make them memorable and appealing. Let your art portfolio be your way to display how unique you are as an artist.
Modern Artist Portfolio
One Page Art Portfolio in HTML
Steps in Making an Art Portfolio
Aside from learning the basic tips for creating a portfolio, you should also have a standard step-by-step reference that can help you create, develop and update your art portfolio. An easy guide that you may follow when making your own art portfolio is as follows:
Have a precise idea about the kind of portfolio that you need to create based on your application or presentation
Identify the medium or platform that you will use in making your art portfolio. Do you need to develop an online art portfolio or are you required to come up with a hardbound portfolio?
Decide on the number of samples that you will compile.
Browse through and review art portfolio samples so you can have an idea on how to properly create one.
You can select a template that can guide you in making the format, structure, and/or content of your art portfolio.
Gather your samples and arrange them properly.
Present your samples within the layout of your art portfolio and make sure that you will incorporate all the items and design materials that you need to help your art portfolio look appealing, put together, and impressive.
Look at the final art portfolio and decide whether it is already your desired output or if you would like to further improve it.
Vintage Art CV and Portfolio
Guidelines for Art Portfolio Creation and Development
Your art portfolio should be one of your strengths and not one of your downfalls. Make the most out of your art portfolio's usage by creating a document that is complete, properly designed, informational and polished. Some of the guidelines that you may incorporate in the creation and development of your own art portfolio include the following:
Be organized and professional with regards your presentation as it can affect the overall appeal and appearance of your art portfolio.
Consider the needs, wants and demands of the client, business, and/or academic institution who will look at your art portfolio. Your work compilation can only be effective if it can fulfill the smart goals of its creation. Hence, be guided by the requirements of the entities who asked you to present an art portfolio.
Take time to gather all your art samples unless there is a deadline that you need to consider. Being able to put together artworks from different phases of your artistic journey can make your art portfolio more versatile.
An art portfolio is big factor big factor considered during a client presentation or a work application. Having an impressive art portfolio can be one of the ways on how an artist can stand out from competitors as it can significantly provide details about a person's style, deliverable and skills through the display of actual work samples. Follow the tips and guidelines that we have listed in this post so you can have a more efficient time in making your art portfolio.