Weddings are formal functions that celebrate the union of two individuals. This is usually witnessed by the couple's immediate family, relatives, and friends. But because of the number of guests present at the venue, directing people to their seats can be a challenge for the event's ushers and usherettes. Thus, using a seating chart to illustrate your arrangements is highly recommended. It's a great way to display your table assignments creatively to guests while remaining in tune with your overall theme.
Best Wedding Seating Chart Examples & Templates
1. Simple Wedding Seating Chart Example
2. Beach Wedding Seating Chart Example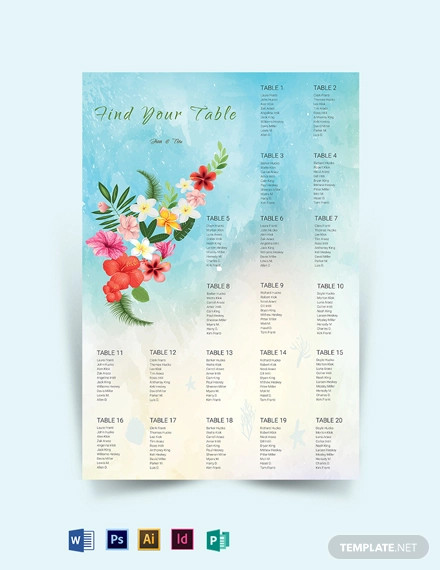 3. Small Flower Wedding Seating Chart Example
4. Beach Wedding Seating Chart
Beach weddings are a beautiful concept for any type of union. But it also means building everything from scratch, as you don't see tents and chairs lying around anywhere in the sand during the summertime. This is one of the reasons why a seating chart must be prepared beforehand. With the help of a chart and a few table cards, you can guide guests to their seats in style.
5. Fall Wedding Seating Chart
Imagine getting married to the love of your life while surrounded by the falling leaves of the season. Autumn is arguably the most picture-perfect theme for a wedding, and it's even more fun to decorate the venues of your ceremony and reception with all things fall. One of these wedding pieces includes the seating chart. A fall seating chart for your wedding is a beautiful and functional tool that guests can use as a reference to find their assigned seats at the venue.
6. Floral Wedding Seating Chart
The great thing about using floral graphics for your wedding seating chart is how versatile the theme can be to suit any type of wedding. You can use the wedding seating plan for your ceremony, reception, and even your rehearsal. This will keep your party organized so you won't have to worry about guests roaming around the venue trying to look for an available seat. The chart is an elegant and classy addition to your wedding decor that will help you ensure a smooth flow for your event.
7. Garden Wedding Seating Chart
A garden wedding has inspired many soon-to-be-wedded couples who are looking to invest in a lovely yet budget-friendly concept. Due to the wide amount of space available at the venue, couples are bound to maximize the area by adding more tables and seats to accommodate their guests. To help your family and friends find their table at the reception, you can use this garden wedding seating chart as a guide.
8. Chalkboard Wedding Seating Chart
You've probably heard about chalkboard menus before, but have you ever encountered a chalkboard seating chart designed for a wedding? A basic chalkboard design can draw a person's attention and get a message across with ease. Because of its simplicity, choosing an appropriate font is essential for your chart to be worth the attention. The black-and-white display of the chart can also reduce printing costs to help you stay on budget.
9. Elegant Wedding Seating Chart
Most weddings are meant to be formal and sophisticated by nature. While it isn't mandatory to splurge on random ornaments and whatnots, a clever way to make your wedding seem like a million bucks is to turn your attention toward your wedding decorations. You can impress your guests with an elegant wedding seating chart, which they can also use as a reference when searching for their designated table. You can put the chart at the registration desk or entryway of your venue to increase the chances of people seeing it.
10. Simple Wedding Reception Seating Chart
Couples sometimes choose to keep their wedding ceremony extremely intimate by surrounding themselves with some of their closest friends and family. Other guests who were not present at the ceremony may be invited to the reception for a bigger celebration. Since you're likely to have more people at your reception, it's best to use a seating chart to keep everyone guided. A simple wedding reception seating chart allows you to inform guests where to sit to make sure that there aren't any empty seats at each table.
11. Vintage Wedding Seating Chart
If you're looking to incorporate some old-fashioned vibes to your special day, a vintage wedding seating chart would be an ideal option to go with. A stylish font and a subtle color choice will complement any kind of wedding theme in the best way possible. This will spare you from the hassle of looking for random knickknacks to fit the vision you have for your wedding.
12. Wedding Reception Seating Chart
If you ask any wedding planner for tips to keep you from turning into bridezilla on your big day, one of the things they'll tell you is to have a seating chart prepared so you won't have to stress about going over the seating capacity and having your second cousin's plus one in the front of the room instead of your principal sponsor. A wedding reception seating chart will probably add another task to your already lengthy to-do list, but your future self will surely appreciate it if you get everything settled in advance.
13. Free Printable Wedding Seating Chart Example
14. Free Sample Wedding Seating Chart Example
15. Wedding Seating Chart in Alphabetical Order
To make it easy for people to find their names and assigned places in the seating chart, organizing your chart in alphabetical order will be a good idea. Even if you don't plan on grouping guests according to their surnames, you can still use the chart for everyone's convenience. Shown above is an example of a seating chart arranged in the said format. You can even keep the chart as memorabilia to commemorate one of the most significant days of your life.